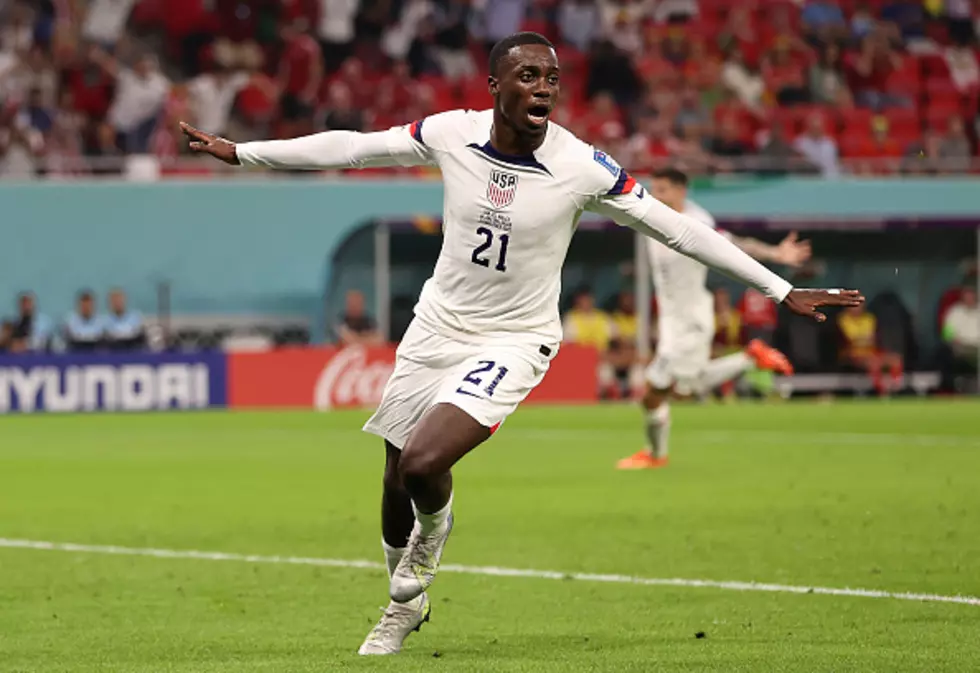 Young New Yorker A Shooting Star For USA In World Cup
Getty Images
If Tim Weah happened to be a point guard in the NBA or a wide receiver in the NFL, most sports enthusiasts would know A) who he is and B) that he is from New York. Weah (pronounced wee-uh) is probably known more around the world than in his home Empire State. That's okay. The native of Queens is busy rallying his Team USA to defeat Iran in the World Cup on Tuesday afternoon in Qatar.
Tim Weah fired-up his teams and fans on Monday when the 22-year old posted "us against the world" on his Instagram account. Weah needs little to get him going, as the Rosedale Soccer Club product scored Team USA's lone goal against Wales last Monday, in the teams first match of pool play in the World Cup. Weah's uncle, Micheal Duncan told Joshua Rhett Miller of nypost.com from Qatar, "They're all confident. They say, 'Bring it on, bring it on.' And I think they're ready, I can see the confidence in them. Timothy is ready." It seems like Weah was born ready for this moment.
According to the article, Weah was 18 months old when he began playing with the Rosedale Soccer Club in Queens, New York. His uncle, Michael Duncan is the president of and founded the club in 1999. Professional soccer was in the young boy's DNA. Weah's father, George Weah, played for Paris Saint-Germain, AC Milan and Chelsea, among other professional teams. George was a star himself, winning the 1995 Ballon d'Or as the game's best player. George Weah currently happens to be the President of Liberia.
Tim Weah's uncle believes that the goal that his nephew scored against Wales last week was just the beginning for the Queens native on soccer's brightest world stage. "This is big. This one goal in the World Cup equals roughly 20 goals in the regular season. And I can't tell you how many people are calling from all over the world to congratulate him. He needed this, and it was on soccer's biggest stage," Duncan told nypost.com. USA takes on Iran Tuesday at 2pm. Let's Go Team USA and New Yorker Tim Weah!
2023 - 2024 Capital Region Concert Calendar
Updated regularly so keep checking back!
Canadian Pacific Holiday Train Rolls Through The Capital Region For a Great Cause
It had been three years since the Canadian Pacific Holiday Train rolled through the Capital Region. It made three stops; Mechanicville, Saratoga Springs, and Fort Edward. The first was Mechanicville on a rainy Sunday night. This is where I enjoyed the festive holiday train. They are traveling across the country to 106 stops. At each stop, they play live music and collect donations for the local food banks. Country Artist Lindsay Ell was the musical entertainment and she was awesome. The Canadian Pacific Holiday Train also presented the Mechanicville Community Center with a check for $3500 to help restock the food bank. Even though the weather wasn't ideal, a couple of hundred families joined the fun.
Buy This Addams Family And Wednesday Northern New York Style Home
Is there any sort of connection between the Addams Family and Wednesday to Northern New York? We found a connection, but it'll cost you.