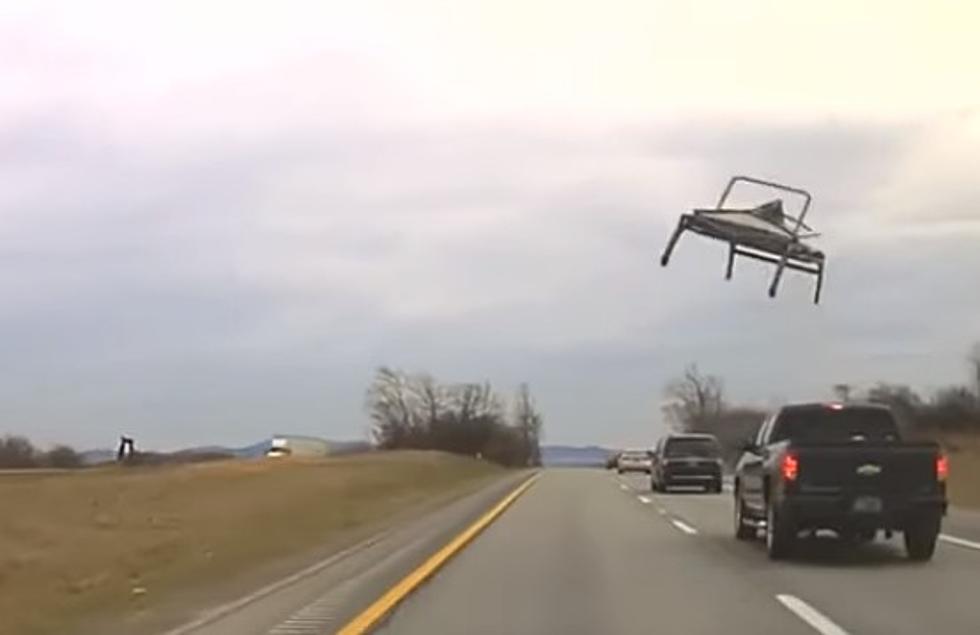 WATCH! Flying Chair Smashes State Police Car Windshield
Facebook Video
The dash cam was rolling when a state police officer was driving on Interstate 89 in South Burlington, Vermont.
There was a pickup truck ahead of him with a lounge chair in the back. As the trucked moved to another lane, the wind must've caught the chair just right.
The chair went flying out the bed of the pick up truck and smashed the window of the police cruiser.
It hit so hard, even the dash cam was knocked out of place.
The Vermont Trooper, Dylan LaMere wasn't hurt. The driver of the truck was ticketed for having an unsecured load.
Here's the full video:
Vermont State Police remind drivers to make sure anything in the back or on top of your vehicle is strapped down to avoid situations like this. This past winter there were all kinds of reports of ice flying off vehicles and hitting other vehicles. One of those incidents happened on I-90 as two cars were driving over the Patroon Island Bridge in Troy. That one was also caught on camera.
We likely won't have to worry about ice or snow for quite a while at this point, but if you're moving anything like, ya know - lawn furniture, or anything else that could become a sail at high speeds, be sure to strap it down. The consequences could be much worse than getting a ticket. Bungee cords and ratchet straps can go a long way in protecting your stuff. And other drivers.
[CBS 6]
The Most Confusing Driving Cities in New York State
Some really confusing cities or parts of cities to drive through in New York, especially for out-of-towners.