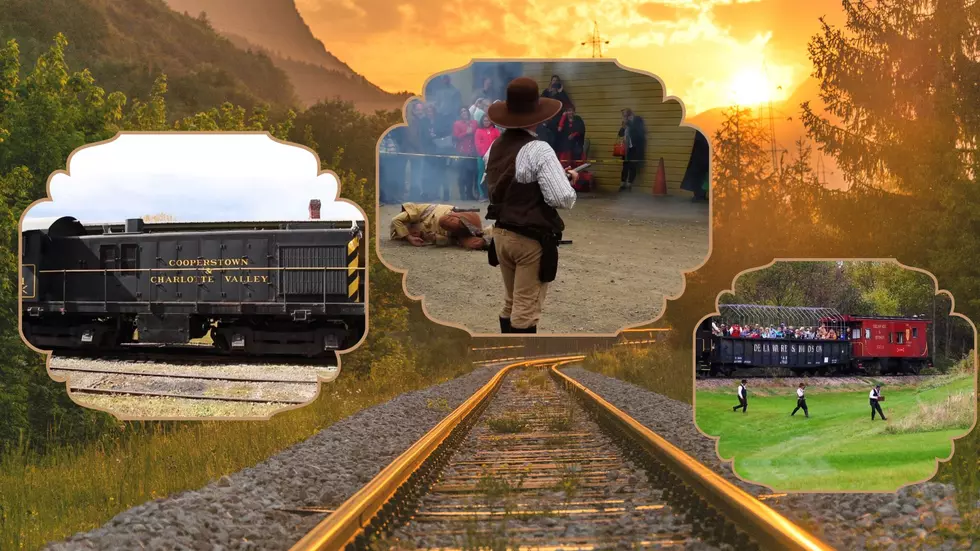 Take this Vintage Train Through Cooperstown – But Watch Out for Outlaw Gangs!
Photo: Youtube/Canva
If you or someone you know loves trains, outlaw gangs, and the old wild west, this is the Upstate NY experience for you!  See the action-packed images of a train being robbed by bandits below.
Built in 1869, the Cooperstown & Charlotte Valley Railroad gives you a chance to experience what was once the primary form of transportation throughout the country – riding the rails - CooperstownTrain.com 
Grab your own gang of fugitives and head out towards Cooperstown, because starting in July you can experience this train ride "back in time" on most Saturdays through October.
But this is no ordinary train ride!  Here's why
The experience starts as soon as you hop on board this vintage train that is filled with money and loot and the gang of outlaws know it - and they want it all!
Will the bandits get away with the loot or will the good guys prevail? If you're a passenger on this 90-minute ride, you'll find out!
The Cooperstown Train is filled with action-packed shootouts, cool period costumes, and fun entertainment for the whole family!
Tickets start at $20 (free for kids under 3) and here are the dates it's running:
Saturday, July 2nd @ 1 pm
Saturday, July 16th @ 1 pm
Saturday, July 30th @ 1 pm
Saturday, August 13th @ 1 pm
Saturday, August 27th @ 1 pm
Saturday, September 3rd @ 12 pm
Saturday, September 17th @ 12 pm
Saturday, October 8th @ 12 pm
Take this Vintage Train Through Cooperstown - But Watch Out for Outlaw Gangs!
The 10 Worst Small Towns In New York [RANKED]
A Capital Region town has topped Roadsnacks 2022
rankings
of the worst small towns in the Empire State. Just like any list created by folks not living in New York, these rankings in no way reflect how we feel about these towns and you should take these rankings with a grain of salt. That said, these rankings were formulated based on census data like median income, home values, unemployment rates, crime rates, education, and population density. and more from the state's 466 smallest towns
Check Out the Best BBQ Joints in the Capital Region [RANKED]
There are some amazing barbeque restaurants throughout the Capital Region. Here is a ranked list according to Yelp of the top pitmasters in our area. Try and look at this list without getting hungry! Each has outstanding reviews.