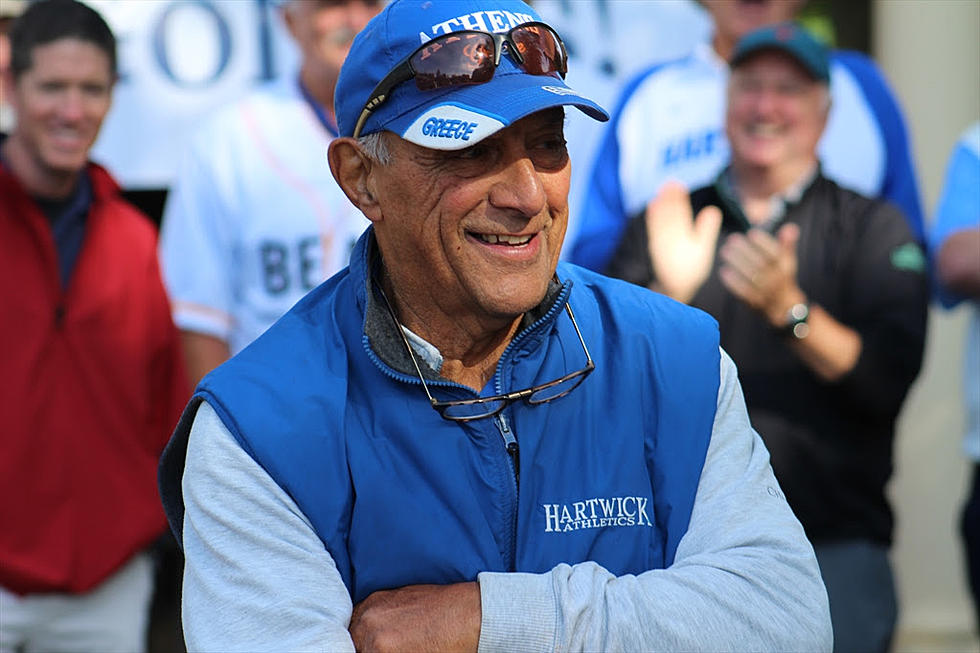 Lambros Honored by Hartwick With Naming of Tourney
Photo: Hartwick College
Oneonta, Hartwick College, and Nick Lambros.  You can't say one without the other.
Lambros, a regular sight at almost all civic events over the last half century, made a name for himself in the City of the Hills both as both a mentor of young people and as an inspiration for all residents to get involved in their community.  A legendary "story teller" and leader, Lambros is now being honored by Hartwick College with the naming of a college tradition in his honor.
Hartwick College Athletics has officially renamed an annual tradition to honor its legendary multi-sport coach and alumnus, Nick Lambros, class of 1959. In recognizing the years of dedication, goodwill, and steadfast commitment to students "The Coach" has fostered, "The Classic Nick Lambros Golf Tournament" will be held on Saturday, September 25 at Oneonta Country Club with a 1 p.m. shotgun start.
"As an avid golfer and supporter of all things Hartwick, we see this as a fitting way to honor a person who has impacted Hartwick College and the Athletic Department in such meaningful ways," said Hartwick College Athletic Director John Czarnecki. "This is an excellent opportunity to create a long-standing tribute to honor Nick's accomplishments and spirit he brings with everything he does."
The annual College golf event regularly draws alumni, former athletes, friends of the program, and community members to a fun day on the links, full of stories and reminiscing. Lambros is a co-founder of the event, and its attendance usually draws heavily from his extensive network of former players, classmates, and friends. Hartwick athletics staff, coaches, and athletes will be on hand to help coordinate the event and mingle with attendees. Next year's event has already been scheduled at Leatherstocking Golf Course in Cooperstown on Monday, June 13, 2022.
Lambros has been affiliated with Hartwick as both a player and coach for over 60 years. He coached the men's basketball program for 21 seasons, from 1977 to 1998, compiling a record of 353-191. During his coaching tenure, he was named the NCAA Division II Coach of Year in 1979 and was the NCAA Division III Coach of the Year in 1988. Lambros has seven NCAA Tournament appearances to his credit and led Hartwick to the Final Four in 1988. Lambros was the first inductee into the Hartwick College Athletic Hall of Fame in 1995. He was also inducted into the New York State Basketball Hall of Fame in 2004. Lambros also coached baseball from 1972-77 and served as the College's golf coach.
Registration is open to the public. Costs for The Classic are $140 per person or $500 per team of four. For Hartwick GOLD registrants (graduates of the last decade), the cost is $120 per alumnus/a, and $400 per team of four. Fees include a round of golf, lunch, greens fees and cart and a donation to Hartwick Athletics. The Classic Nick Lambros Golf Tournament can host 100 players and RSVPs are requested by Friday, September 10.
The event is sponsored by Upstate Honda Dealers/Scoville-Meno Honda, Endwell Rug & Floor, OneGroup, Velocity, Hickory Hill Restoration, and Brooks House of Bar-B-Q.
For more information or to register for the tournament, go to http://www.hartwickalumni.org/classicnick2021 or contact Major Gifts Officer Susanne Jones '95 at 607-431-4431 or joness3@hartwick.edu.
LOOK: Here are the 10 US golf destinations with the most courses per capita
Discover where you can find the best access in the country for your pick of courses, the unique terrain that lends itself to world-class golf, and what makes select clubs noteworthy.