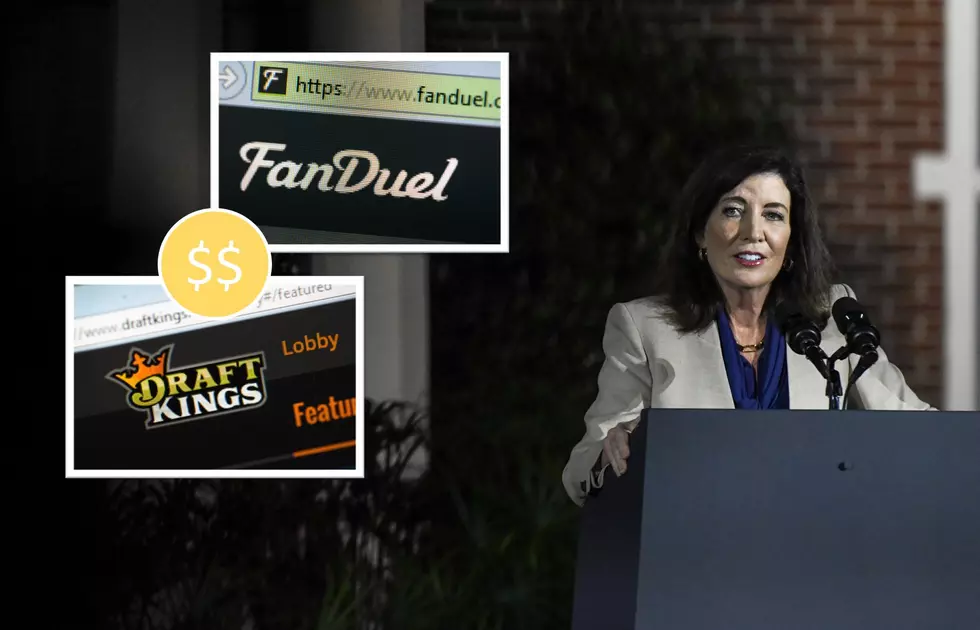 Gov. Hochul: Sports Wagering Generated Billions in New York! What's the Total?
DraftKings is one of the licensed sportsbooks in New York / Getty Images
It's been one year since online sports gambling was legalized in New York, and already, the Empire State finds itself in a league of its own.
A recent announcement from Governor Kathy Hochul shared eye-popping financial totals that have been generated by the state's gambling population. Within the first 365 days, New Yorkers wagered by the billions, and the state took home millions for its trouble.
---
Gov. Hochul Announces Massive Totals Generated in NY By Sports Gambling
A report from New York State's official website shared the details of an announcement made by Governor Kathy Hochul, one which shed light on the massive amount of money generated in the state's first year with legal mobile sports gambling.
Hochul shared that an estimated $16 billion had been wagered in New York since legalization, and that the state had generated $909 million in total revenue during that time.
The revenue comes from two different sources: $709.2 million was generated in taxes, with an extra $200 million coming in licensing fees.
Mobile sports wagering was first legalized in New York in January 2022, a few weeks ahead of the target date of legalization, which was set on the date of the Super Bowl. New Yorkers hit the ground running, shelling out $2.4 billion for wagers in the first five weeks of legal online sports gambling.
In total, over $1.686 million was wagered in January of 2022, according to Legal Sports Report. For reference, during the same month back in 2021, $20,942,309 was wagered at brick-and-mortar casinos, with an online option yet to be available.
January's total wagering amount was the highest number reported by the state through at least the end November, which is the last month listed on Legal Sports Report. That said, wagering totals in October and November 2022 were only roughly $100 million from that January record. If you follow the trend, as we get closer to the Super Bowl and March Madness, 2023 could see new betting records be set.
On the massive amount of money generated by online gambling in 2022, Governor Hochul said the following:
"In just one year, New York has become a national leader in providing responsible entertainment for millions while bringing in record-shattering revenue for education, youth sports, and problem gambling prevention." - Gov. Hochul via NY.gov
Congratulations, New York bettors! You're truly in a class by yourself, and seem poised to continue making history in 2023, one bet at-a-time.
Ten New York Teams, Ten Insane-But-Possible 2023 Predictions
With the new year comes new expectations, and in 2023, these predictions for each New York professional sports team are so crazy, they may just come true.
Ten Stories That Shocked New York Sports Fans in 2022
2022 was anything but ordinary for New York's sports teams, and these ten stories left fans shocked, amazing, and even a bit disappointed during the year.