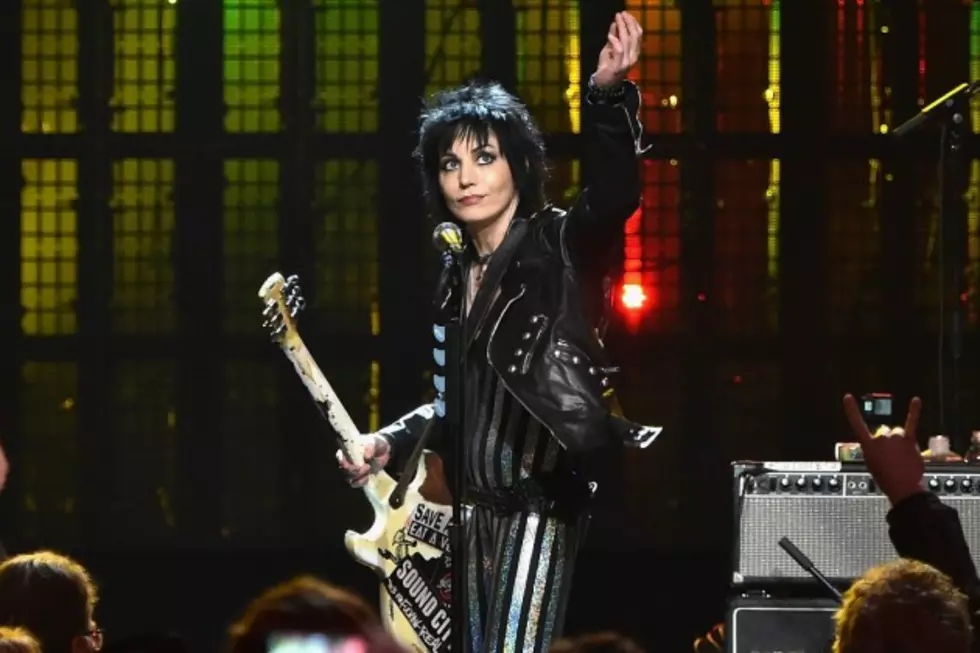 After Joan Jett's Induction, Women Are Still Scarce in the Rock and Roll Hall of Fame
Mike Coppola, Getty Images
Joan Jett's recent induction into the Rock and Roll Hall of Fame gave fans something to cheer about while marking a small step toward redressing the massive gender imbalance among inductees. But as NPR notes, the Hall still has a long way to go.
The network's David C. Barnett conducted new interviews and drew on archival recordings to offer a look at the battles fought by a number of high-profile female stars, using Jett's induction as the framing device for a story that includes quotes from Pretenders founder Chrissie Hynde and former Velvet Underground drummer Moe Tucker, among others.
"If you're a girl and you're coming into a band full of guys, you know, on several levels you have to lay it down, lay down the rules. You know, I had to fight," remarked singer Chaka Khan, who started her recording career with the band Rufus. Her comments are echoed by Tucker, who laughs that John Cale greeted her entry into the Velvets by complaining, "'No chicks, no chicks,' that's what he said. I guess he figured it would just make trouble or I'd be whiny or something."
"I never saw this as a man's world, and I never saw this as a man's field, rock 'n' roll. It never felt odd to me to pick up a guitar and be in a rock band," countered Hynde. "I didn't want to be a novelty because I was a chick in a band, so I waited until, I suppose, 1977, when I could slip through the net and it didn't seem exceptional to be a woman, which obviously it's not."
That viewpoint obviously isn't always shared by everyone — something Jett herself recently acknowledged and bassist Gary Moss saw firsthand during his stint with her band the Blackhearts. "The girls were supposed to be the fans, you know? The guys were playing in bands to get the girls," he pointed out. "The girls weren't supposed to be the ones playing in the band, but you saw it turn around 'cause we had a lot of male fans, we had a lot of female fans."
For musician and publisher Carla DeSantis Black, the fact that these conversations still need to take place is proof that rock equality has yet to be achieved. "I'm a little bit old now to be talking about [how] it's still a novelty," she's quoted as saying. "You know, when I started out, it was the early '80s, and we're still having these conversations."
See 2015's Biggest Rock News Stories
25 Interesting Rock Movie Facts