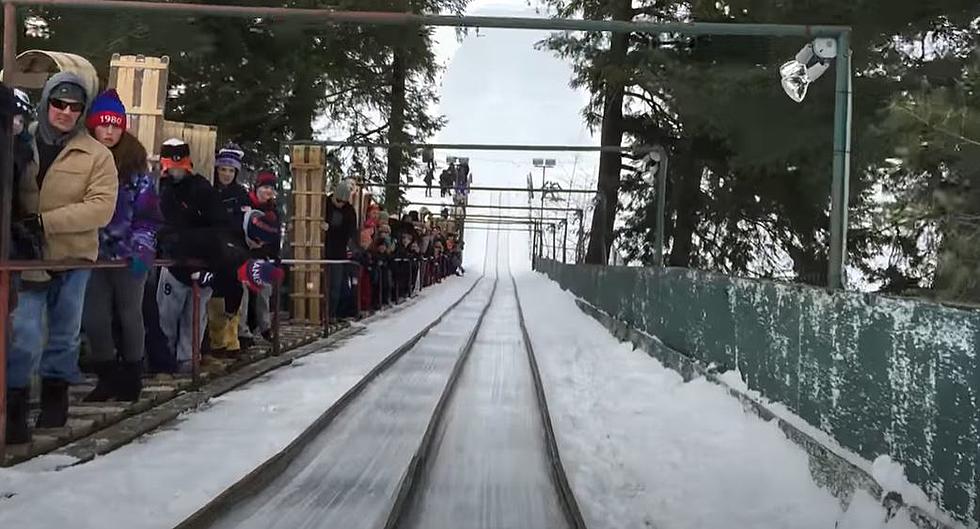 Wanna Do Some Serious Sledding? Head to NY's Longest Toboggan Chute
https://www.youtube.com/watch?v=tOmJDM8uS1I
Winter is here and there is nothing more fun, in my opinion than finding the biggest hill and going sledding on. You can get some serious sledding in just two-and-a-half hours from the Capital Region at the Lake Placid Toboggan Chute.
What is the Lake Placid Toboggan Chute?
It has been in operation since the 1960s and according to the Lake Placid Toboggan Chute website, it was rebuilt from a thirty-foot high converted ski jump. The toboggan chute is a thrilling ride down an ice-covered chute and onto the frozen Mirror Lake.
The Lake Placid Toboggan Chute Isn't For the Faint of Heart
This ride is fast! You will come screaming down the chute and that's not the only part of the ride. After the chute ends, you are dumped onto frozen Mirror Lake where you can slide up to one thousand feet more.
When is The Toboggan Chute Open?
The Toboggan Chute is open now and closes in February or March depending on the conditions of the ice. There are lights for night riding too. This weekend, Saturday, January 15th through Monday (MLK Day), January 17th the hours vary.
SATURDAY 1/15: 12 pm - 4 pm and 7 pm - 9 pm
SUNDAY 1/16: 12 pm - 4 pm and 7 pm - 9 pm
MONDAY 1/17 (Martin Luther King Jr. Day): 12 pm - 3 pm
Check HERE for more times and dates.
There are certain scheduled times and you can ride as much as you want during that slot. You can also ride the toboggan with up to four people. It's fifteen dollars for adults and ten dollars for students and they only take cash.
Hours vary depending on weather conditions. Contact the Lake Placid Visitors Center for more information at (518) 523-2445.
Oh, and they recommend that you wear "durable pants".
See The Gorgeous $8.5 Million Home On Lake George With One-Of-A Kind Indoor Pool
Yes, you can look at one beautiful body of water while swimming in your own indoor body of water. That is just one of the amazing features of this $8,595,000 home for sale on Lake Shore Drive in Bolton Landing.
10 Largest Snowfalls On Record In Albany