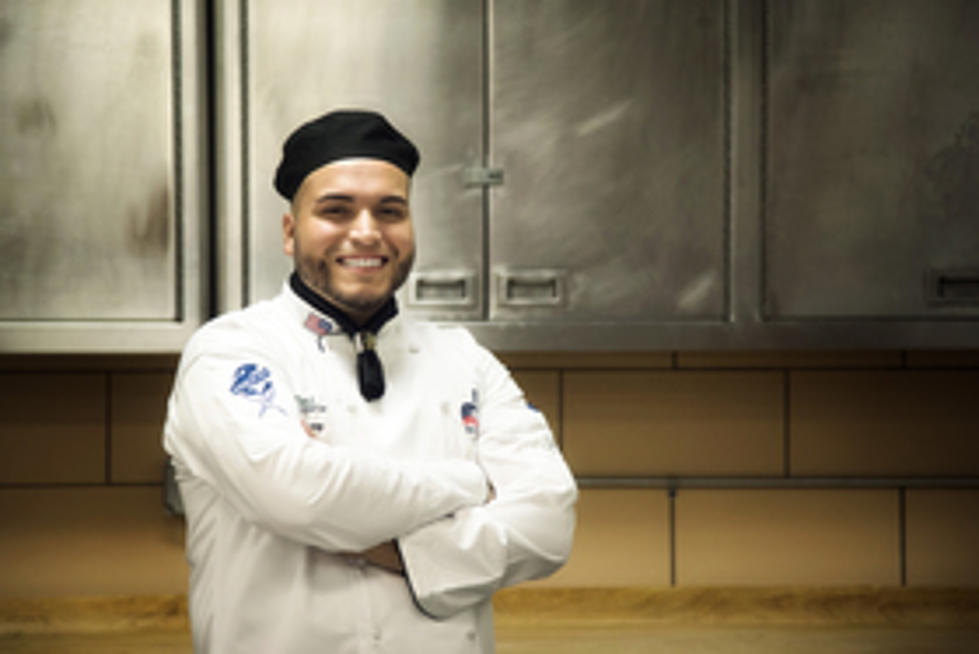 SUNY Delhi Student Wins National "Student Chef of the Year" Title!
SUNY student Julio Chavez (photo provided)
 SUNY Delhi culinary arts major Julio Chavez of Sodus, NY, won the national title of "Student Chef of the Year 2018" July 19th.
The culinary competition, sanctioned and organized by the American Culinary Federation (ACF), was held at the "Cook. Craft. Create. National Convention & Show" in New Orleans, LA. The Student Chef of the Year recognizes an up-and-coming student who possesses a high degree of professionalism, culinary skill, and passion for the culinary arts.
Five student chefs representing the Northeast, Southeast, Western, and Central regions of America, as well as the U.S. Military, competed for the national title. Chavez earned his place in the finals by first winning the ACF Northeast Regional Student Chef of the Year competition in February in Buffalo, NY.
"Julio has demonstrated the skill, motivation, and determination necessary to earn this prestigious title," said Dr. David Brower, Dean of the School of Business and Hospitality Management at SUNY Delhi. "He represents our institution exceptionally well and is a testament to the unparalleled education that our students receive at SUNY Delhi."
"Working with Julio has been an unbelievable process," said SUNY Delhi Culinary Instructor Chef Sean Pehrsson who coached and mentored Chavez in his ascent for the national title. "It is amazing to come from a small college in upstate New York, put our students up against the best students from around the country, and be victorious. Julio's success speaks volumes about the quality of our culinary arts program."
With input from Pehrsson, Chavez chose to compete with a Mexican-inspired lamb trio dish, highlighting his heritage with flavors and components indigenous to his cuisine and style of cooking. Chavez practiced and worked closely with Pehrsson for weeks in order to perfect the dish and his technique. In their critiques, the judges applauded the fact that Chavez leveraged his roots, incorporating contemporary interpretations of classical elements and featuring a variety of flavor profiles, color, and texture.
"The critique Julio received from the judges was one of the most positive I have heard," said Pehrsson. "They loved how the flavors all complemented each other and how well composed the dish was. His dish and kitchen work were beautiful. He truly deserves to be the 2018 American Culinary Federation Student Chef of the Year."
In his acceptance speech, Chavez thanked everyone who supported him during the competition process. "I want to give a huge shout out to my mentor Chef Pehrsson, my parents, my team who supported me every step of the process, and everyone who came to New Orleans to see me compete."
Chavez dedicated his victory to his parents. "My parents really struggled to bring our family from Mexico to the United States when I was five years old. They worked hard to give me what they never were able to have: a good life and an education. My success is their reward."
Chavez will graduate in December with a bachelor's degree in Culinary Arts Management from SUNY Delhi. While at Delhi, Chavez has been actively involved in community service through various organizations and has been inducted into the Chi Alpha Epsilon National Honor Society. He is also a teaching assistant for Signatures by Candlelight, the student-operated restaurant class.
"I already have great job offers to look forward to after graduation," said Chavez. "The incredible culinary program at SUNY Delhi has changed my life."
SUNY Delhi's culinary arts program has long been recognized as one of the best in the country. The program offers students a firm foundation from which to start their careers as culinary professionals. Signatures by Candlelight, a full-service fine dining restaurant, is open to the public and operated by SUNY Delhi students. In addition to the core classes, there are numerous culinary electives offered, such as advanced meat cutting, culinary competition, advanced pastries and confections, and culinary ice sculpting. In the last decade, Delhi students have won more than 500 individual and team medals, including multiple ACF state, regional, and national titles.