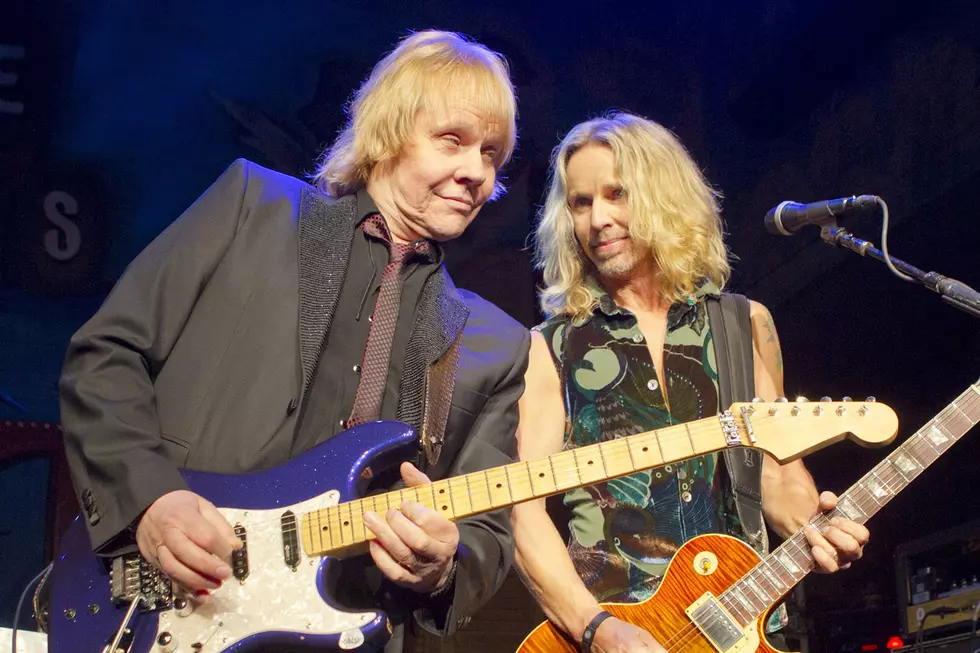 Styx Open Up to Dan Rather in New Interview
Skip Bolen, Getty Images
Three members of Styx --Tommy Shaw, James "JY" Young and Lawrence Gowan -- will appear on Dan Rather's The Big Interview show tomorrow. The program will air on AXS TV at 9PM ET. You can see a few preview clips below.
On May 30, Styx will begin a tour with Joan Jett and Tesla, and their busy schedule prompted Rather to ask why they still go out on the road when their status as legends is confirmed and they are financially secure.
"We're meant to bring this music, which comes from a higher place and is channeled through us and has the power to soothe, to calm, to inspire and, in the best cases, to heal," Young said. "We are the stewards of this mighty power, and it's our great joy to get out here and use that power."
Gowan and Shaw took a more humorous approach. "I would also add that we're completely unqualified to do anything else on the planet," Gowan quipped, causing Shaw to add, "My charm wears off pretty quickly at home. I don't recall my wife ever being in tears when I left again."
Watch Styx Talk About Why They Still Tour
But the interview wasn't all fun as that. Rather brought up their split with Dennis DeYoung, and Young said it started as a matter of needing to tour when record sales dried up. "Dennis really hates touring," he recalled. "He really wasn't a team player in this regard." Young spoke about how, when supporting 1999's Brave New World, DeYoung was unwilling to tour because of a medical issue. They attempted to accommodate him by getting an "understudy" to fill in when he wasn't feeling well, but DeYoung still wouldn't budge. The band went out without him, which led to a lawsuit over the use of the band's name.
Neither Young nor Shaw expressed a desire to work with him again. "You get married when you're young and everything's rosy," Shaw said. "Then, as you start to get a little older, you realize you didn't have that much in common and then you go through a tough divorce. ... We still have songs that we co-wrote together, and those are our children, and we've managed to find a way to keep those things in play. But personality-wise, at this stage in my life, I want to be happy. I want to be around people who love me and that have my best interest at heart, and I don't have to fight with. There's just not enough years left that I would want to risk not having that again."
Watch Styx Talk About Moving on From Dennis DeYoung