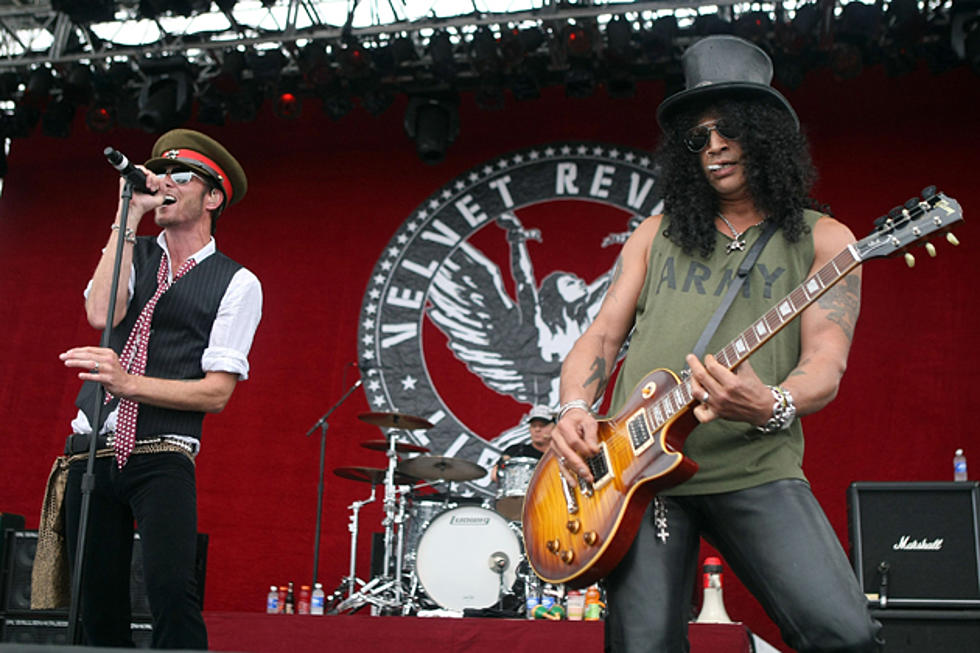 Slash on Scott Weiland's Velvet Revolver Reunion Comments: 'We're Not Buying It'
Scott Gries, Getty Images
Scott Weiland may have reunited with Velvet Revolver for a show early last year, but the singer's comments about getting back together with the band are not exactly having the desired effect.
Slash, in particular, says the band members see right through the ploy and he doesn't expect a reunion with Weiland to ever happen. He tells Classic Rock magazine, "None of us have a clue what he's talking about … We're not buying it." The guitar great says he's reluctant to even give the former Velvet Revolver frontman the attention, but did not hold back on his feelings about the matter. Slash recently revealed that Weiland had been fired from Stone Temple Pilots and he's confident that the singer is trying to publicly wedge his way back into a job.
"I think he's trying to pull off that trick of trying to get something else going on and we're not buying it," says Slash. "The door's shut on this side and it's probably shut on that side too, so he's on his own. And he deserves it too." The guitarist adds, "It also pisses me off because he's put STP through so much s--- over the years and put us through s--- too when we were working with him. In 2008, that was all over with, so at this point, when he starts coming up with this stuff, it's like, whatever."
These days Slash says he's in a good place and is not looking to reconnect with Weiland. He concludes, "Even if I didn't have my solo thing going on, I still wouldn't work with him."