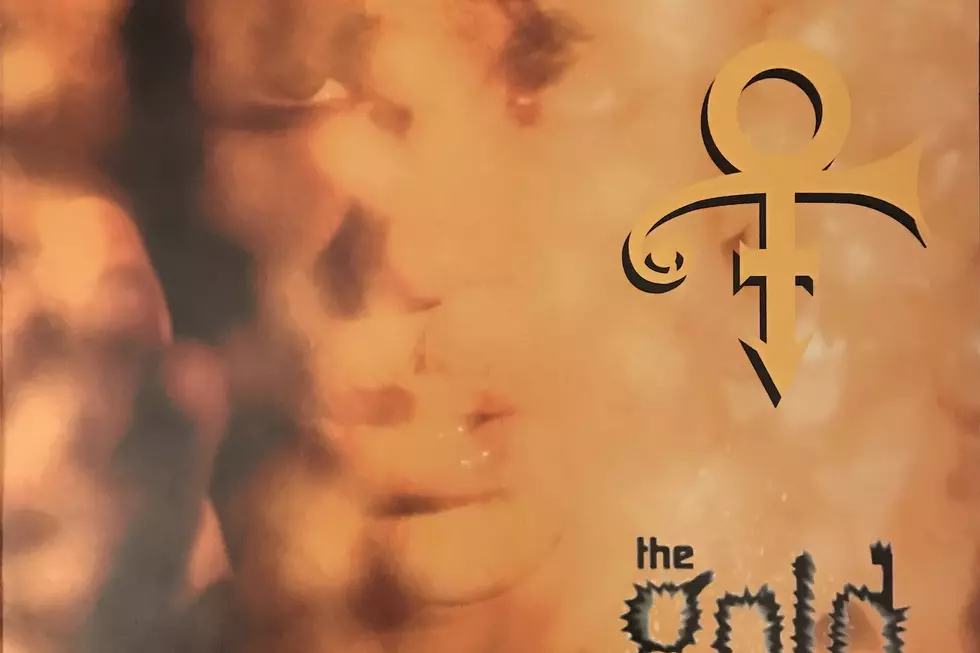 25 Years Ago: Prince Somehow Roars Back With 'Gold Experience'
Warner Bros.
By the mid-'90s, Prince had taken his bitter contract dispute with Warner Bros. to the public. He was levying pointed criticism with journalists, while appearing with the word "slave" written on his face. He'd started dumping old music on the masses, in a transparent effort to speed up his departure.
Oh, and he'd changed his name to an unpronounceable symbol. People were still trying to figure out, you know, what even to call him.
"I wish I had a dollar for every time someone asked me that," New Power Generation keyboardist Tommy Barbarella told the Star-Tribune in 2019, with a laugh.
Prince's label was stubbornly sitting on The Gold Experience, his next new project, for fear of flooding the market. While he waited, Prince gave away the album's best single, releasing "The Most Beautiful Girl in the World" through a one-off partnership with an independent distributor. The chairman of Warner Bros. – a Prince ally – also moved on.
"Do you see how suddenly, writing 'slave' on my face suddenly doesn't seem as strange?" Prince told Time Out in 1995. "It's a gesture that communicates my position very well. It's like this is what my record company has reduced Prince to. So now, Prince is dead. They've killed him."
Watch Prince Perform 'Gold'
Out on the road in early 1995, Prince openly questioned why his label was still refusing to put The Gold Experience on store shelves. He posted the album image on his website with a release date of "Never!" He fashioned clearly retaliatory set lists that focused on the album's new songs.
"There's a brilliant Prince and the NPG album waiting to be released," Prince told NME that March. "Record companies are run by men who think they run America. They think they're the smartest but they're not. They don't know what's going on in my mind."
To be honest, they weren't alone. So, fans could be forgiven if expectations were decidedly low when The Gold Experience finally arrived on Sept. 26, 1995. Yet somehow Prince constructed an offhanded triumph.
Credit, at least in part, goes to the NPG, who were at the peak of their funky powers. The album sizzles with attitude, moving from rock to soul to hip hop and back again with grit and grace.
"The Gold Experience album was, like, this band had really just [emerged as a] crunched-down, super-tough, well-rehearsed band," keyboardist Morris Hayes told Minnesota Public Radio in 2018. "That was like a powerhouse band."
Releasing "The Most Beautiful Girl in the World" was Prince's attempt to convince Warner Bros. that he could share music as it was recorded, rather than settling for their more spaced-out time table. It promptly went Top 5 on both the Billboard pop and R&B charts. But Prince's label held firm.
Listen to Prince Perform 'P Control'
The rest of The Gold Experience was recorded around the same time, with principal sessions taking place in the fall and winter of 1993-94. Together, they also celebrated feminism on the hard-funk "P Control," got harder still on "Endorphinmachine," engaged social issues on "We March," then tried for another soaring "Purple Rain" moment on the closing "Gold."
If not for the goofy "NPG Operator" interludes, it might be called another masterpiece of Prince eclecticism. At the same time, his war with Warner Bros. continued to bob to the surface: "Eye Hate U" felt like a sucker punch aimed at his label, and Prince promptly released it as the follow-up single to "Most Beautiful Girl."
Nevertheless, The Gold Experience soared into the Top 10, confirming the era's sense of rebirth. It wasn't just the new name. Prince had also become enamored with Betty Eagie's near death-themed Embraced by the Light, which had a direct influence on his reincarnation tale in "Dolphin."
"He sought my advice on how to deal with the trauma which brought him to feel he was a slave to the music industry," Eagie later remembered. "I told him that he had a mission to fulfill, and I encouraged him to move forward and return, as Prince, to his music and the man everyone loved and admired."
Unfortunately, that wouldn't happen anytime soon. His career reincarnation took a bit longer too, as Warner Bros. issued 1996's aptly titled Chaos and Disorder before Prince finally freed himself to complete Emancipation. In the end, The Gold Experience was the last gasp of greatness to emerge from Prince's original Warner Bros. contract.
 
Ranking Every Prince Album