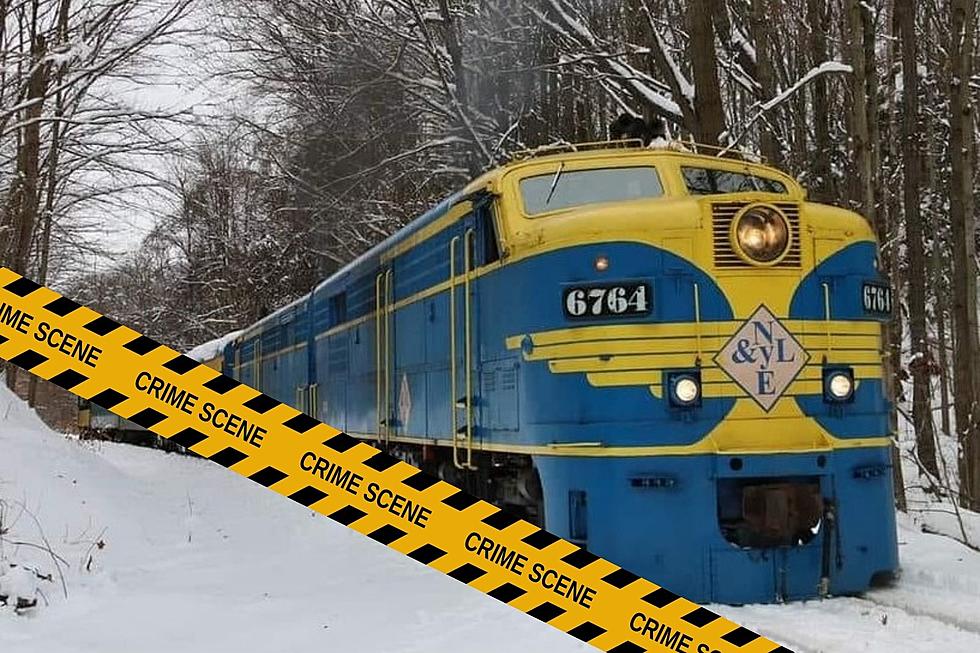 Think You Can Solve a Murder Mystery from This Moving NY Train?
New York & Lake Erie RR Train Rides via Facebook / Canva
Something is amiss on the New York & Lake Erie Railroad, and you're invited to help solve it.
You've probably heard about -- or maybe participated in -- a murder mystery dinner in the past. But have you done one on a moving train? This unique experience is being offered by the historic New York & Lake Erie Railroad on four different dates. The 5-hour event begins with dinner catered by the Gowanda Moose Lodge in Gowanda, New York, proceeds with a train ride, and returns to the lodge for the final conclusion and reveal.
Tickets are $65 per person, and includes the dinner and ride. The Murder Mystery portion is being executed by In All Seriousness, a 5-piece alternative rock band.
The dates for this event are as follows:
Saturday, May 6th
Saturday, June 10th
Saturday, July 8th
Saturday, November 4th
To book your tickets now, visit nylerailroad.com.
HISTORY OF THE NEW YORK & LAKE ERIE RAILROAD
The roots of the New York & Lake Erie Railroad go back to the 1850s. Its passengers have included some important figures in U.S. history, including Senators, President Millard Fillmore, and the famous statesman, Daniel Webster.
Later, the line joined the massive Erie Railroad, and eventually joined the Conrail network. Today's current short-line railroad was founded in 1978 and is now known as The New York & Lake Erie Railroad.
Learn more about the New York & Lake Erie Railroad in Western New York and the various events they offer over at their website.
Breathtaking Pictures Captured From The Adirondack Railroad
WOW!! All Aboard! Look At The Transformation of These 12 Historic Upstate New York Train Stations
A century ago it seemed that every small town and village had a railroad coming through it and a train depot to welcome it. Today there are far fewer train depots still standing from the glory years of American railroad history. But there are some, and they have been transformed into everything from restaurants to museums. Here are 12 of the best.
11 Old Upstate Train Stations and Firehouses That Are Now Restaurants
The time comes in every small town in Upstate New York when they must look to giving up the ghost with their old train stations and firehouses. Time has passed these important places for the most part, and (in the case of the old firehouses), new, more modern ones must be built.
So, what to do with the old buildings?
Well, many communities have sold off their "old stock" of train depots and fire stations to private citizens who have breathed new life into the structures as modern, delicious, and very popular restaurants.
Here are some very old train depots and fire stations (some more than 150 years old), that
are now vital places in their communities, serving up delicious meals, a place for high-end cocktails, a venue for live entertainment, and more. And to the credit of almost each of these listed in this gallery, they have all managed to modernize these old buildings while leaving important nuances reflecting back on the DNA of their past, back to when the conductor used to holler "All Aboard" and to when the fire trucks barreled out the huge front doors answering the call in the neighborhood.
I think you will enjoy this list!