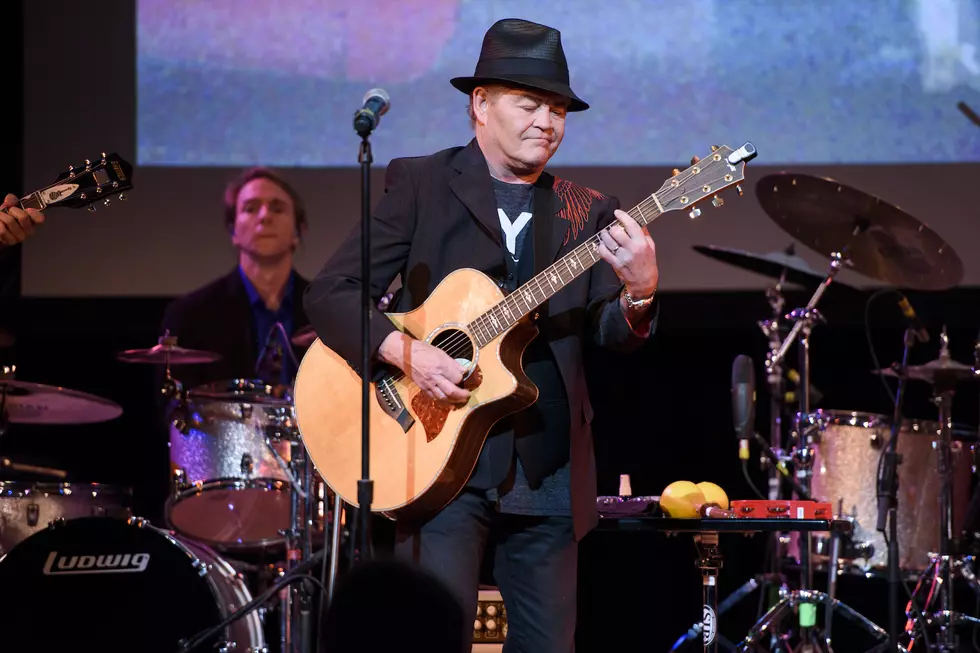 Micky Dolenz on Continuing the Monkees' Legacy: Interview
Matthew Eisman, Getty Images
Micky Dolenz is not sure he has fully grasped the idea of being the last member of the Monkees hanging around after the deaths of his three bandmates, most recently Mike Nesmith at the end of 2021.
He's in the middle of his latest Micky Dolenz Celebrates the Monkees tour, during which he pays tribute to Nesmith, Davy Jones (who died away in 2012) and Peter Tork (2019). He's also spotlighting the Monkees' third album, 1967's Headquarters, onstage.
"I guess the short answer is I don't think I've processed it, because they're siblings," Dolenz, 78, tells UCR. "David's passing was quite a while ago so that one I have processed even though it was out of the blue and really took everybody by surprise. Peter did have some health issues ... Nez had health issues, as we all knew, so his passing was not a shock – unfortunate and tragic, but not a big shock. I'm with them every day, in many ways, especially when I sing the songs or watch the videos."
Dolenz worked with Monkees expert and biographer Andrew Sandoval on the current show, which he describes as "a celebration of the music, the videos, the TV shows and, of course, the three guys with extended videos highlighting each of them — and me, too. And it's also a celebration of Headquarters, which, as I explain to the audience, was a big moment for us. That was the first album that the producers and record companies gave us permission to play and write and sing and produce our own album. That's the gist of what the show is about, celebrating the three guys and myself, and Headquarters, too."
As for taking on the other three's songs, Dolenz notes that "I've sung all the hits in my solo shows — [Jones'] 'Daydream Believer' for years and years, many of Nez's tunes and [Tork's] 'For Pete's Sake.' I have found it difficult at times, even recently, to sing the lead parts. I was always doing the background vocals, and I keep falling into the backgrounds and forgetting how to do the leads."
Watch Micky Dolenz Perform 'Listen to the Band' in April 2023 
The videos on the tour are particularly special, Dolenz adds. "For the first time ever I've gone into my personal archives of films I shot, home movie stuff, just silly stuff," he explains. "I carried a camera around with me, a still camera and a film camera, and I would just turn it on and film just silly stuff driving down the street. Some of it's out of focus even. But we worked a lot of it into the show, which is really nice."
Many of those images will also be part of a new coffee table book, I'm Told I Had a Good Time, that Dolenz says will include photos from throughout his life. It's "in the works" and expected to publish later this year.
"It's from my archive of photos, and we printed out some film strips," he says. "Mostly it's my life up until the Monkees and when I went to England after the Monkees — it's Volume 1, shall I say? It's all stuff from my childhood and my family — my father and mother and my sisters and the pre-Monkees stuff, and then stuff during the Monkees, most of which I shot on stills or home movies. There are some stories, but mostly it's a picture book. We're hoping it's out before the end of the year. We've been working on it a lot until, of course, the tour, and now we have to kind of put it on the back burner. But eventually, we'll get back to it."
Beyond the Monkees concerts, Dolenz continues to perform solo shows and has "a couple" of recording projects in the works, "but right now nothing I can publicly talk about. I don't like to hype stuff that's not really happening." His most recent releases include 2021's Dolenz Sings Nesmith, produced by the Nesmith's son, Christian Nesmith, and last year's Demoiselle, a "lost" album that was originally supposed to come out in the early '90s.
Monkees Albums Ranked
We're counting down the 12 studio albums made by the legendary '60s pop stars.