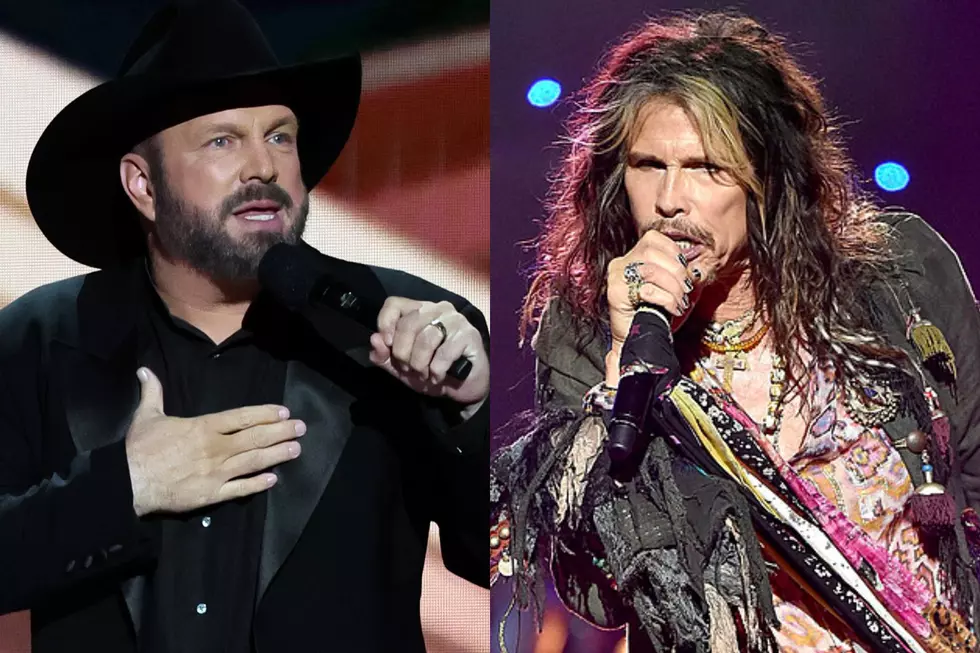 Garth Brooks Once Showered With Steven Tyler
Theo Wargo, Getty Images
Garth Brooks recently revealed that he once shared a shower with Aerosmith frontman Steven Tyler.
Speaking on The Kelly Clarkson Show, the country singer-songwriter recalled the time he and Tyler both played the very last concert at Shea Stadium in New York City in 2008, spearheaded by Billy Joel. (Other guests included John Mayer, Roger Daltrey, John Mellencamp and Paul McCartney.)
"We were playing the Last Play at Shea Billy Joel, they're getting ready to tear down Shea Stadium in New York," Brooks explained, "and I go out there and I'm late anyway, and they just have the baseball showers.
"I'm in there showering, getting ready for the show, and I had soap in my eyes, I look around, and there's Steven Tyler," he continued. "He's showering, too. 'Hey, how ya doin'?' And so it was just…How many people get to say that?"
"Who knows, it's rock and roll, you might not be so special, Garth!" Clarkson replied.
Brooks has frequently covered Aerosmith's "Fever" at his concerts, along with a variety of other rock covers like Joel's "Shameless," Bob Dylan's "Make You Feel My Love" and Don McLean's "American Pie." (He also covered Lynyrd Skynyrd, Bob Seger, Simon & Garfunkel and more on his 2013 box set, Blame It All on My Roots.)
Also in 2013, Brooks teamed up with Don Henley and Rufus Wainwright to perform a tribute to Joel as he received the Kennedy Center Honor. Two years later, Henley included a cover of Brooks' "It Don't Matter to the Sun" as a bonus track on his Cass County LP, with guest vocals from Stevie Nicks.
Watch Garth Brooks on 'The Kelly Clarkson Show'
Aerosmith Albums Ranked
Any worst-to-best ranking of
Aerosmith
must deal with two distinct eras: their sleazy '70s work and the slicker, more successful '80s comeback. But which one was better?