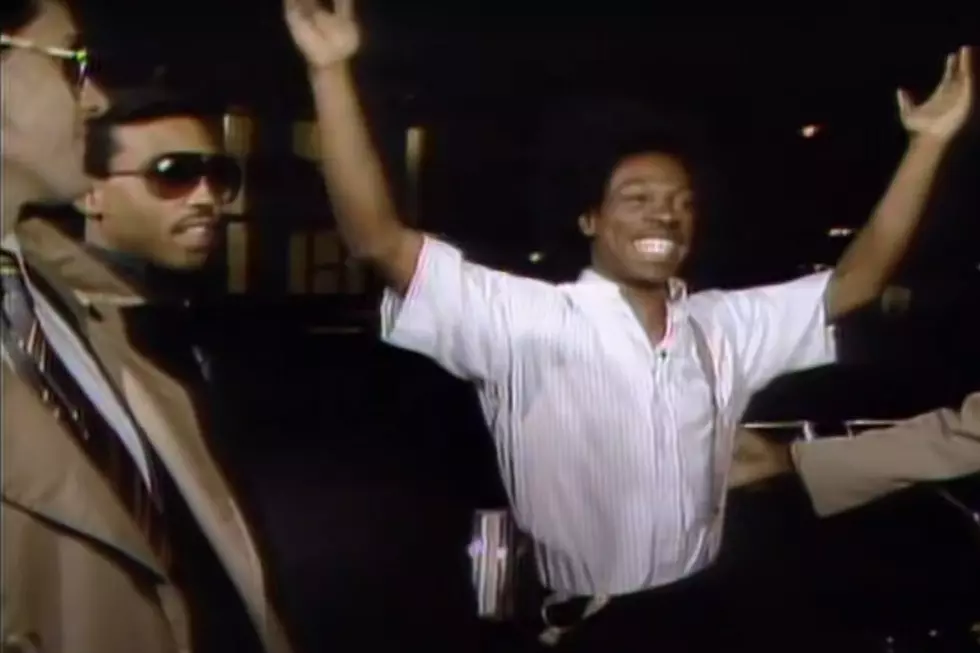 40 Years Ago: Buckwheat Is Shot, and 'Saturday Night Live' Is There
YouTube
In the end, it was Eddie Murphy who murdered Buckwheat.
OK, so the Saturday Night Live superstar had help in assassinating one of his most popular recurring characters, the grown-up version of The Little Rascals' Billie "Buckwheat" Thomas. But it was Murphy who, tired of being accosted by fans eager for him to do Buckwheat everywhere he went, told producer Dick Ebersol that enough was enough.
Ebersol, to his credit (and taking into account the immensely popular Murphy's importance to SNL), didn't try to talk Murphy out of the idea, instead suggesting his star sit down with his two favored SNL writers, Barry Blaustein and David Sheffield, and come up with an appropriate send-off. What the trio created was an elaborate, multi-episode demise for Murphy's Buckwheat, an extended satire of American gun culture and media sensationalism Ebersol later called "the best piece of satire in the four or five years I was there."
The saga began innocently enough on the Bruce Dern-hosted March 12, 1983, episode. Murphy's grinning, word-garbling version of the former child star showed up in a commercial for Buckwheat Jeans, parodying the then ubiquitous Calvin Klein jeans ads. Then a sketch with Gary Kroeger and Julia Louis-Dreyfus' Donnie and Marie Osmond was interrupted by Joe Piscopo as newsman Ted Koppel, who solemnly announced, "We have just received word that Buckwheat has been shot."
Luckily for Koppel and fans of sensationalized murder footage everywhere, footage of Buckwheat's attack as he was leaving the SNL studios to enter his limousine was being filmed by the paparazzi, allowing Piscopo's Koppel to repeat the footage many, many times. It was a parody of how similarly the news media had covered the filmed assassination attempt on Ronald Reagan a few years before, complete with Buckwheat's entourage snapping into action and the footage being rewound and slowed down to capture the carnage in every horrifying detail. (The footage itself is bloodless, as Sheffield notes that their initial, squib-heavy take on the bit looked far too real for the comedy to have worked.)
As Buckwheat is rushed to a nearby hospital, Koppel, eager to keep viewers riveted to the broadcast, repeats the footage in between frequent updates and the quickly cobbled-together graphics from the show's fictional sponsor, a stentorian announcer labeling the tragedy, "The Shooting of Buckwheat: America Stunned. Brought to you by Texxon. Life goes on. And Texxon is there."
Buckwheat doesn't make it, with horrified former costar Alfalfa (a cowlicked Mary Gross) ambushed in the hospital corridor by Koppel's camera, the anchor asking him if he's seen the actual footage of his friend being shot. "Oh, I'm hurt and confused," gasps Alfalfa after being subjected to the film. "No comment!" Piscopo's eager Koppel then subjects Buckwheat's harried surgeon to the footage just before the doctor goes into the operating room. Cutting back to the studio, Koppel is finally interrupted once more, sadly announcing, "We have just … we have just received some tragic news. Buckwheat … is dead." Cue an updated Texxon graphic, the announcer this time stating, "Buckwheat Dead: America Mourns. Brought to you by Texxon. Life goes on, and Texxon is there. Because Buckwheat would have wanted it that way."
Watch America Mourn Buckwheat on 'SNL'
Koppel repeats the footage once more as the special report ends ("I nub nou!" Murphy's Buckwheat says, waving, before someone offscreen addresses him as "Mr. Wheat" and opens fire) throwing back to Saturday Night Live already in progress, where there's a later advertisement for The Buckwheat Story, a no-doubt hastily assembled TV movie about the late Buckwheat's life starring comedian Byron Allen.
It is, as Ebersol says, a magnificent piece of media satire, built out of Eddie Murphy's irritated desire to simply make one of his most quotable characters go away. The gag is repeated during "Weekend Update" with anchor Brad Hall opening on the Buckwheat story, complete with another replay of the death footage and supposed testimonials from the likes of the actor (and future NRA head) Charlton Heston calling Buckwheat "one of our greatest actors," Ronald Reagan, Henry Kissinger and finally the Pope — who pauses in his eulogy to throw to the assassination footage for the benefit of the assembled Vatican crowd.
But that wouldn't be the end of the story, even if NBC tried to make it so. The next week, Murphy, Sheffield and Blaustein had planned a follow-up piece surrounding the identification, capture and eventual, Lee Harvey Oswald-style assassination of one John David Stutts, the obsessed fan who'd killed Buckwheat the week before. Murphy, playing Stutts, is apprehended for the returning Koppel's cameras once more, with Piscopo again narrating hungrily as the deranged killer dreamily explains that his dog had told him Buckwheat was the antichrist. When Stutts is gunned down on his way to jail ("Ow, I've been shot," Stutts states dispassionately), Piscopo's Koppel swings right back into self-serious exploitation mode, even as a visiting analyst explains that killers like Stutts are largely motivated by just the sort of publicity and fame that Koppel's nonstop coverage is providing. This time, the broadcast's sponsor is insurance company Mutual Life, the same spokesperson intoning, "Mutual Life — because you could die tomorrow."
Saturday Night Life doesn't do much of this sort of episode-spanning running gag, and this continuation almost didn't make it to air, as NBC executives initially torpedoed the completed follow-up piece before airtime. Citing the potential controversy anticipated by the network's upcoming faux newscast movie Special Bulletin, presented as an actual news bulletin about a nuclear incident, NBC corporate counsel Corydon Dunham told Ebersol that standards and practices were pulling the plug. Ebersol, once more to his credit, stuck to his guns, even threatening to quit unless the decision was reversed. It was, and the March 19 episode hosted by Robert Guillaume indeed saw the "Buckwheat shot" saga play out to its inevitable, hilarious end.
Rock's 60 Biggest 'Saturday Night Live' Performances