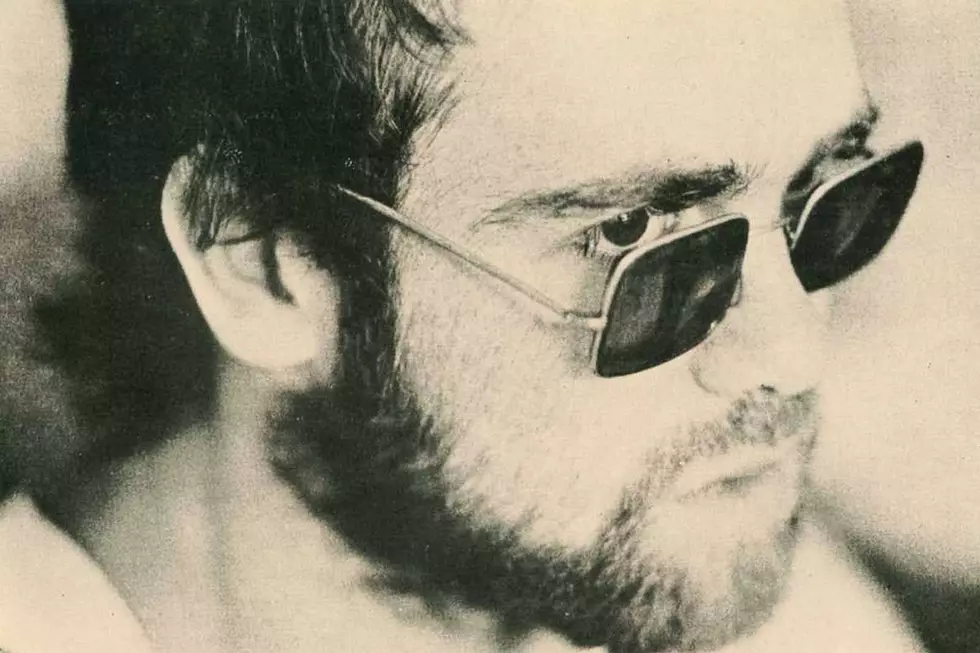 The Story Behind Elton John's 'Rocket Man'
DJM
Inspiration is impossible to predict. Lyricist Bernie Taupin was tooling down an English road in the early '70s when the opening lyrics to one of Elton John's most enduring hits, "Rocket Man (I Think It's Going to Be a Long, Long Time)," appeared fully formed in his brain.
"With 'Rocket Man,' the first two lines came to me when I was driving along, and by the time I'd gotten home, I'd written the song in my head," Taupin told Rolling Stone in 1973. "I got inside and had to rush and write it all down before I'd forgotten it."
Today, it seems impossible that anyone could forget a song like "Rocket Man," one of the most enduring classics to come from the Taupin/John songwriting partnership. Released as the lead-off single from John's 1972 album Honky Chateau, the song reached No. 2 in the U.K. and No. 6 on the U.S. charts. It arrived on the scene in a moment when the mere idea of "rocket men" had captured the popular imagination.
The U.S. landed its first manned mission to the moon in July of 1969, and the last landed back on Earth in December 1972. Within that timeframe came three iconic songs about traveling the stars: "Rocket Man," David Bowie's "Space Oddity," and Harry Nilsson's "Spaceman." With Bowie's song hitting first (just a scant 10 days before the actual moon landing), it's been assumed that "Oddity" inspired Taupin's bolt of inspiration while driving.
"People identify it, unfortunately, with David Bowie's 'Space Oddity,'" Taupin said in an interview for John's YouTube channel in 2016. "But it was actually inspired by a story by Ray Bradbury, from his book of science fiction short stories called The Illustrated Man. In that book, there was a story called 'The Rocket Man,' which was about how astronauts in the future would become sort of an everyday job. So I kind of took that idea and ran with that."
As always, the musical portion came quickly for John, who spent January 1972 at the Chateau d'Herouville in France with Taupin and the band to cut Honky Chateau. Each morning, John would set up shop at a piano in the chateau's breakfast space. In his room upstairs, Taupin would peck away at lyrics. The words would travel downstairs, and within 30 minutes, classics like "Rocket Man" would be complete. Later in the day, John would record with the band. The pair wrote nine songs in three days this way.
"We were all on the money musically and for me the music always comes first—the music can really express the inexpressible if you let it," John told Mojo in 1997, about Honky Chateau. "It was a pretty easy song to write the melody to, because it's a song about space, so it's quite a spacious song."
Like the rest of Honky Chateau, "Rocket Man" was recorded with the core of John's touring band at the time, the first time he'd taken them into the studio as his core group of musicians. Previously, his label insisted on session players instead. Rounding out the rhythm section of bassist Dee Murray and drummer Nigel Olsson would be versatile guitarist Davey Johnstone, just a fresh-faced kid of 20 when he played on Chateau. Johnstone would become a key member of John's musical team, playing more than 2,000 shows with him and becoming his musical director.
"Space Oddity" is a staple on classic rock radio, and "Spaceman" has its fans, but "Rocket Man" seems like it will last forever. Why has "Rocket Man" endured when its space-themed musical peers have faded into comparative obscurity?
Maybe it's the humanity in Taupin's lyrics. Rather than focusing on the sci-fi trappings of space travel, he zeroes in on the mundane reality of a man who has to pack his bags, leave behind his family, and trek off into the inky void, as casually as one might grab a taxi into the city. Where Bowie aims for the surreal and Nilsson plays for laughs, Taupin finds a quiet loneliness in his "Rocket Man."
That was cold comfort to Bowie, who was none too happy to see his re-released "Space Oddity" leapfrogged on the charts by "Rocket Man" in 1973. But it's hard to feel too bad; as his wife Angie noted at the time, "Other people can sing about space travel, too."
Elton John Albums Ranked