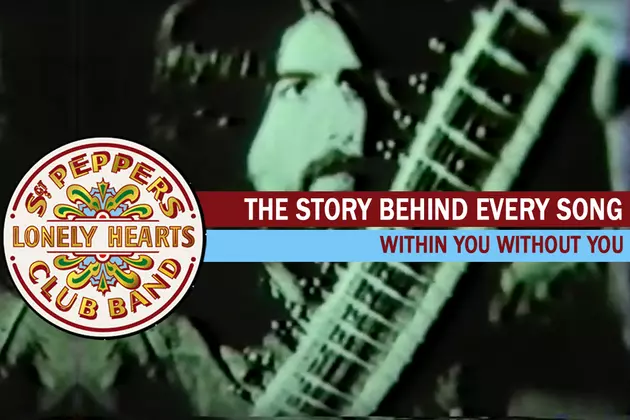 George Harrison Gets Deep on 'Within You Without You': The Story Behind Every 'Sgt. Pepper' Song
YouTube
Even though "Within You Without You" appears on an album associated with the Summer of Love, the song is actually the only one on the Beatles' Sgt. Pepper's Lonely Hearts Club Band that directly connects with the emerging counterculture movement. And it's hardly a Beatles song at all.
In a sign of things to come, composer George Harrison is the lone band member to appear on the Indian-influenced, sitar-driven "Within You Without You," which became the last song finished for the album. ("I was losing interest in being 'fab' at that point," Harrison later admitted.) Elsewhere, there is often little evidence of Harrison's participation on Sgt. Pepper, which took a dreamy, often-florid tack as he dove deeper into world-music sounds and Hindu philosophy.
"'Within You Without You' was the direction he wanted to take," Beatles sound engineer Geoff Emerick told Rolling Stone. "The other three were taken aback by it, but George was very serious about it."
The well-traveled Harrison had already been to India in order to delve more deeply into its culture. He was also the only Beatle to have actually visited Haight-Ashbury, the epicenter of that era's youth movement. "Within You Without You" – a utopian song about joint responsibility, the search for transcendental peace and living an ego-free existence – showed he remained far more plugged into the American hippie zeitgeist.
That combined into lines like "With our love, we could save the world," which predate the very similar and far more universally celebrated sentiments found in John Lennon's "All You Need Is Love." His bandmates, meanwhile, imbued the rest of Sgt. Pepper with a distinctly British feel; they were using things like dance hall music, U.K. landmarks and Victorian themes as touchstones.
Just months after becoming a more central figure on the Beatles' Revolver album, Harrison simply turned away from Paul McCartney's band-with-a-band concept. "I'd been let out of the confines of the group, and it was difficult for me to come back into the sessions. In a way, it felt like going backwards," Harrison admitted in the Anthology documentary. "Everybody else thought that Sgt. Pepper was a revolutionary record – but for me it was not as enjoyable. I was growing out of that kind of thing." The initial lyric from "Within You Without You" was telling: "We were talking about the space between us all."
While he was increasingly detached from the rest of the group, Harrison brought his full creative focus to bear on "Within You Without You." Recording commenced on March 15, 1967, with George Martin overseeing a session featuring Harrison, band assistant Neil Aspinall (they both added tambouras) and a group of Indian musicians from the Eastern Music Circle that played traditional instruments. (The same London collective also provided accompanists for "Love You To," Harrison's first foray into Indian music from 1966's Revolver.) Harrison overdubbed sitar on April 3, and also laid down his ethereal lead vocal. Even Martin's strings were scored based on ideas from Harrison.
"Within You Without You" became densely atmospheric, and uncompromising in both its musical and narrative vision. It also found Harrison – though he was always good for a cutting put-down song – at his most centered and least preachy: "Try to realize it's all within yourself," he sings, "no one else can make you change."
Harrison later oversaw the inclusion of yogis like Paramahansa Yogananda among the group of celebrities and influences depicted on Sgt. Pepper's Lonely Hearts Club Band's iconic cover art. As the album became a worldwide success, all of this worked in concert to bring Indian music and ideology to a broad new audience in the West. At the same time, a path of discovery was opening up that led inexorably away from the band. "Within You Without You" is the sound of Harrison's first steps toward a solo career, one marked by a lengthy pursuit of spiritual awareness.
"There are so many people who don't understand the sentiments of 'Within You Without You,'" Harrison later argued. "They can't see outside themselves. They're too self-important and can't see how small we all are. We're all one."
In the end, "Within You Without You" risked sounding over-serious on an album that included songs inspired by a child's drawing, a flirty parking-enforcement officer and an antique circus poster. So Harrison allowed for a final moment of levity: It was his idea to put a bit of laughter at the end of "Within You Without You," taken from a sound-effects tape in the Abbey Road library.
"I think he just wanted to relieve the tedium a bit," Martin said later. "George was slightly embarrassed and defensive about his work. I was always conscious of that. Perhaps I didn't devote as much attention to George as I had [to Lennon and McCartney]. I actually think 'Within You Without You' would have benefited a bit by being shorter, but it was a very interesting song. I find it more interesting now than I did then."
He wasn't the only one who developed a different perspective on "Within You Without You," which heralded an exploration of Indian teachings by Harrison that was as long as the Beatles' passing psychedelic fancies were short. By 1980, Lennon had deemed it "one of George's best songs. One of my favorites of his too. He's clear on that song. His mind and his music are clear. There is his innate talent. He brought that sound together." Ringo Starr later simply called the track "brilliant. I love it."
Beatles' 'Sgt. Pepper's' Cover Art: A Guide to Who's Who