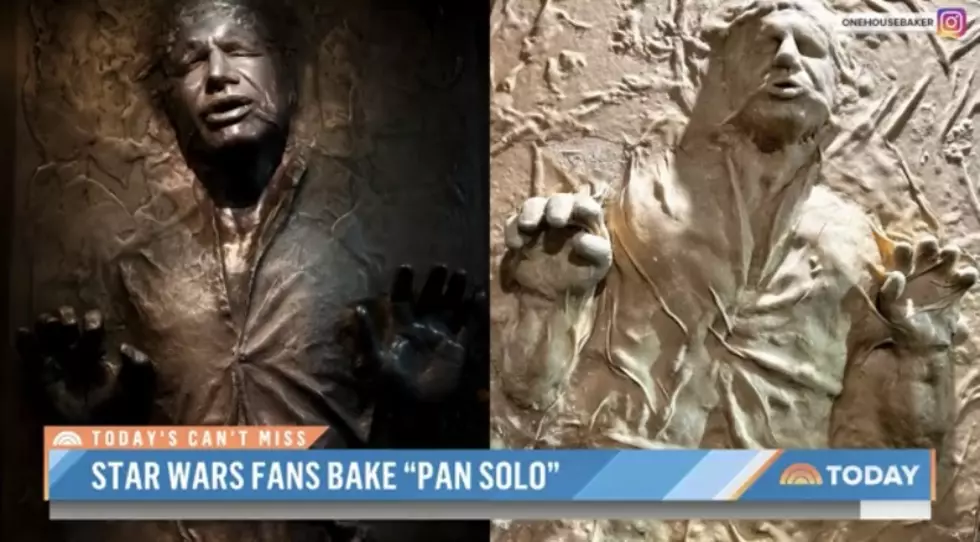 Baker Recreates Iconic "Star Wars" Scene with Bread
TODAYshow/Twitter
According to an AP News report, a bakery in California has captured iconic "Star Wars" character Han Solo again, this time with bread instead of Carbonite.
Recreating the harrowing scene from "The Empire Strikes Back," Hannalee Pervan and her mother Catherine spent weeks working on the 6-foot bread sculpture that is now on display outside their bakery. According to the report, they used two types of dough so the sculpture will last longer before it starts to decay.
The incredibly accurate sculpture was so well done, that even Luke Skywalker himself had to give the team credit for freezing his friend Han again.
Now I'm not much of a baker but I might have to start messing around with it. I love Star Wars. I couldn't imagine anything cooler than surrounding my boring old sandwich with two small Han Solo in carbonite pieces of bread. And if I had the skill and facilities to make a life-sized version of this masterpiece myself, you'd better believe it'd be sitting in the WNBF studio until it fell apart on its own regardless of how bad the smell gets.
This bread recreation of an iconic scene that shocked and traumatized a young James belongs in the greatest museum in the world. And from now on, I will never eat another sandwich that is not in some way inspired by an iconic scene from the original trilogy. Now that I know bread can be turned into this kind of art, I can never return to the blandness of a regular loaf.
35 Famous People With Ties to the Binghamton Area
5 Classic Horror Movie Locations Within Driving Distance of Binghamton