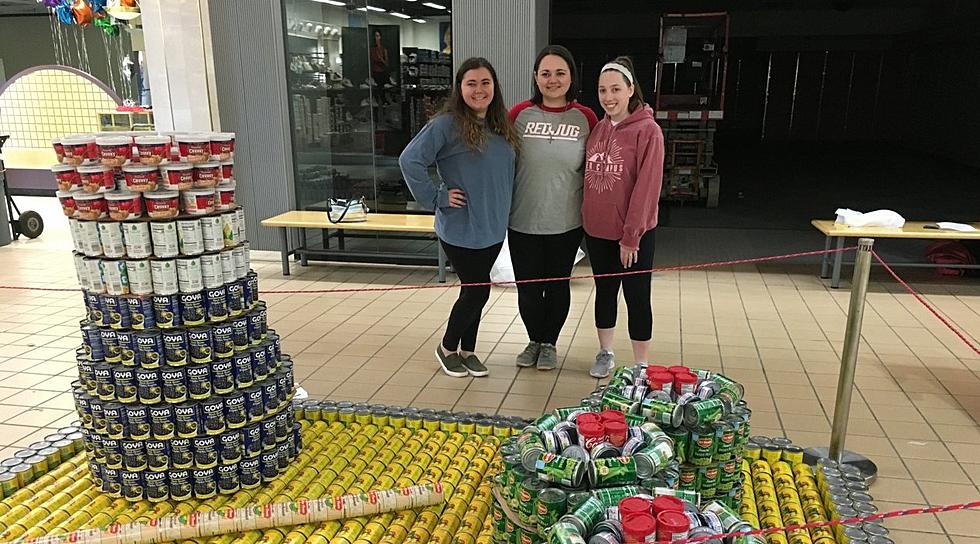 Watch Creative Competition: SUNY Oneonta 'Canstruction' Is Back April 2
via Linda Drake
SUNY Oneonta's Center For Social Responsibility and Community's "Canstruction" event, led by executive director Linda Drake is back this year at the Southside Mall. Canstruction raises awareness about food insecurity and helps to collect nonperishable food for local families in need.
On April 2, teams made up of local businesses and SUNY Oneonta students will build structures out of donated cans of food with nothing else added in. Using the colors on cans is very important to the finished design and teams have an opportunity to be quite creative. Each team has its own unique design for the event.
Canstruction in Oneonta started back in 2011 and since then, has garnered more than 38,000 pounds of food that goes to local food pantries for distribution thanks to help from the Hunger Coalition of Otsego County.
On April 2, you can come out to the Southside Mall and watch the different teams creating their "canstruction" and then the creations will remain on display until April 10.
If you think this sounds like a fun activity to do, you can still get a group together to participate and make a difference in our community. Contact Linda Drake at (607) 436-2633 or linda.drake@oneonta.edu.
As you can see from the photos below, teams get quite creative with their "can creations"!
keep scrolling: Harry Potter Inspired Airbnb In New York Welcomes Muggles
Take A Tour Of The Enchanted Berkshires Airbnb Tower House Getaway
There is no shortage of unique Airbnb rentals that would make for a special weekend getaway here in the Capital Region and surrounding areas and the "Enchanted Tiny Tower"
House on Airbnb
fills the bill. Nestled on the 4 acre Santarella Estate in Lee, Massachusetts in the Berkshires, you can live the gnome life in this adorable tower house among the trees, a babbling brooks and so much more. From the charming exterior to the canopied bed to the outdoor firepit and lilly pond, this tiny tower getaway that sleeps two has 'enchanted' written all over it. This one will set you back $298 per night, but based on the 4.94/5 star rating, it will be money well spent! Check out the photos below:
10 Sophisticated Dining Hot Spots In Otsego County
Otsego County has its fair share of eateries but most of them are very casual in terms of the decor. If you're looking for something "next level" - a finer dining experience, check out these more sophisticated restaurants in Otsego County that also feature delicious and varied cuisine.