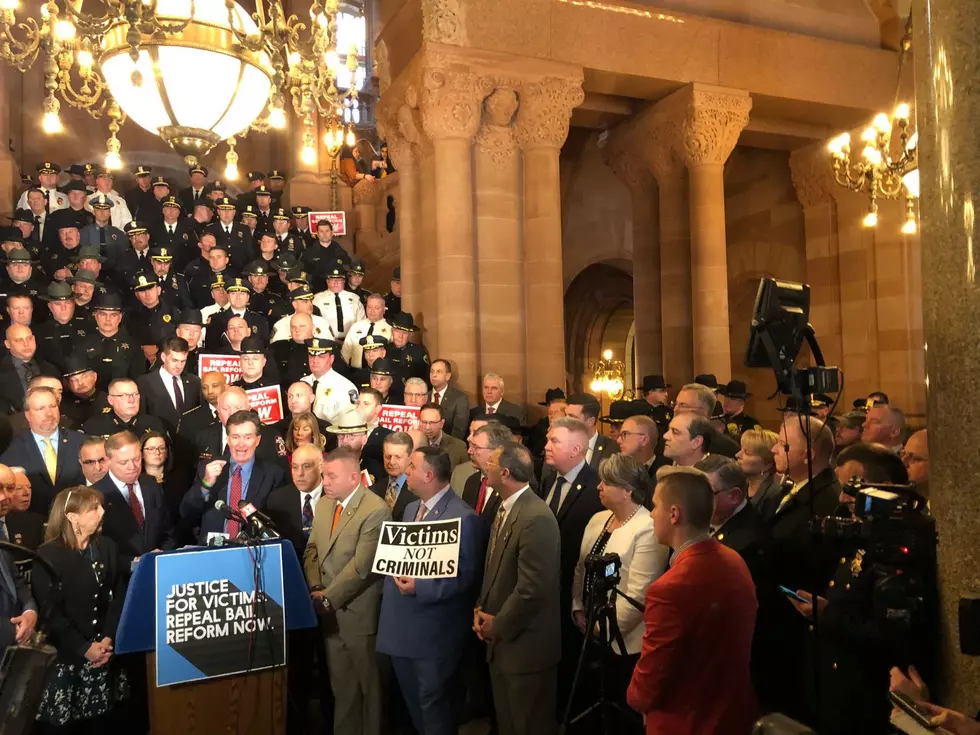 State Capital Rally and Upcoming Otsego County Rally on Bail Reform
Credit: Assemblyman Brian Miller, facebook
Yesterday in Albany, NY, Assembly Minority Leader Will Barclay (R,C,I,Ref-Pulaski), Senate Minority Leader John J. Flanagan (R-Suffolk County), along with members of both Conferences and law-enforcement officials rallied in the New York State Capitol to call for a repeal of the new, criminal justice reforms.
Lawmakers gathered with prosecutors and members of the law-enforcement community who are dealing firsthand with the fallout from these laws.
Assembly Minority Leader Will Barclay said, "These laws were misrepresented by their supporters and the enormous shortcomings of the so-called 'reforms' are impossible to ignore. These laws are allowing dangerous individuals to be arrested, get released and go right back to committing crimes, sometimes within hours. We rallied here today to make sure our resolve and commitment to fixing this egregious public safety crisis are clearly understood."
The intentions of the reforms were meant as a way to bring economic equality to the judicial system by easing bail restrictions for low-level, non-violent offenders.
According to AllOTSEGO, coming up this Thursday, Otsego County Assemblyman John Salka, is holding a  "Repeal Bail Reform" Rally at 10:30 a.m. at the Otsego County Correctional Facility, in the Town of Middlefield. It will also be attended by state Senator Jim Seward, Assemblyman Chris Tague, Assemblyman Brian Miller, four county sheriffs, including Richard J. Devlin Jr.; two district attorneys, including Otsego's John Muehl, and county Rep. Peter Oberacker, R-Schenevus, who is running for state Senate to succeed the retiring Seward.