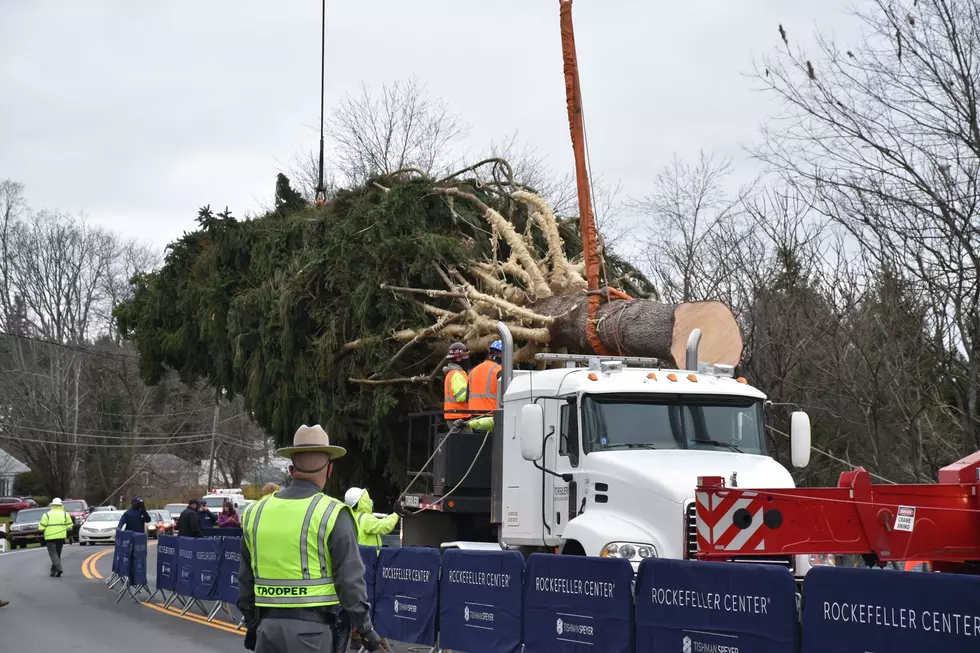 Rockefeller Center Christmas Tree Makes the Trip from Oneonta to NYC
Credit: New York State Police
It's beginning to feel a lot like Christmas. The Rockefeller Center Christmas tree is completing its journey to becoming the most-viewed Christmas tree in the state.
The Rockefeller tree, a 75 foot tall Norway spruce, was finally cut down and trucked to NYC via the New York State Thruway. Wouldn't that be an incredibly cool thing to see as you're driving?
Enter your number to get our free mobile app
The West Oneonta tree is considered a 'donation' that millions will admire from "Daddy Al" Dick. Rockefeller Center absorbs the transportation costs, security, and other workforce needed.
The tree was prepared and wrapped by professionals out of Newburgh, who remained with the tree until it was lowered onto a flatbed truck for the journey south. Sometimes the tree is decorated in giant red bows or banners extending holiday greetings to witnesses on its way to Rockefeller Center.
New York State Troopers accompanied the tree as it made its way down I-88 for the journey out of Oneonta.
Ultimately she will be draped in 50,000-holiday lights on five miles of wire and topped with the Swarovski Star that includes 3 million Swarovski crystals adorned across 70 triangular spikes with LEDs will backlighting the 9-foot-4-inch topper.
Although there's been no official announcement, the Tree Lighting Ceremony could be around December 4th, and the tree will remain on display through the first week of 2021.
LOOK: See what Christmas was like the year you were born