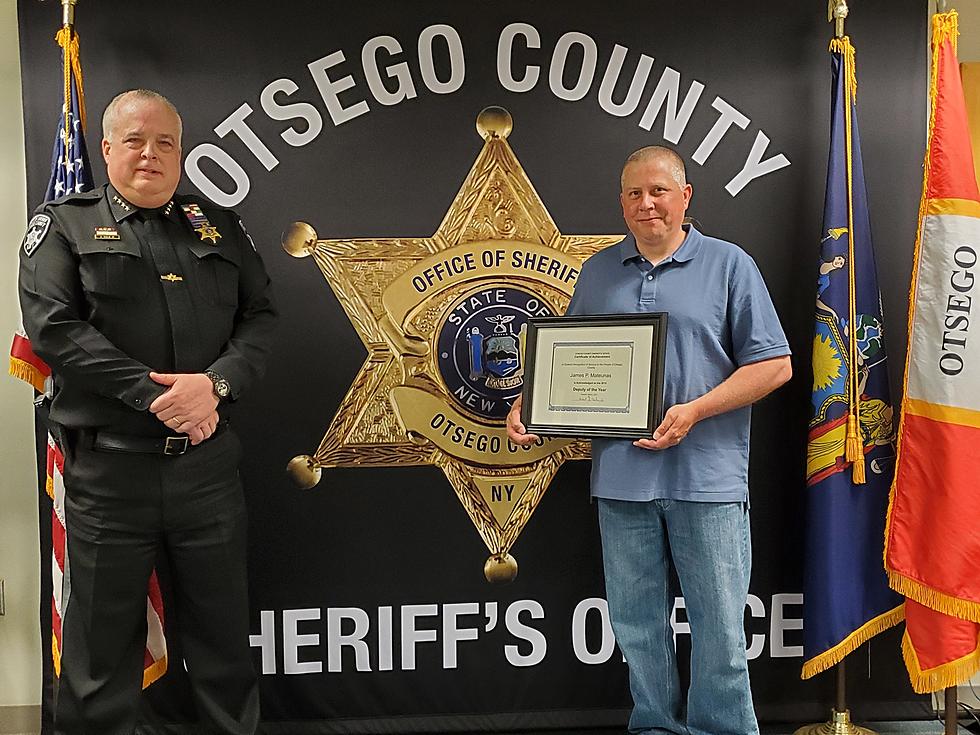 Otsego Co. Deputy Sheriff Mateunas Named 'Deputy of the Year'
OCSO
When our uniformed officers from all branches go out on their shift, only they can really understand the dangers that await them.  And those dangers can come in all forms, from responding to a robbery, to a domestic violence call, or making a drug bust, they all have their own uncertain dangers.
On May 21, 2019 Otsego County Deputy Sheriff James Mateunas was involved in an incident in the Town of Springfield.  In the course of responding the a call, Deputy Mateunas's patrol vehicle was rammed intentionally by the fleeing suspect.  The impact of the head on car crash sent the police car hundreds of feet down the road.  Officer Matenuans was seriously injured in the crash and even all these months later he is still in recovery mode from his injuries.
Yesterday Otsego County Sheriff Richard J. Devlin, Jr. announced that Deputy Matenunas would be awarded the department's highest honor, the 2019 Deputy of the Year Award.  The presentation yesterday was in recognition of National Law Enforcement Day and was a tribute to Mateunas' courage and professionalism in carrying out his duties.
We congratulate Deputy Mateunas, a 20 year veteran of the Sheriff's Department, and we wish him God speed on a full recovery.
And in reflection of Law Enforcement Day yesterday we salute and honor all of the men and women in our Tri-County listening area who protect and serve their communities every day.  We "thank you for your service."
For more on the Otsego County Law enforcement Day awards ceremony CLICK HERE.
Here are 50 of your favorite retail chains that no longer exist.