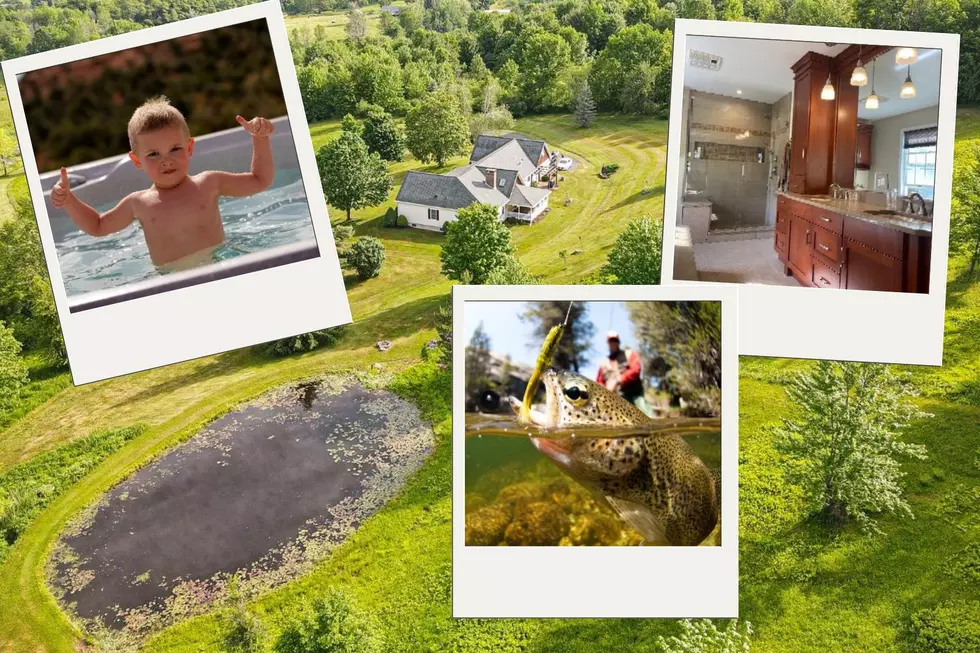 Private Otego, NY Home For Sale Has It All, Not Kidding [Photos]
via Benson Agency Real Estate, Getty Images, Canva
What sits on almost 30 beautiful acres, has not one but TWO fish-stocked ponds, and an amazing home on top of a hill with a gorgeous view of the Upper Susquehanna River Valley? A property that is close to Oneonta and just outside of Otego that seems almost too good to be true and just came up for sale from Benson Agency Real Estate.
Real Estate Agents Phillip Wright and Lance Thomas are listing this dream property at 146 Downey Road, Otego and would love to take anyone interested on a tour. Below are some highlights of this 2750 square feet home:
3 sizeable bedrooms
3 full baths (the master bath has a jacuzzi!)
gorgeous grand entry/foyer
set-in living room with gorgeous outdoor views
pristine hardwood floors
massive walk-in closet in master bedroom
family room with gas fireplace and access to a private back deck with a hot tub
Great second-floor bedroom with office space for working from home (reliable internet access)
2-car garage
workshop space
gazebo
large shed
2 stocked ponds
nature trails on the property
This home and property really have it all when it comes to convenience with proximity to services and shopping; property to fish, hunt, and hike on; plenty of space for entertaining; quiet; a great space to work from home; a workshop for crafty people; and plenty of storage. Now it's time to check out some photos...
These are just a few photos so you get the idea about how great this home and property are. See the full Benson Agency Real Estate listing HERE.
LOOK: A Feast For Eyes And Stomach Awaits You Dining Outdoors At These 13 Local Restaurants
Central New York may be known for its changeable weather more than outdoor dining but because of the increase in popularity of eating in the great outdoors, more and more restaurants are offering it to patrons. Below are some awesome choices in Delaware and Otsego Counties.
10 Most Unusual and Peaceful Airbnbs in Delaware and Otsego Counties
Get ready for a very peaceful, close-to-home getaway at some of Delaware and Otsego County's most unusual Airbnbs.
Did You Know This?? 13 Upstate Food Favorites You Can't Buy Outside of New York State
Upstate New York is the home to many fantastic food favorites. Mention sponge candy to somebody 100 miles outside Buffalo and you are probably going to get a blank stare. Mention a Michigan hot dog to anybody not from around Plattsburgh. Same stare. So here is a list of 13 regional food icons that you cannot buy outside of the empire State.
I will add this asterisk. You certainly can buy some of these items online, like the Saratoga Peppermint Pigs. Perhaps the Stix and Sauce item is known by another name somewhere in the country. Salt potatoes may have gravitated elsewhere but if so nobody knows where they started. And Grandma Brown. Well, you can buy that sweet lady's baked beans on eBay. But for the most part you would have to walk into a store or restaurant in Upstate New York to enjoy these "regional" fan favorite foods.