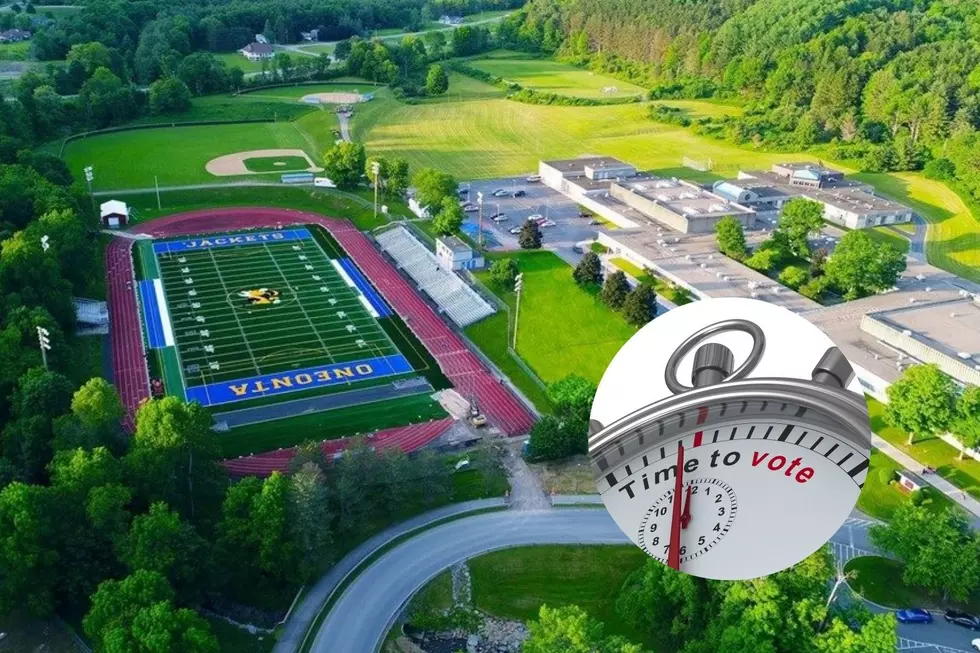 Get Ready To Cast Your School Budget Vote For 2022-23 In Oneonta
via Oneonta City School District - Facebook, Getty Images, canva
It's that time of year when school districts are biting their nails and hoping that district voters mark "yes" on the ballot to pass their budgets for the coming school year. The Oneonta City School District led by Superintendant Thomas Brindley is one such district hoping that New York State comes through on enough funding to balance the budget without too much of a burden on local taxpayers.
Brindley had this to say in regards to state funding in a letter sent to school district voters, "uncertainty still exists regarding future school funding." Brindley goes on to say, "actual state aid calculations for the current and future years are still not clear."
If you want to get all the information on the proposed OCSD 2022-23 school year budget, tonight there will be a budget hearing at 5:30 pm at the Oneonta High School cafeteria. The date to vote on it is coming up on May 17 from 11:00 am to 8:00 pm at Foothills Performing Arts Center where voters will be looking at voting "yes" or "no" on a $42,262,416 which is a 0.357% increase from the last one.
Here's what OCSD voters will see on the ballot:
- a budget vote
- vote for three Board of Education seats to be filled (3-year term) and then another seat needs to be filled to serve the remainder of a term (May 18 - June 30, 2023)
- Proposition for the purchase of two buses.
Oneonta School District voters can find out more about the proposed budget at www.oneontacsd.org.
Treasure Hunt At 12 Consignment and Thrift shops in Otsego County
Thrift and consignment shops have become very popular over the years and continue to gain in popularity since you can find some amazing clothing items or treasures that you just have to have. "Sky's the limit" on what you can find at any one of these awesome shops in Otsego County. Happy treasure hunting!
Heroics At Work: Oneonta Firefighters And Other Local Crews Snuff Out Blaze
This Town of Oneonta fire presented a challenge to Oneonta firefighters since the nearest water source was half a mile away.
'Lions and Tigers and Bears (Oh My)' at These 15 Great Upstate New York Zoos
This is a list of many Upstate zoos, animal sanctuaries, animal rescue farms, and adventure parks where the whole family can visit and get close to nature and mingle with some of the most impressive animals anywhere.