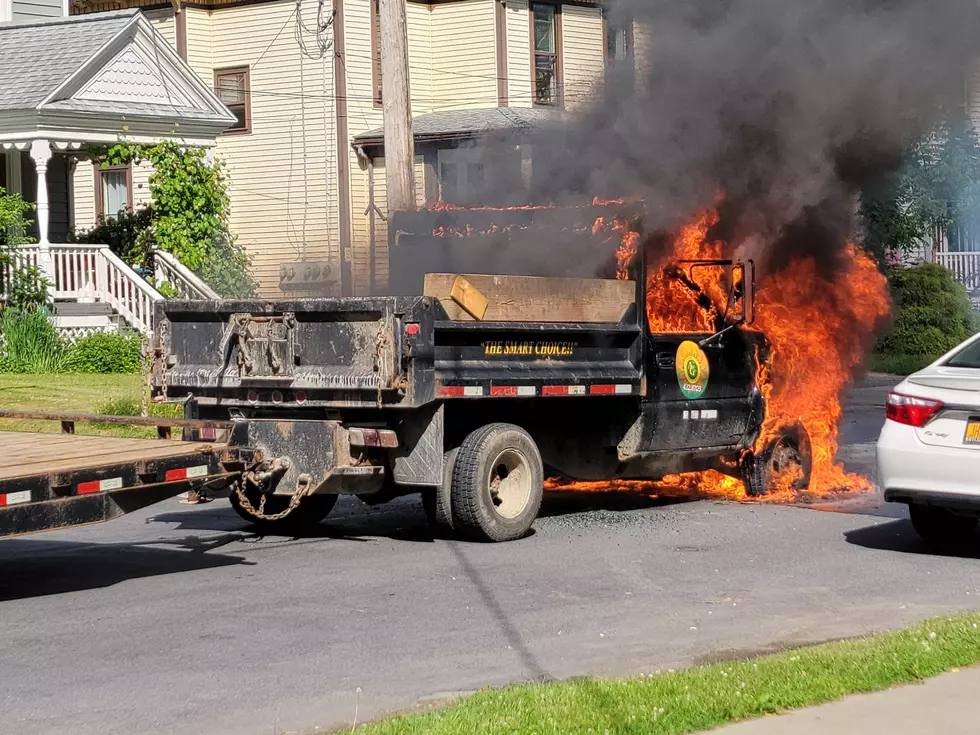 Truck Goes Up In Flames On Busy Oneonta Street [Video]
via Oneonta Fire Department, Facebook
Oneonta firefighters have been keeping very busy this spring and when emergencies like yesterday's happen, we're all glad that we have a fire department with a crew ready to go, 24 hours a day, 7 days a week!
Yesterday, late afternoon, the Oneonta Fire Department (OFD) reported and responded to a truck on fire on Grand Street in the City of Oneonta. Fire officials say the truck engine caught on fire. Fortunately, the driver was unhurt but you'll be able to see the truck following the fire below and I think it's safe to say, it's a total loss to the vehicle's owner.
Firefighters did a great job of getting the situation quickly under control and dousing the flames. Below, check out videos from OFD taken from the scene of the fire.
From the photo above, I think you would agree that it would be "the smart choice" for this truck's owner to count his blessings! This incident could have been a lot worse.
I have a feeling that this was one of OPD's easier fires to fight considering some of the fires fire crews have had to battle this season. I'm referring to the fire at 36 High Street in Oneonta on Memorial weekend that claimed the lives of two dogs. The other fire that took several crews to get under control was a house fire in the Town of Oneonta on West Street at the end of April. That fire was so devastating that the residents lost everything.
Heroics At Work: Oneonta Firefighters And Other Local Crews Snuff Out Blaze
This Town of Oneonta fire presented a challenge to Oneonta firefighters since the nearest water source was half a mile away.
THIS is Why You Should Move Over for
The New York State Move Over Law was enacted in 2012 to protect law enforcement officers, emergency workers, tow and service vehicle operators, and other maintenance workers stopped along roadways while performing their duties. This is what happens when you don't move over. It's not only dangerous, it's the law!
Cool Down at These 21 Outstanding Upstate New York Breweries, Big and Small!
The craft beer brewery explosion has now landed on Upstate New York with a "boom." From big city downtown locations, to rural "off the grid" in-the-woods breweries, these are some of the best of the best in Upstate New York.