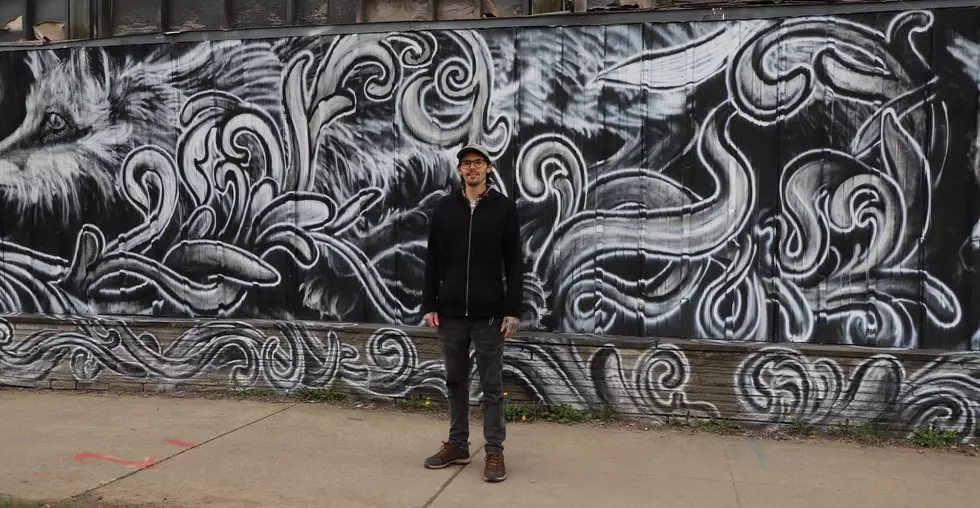 Stunning Mural Transforms Oneonta, NY Eyesore Into Eye Candy
James R. Mcilroy, Facebook
Have you had the opportunity to see the amazing nature and animal scenes that have been unfolding on the former Oneonta Sales building on the corner of Market St. and Chestnut St. extension in Oneonta this spring?
What has easily been considered one of Oneonta's biggest eyesores for years has been transformed thanks to artist James R. Mcilroy, the artist commissioned by the city to create this temporary art installation! I'm told by mayor Mark Drnek that Mcilroy has gotten so into the project that he has created more than he was commissioned to do and we're so grateful that he has because what he's done with spray paint is nothing short of incredible!
Here's the thing, believe it or not, this building is going to be demolished at some point (thank goodness!). The last time I spoke with mayor Drnek on the subject of the building's demolition, he thought it could be within the coming months.
In January of 2020, a purchase agreement between the City of Oneonta and Twelve Tribes in Oneonta (building owners) was reached to purchase the building from Twelve Tribes for $425,000. That's just the beginning since the city's intention is to knock it down and ready the property for development of some sort. Unfortunately, the cost of doing that is quite high since the building contains asbestos. In addition, Drnek says that because the building is on a slope, the adjacent Clinton Plaza parking lot will have to be fortified with a retaining wall of some time to keep the ground intact. As of the March 28 Common Council meeting when the demolition of that building was discussed, the estimated cost of tearing down and preparing the property lot for development was close to $1.8 million. That's quite a price tag because there's a lot involved in the demolition process.
There's no known timeline for the demolition yet from city officials. When that information is released, we'll share it. With that said, we can all enjoy the beautiful mural Mcilroy has created on that building while it's still there. If you enjoy it as much as I do, I suggest taking a selfie in front of it since it's supposed to be temporary.
Stunning Mural Transforms Oneonta, NY Eyesore Into Eye Candy
A building that the City of Oneonta plans to demolish, and one of Oneonta, NY's biggest eyesores, has been getting a major makeover thanks to artist James R. Mcilroy, owner of
Wolfhound Studio
which is a tattoo and art studio at 269 Main Street, Oneonta. Mcilroy has been creating murals on the side of the former Oneonta Sales building on the corner of Market St. and Chestnut St. Extension - a building formerly used as storage by the
Twelve Tribes
group in Oneonta. Now, instead of focusing on the ugliness of this horrible structure, the eye is drawn instead to the beauty of Mcilroy's artwork. Talk about a transformation!
A Feast For Eyes And Stomach Awaits You Dining Outdoors At These 13 Restaurants In Central New York
Central New York may be known for its changeable weather more than outdoor dining but because of the increase in popularity of eating in the great outdoors, more and more restaurants are offering it to patrons. Below are some awesome choices in Delaware and Otsego Counties.
10 Reasons Why You're Lucky To Be Living in Oneonta, NY