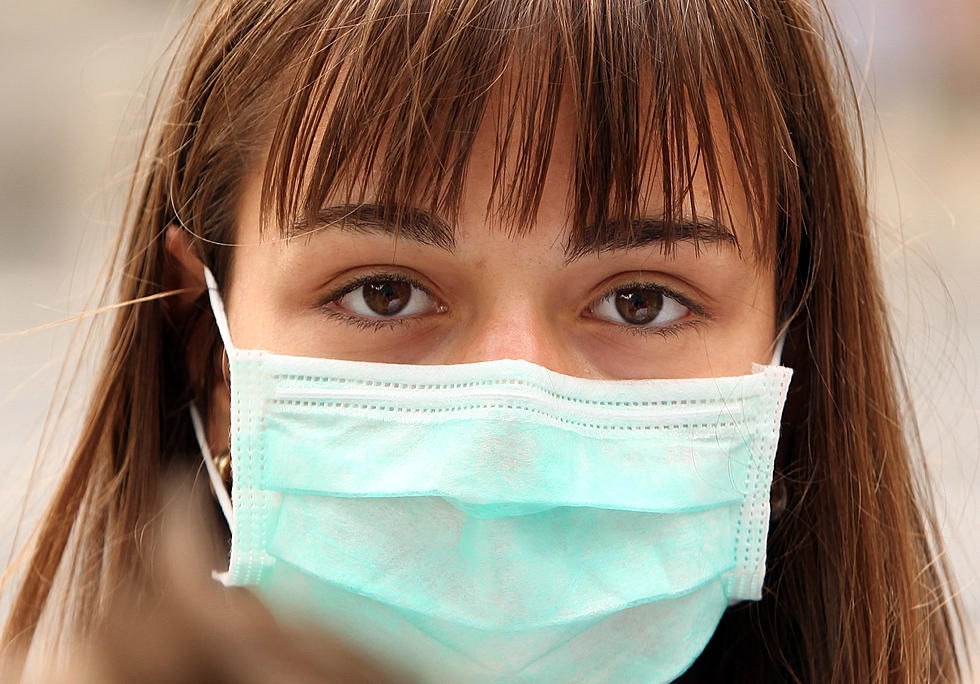 Mask Mandates Return to New York State as COVID Cases Soar
Oli Scarff/Getty Images
New Yorkers are again being required to wear facial coverings while inside public places in an attempt to curb the latest wave of coronavirus infections.
The mandate, which goes into effect December 13, says all businesses in the state must require patrons and staff to wear masking while inside all public places unless that business requires vaccination against COVID-19.  The measure is to be re-evaluated January 15.
Approaching 21 months into the start of the COVID-19 pandemic and following several months of more relaxed pandemic protocols, Governor Kathy Hochul is again mandating masks be worn inside businesses throughout the state.
"I have warned for weeks that additional steps could be necessary, and now we are at that point based upon three metrics: Increasing cases, reduced hospital capacity, and insufficient vaccination rates in certain areas,"-NY Governor Kathy Hochul
In an address December 10, the Democrat thanked the 80% of New York State residents who have gotten the vaccine but acknowledged that is not enough to hold COVID-19 at bay.
Hochul says the number of new cases and hospitalizations is jumping at an alarming rate of over 40 new cases a day and an almost 30 percent increase in hospitalizations, putting additional strains on the healthcare system that, in some areas, is already seeing hospitals near capacity for available staffed beds.
"I have warned for weeks that additional steps could be necessary, and now we are at that point based upon three metrics: Increasing cases, reduced hospital capacity, and insufficient vaccination rates in certain areas,"-NY Governor Kathy Hochul
While the Delta variant of the coronavirus continues to be dominant in the state and largely responsible for people ending up in the hospital or dying, the new Omicron variant continues to spread.
Acting Health Commissioner Dr. Mary T. Bassett said, "Community spread requires a community-minded solution, as the Omicron variant emerges and the overwhelmingly dominant Delta variant continues to circulate. We have the tools we need to protect against the virus - and now we must ensure we use them. There are tools each individual can use, and there are actions we can take as government. Getting vaccinated protects you, and wearing a mask is how we will better protect each other. Both vaccination and mask-wearing are needed to slow this COVID-19 winter surge."
Local health departments are being tasked with enforcing the mandate, which carries a maximum fine of $1,000 per violation.
Here is the breakdown, as per a news release from the governor's office, of what the mandate means for business with a vaccine mandate and venues that will have to require patrons and staff wear masks:
Business/Venue Proof of Vaccination Requirement    
Businesses and venues that implement a proof of vaccination requirement must ensure that anyone 12 years of age or older is fully vaccinated before entering indoors. Businesses/venues can accept Excelsior Pass, Excelsior Pass Plus, SMART Health Cards issued outside of New York State, full-course vaccination through NYC COVID Safe app, a CDC Vaccination Card, or other official immunization record.
In accordance with CDC's definition, fully vaccinated is defined as 14 days past an individual's last vaccination dose in their initial vaccine series (14 days past the second shot of a two-dose Pfizer-BioNTech or Moderna vaccine; 14 days past the one-shot Janssen/Johnson & Johnson vaccine). The State also accepts WHO-approved vaccines for these purposes. Parents and guardians can retrieve and store an Excelsior Pass and/or Excelsior Pass Plus for children or minors under legal guardianship.
Vaccines for children ages 5 – 11 have only been available since November 2021. Therefore, in order to enter a business or venue that implements a proof of vaccination requirement, children ages 5 – 11 only have to show proof of having had at least one dose of the COVID-19 vaccination.
Vaccines have been available for 16–17-year-olds since April 2021 and for 12—15-year-olds since May 2021. At the time of the determination, 63% of the 12 – 17 age group has been fully vaccinated in New York State.
Business/Venue Mask-Wearing Requirement    
Businesses and venues that implement a mask requirement must ensure all patrons past their second birthday and medically able to tolerate a face covering wear a mask at all times while indoors outside of physical eating or drinking.
Continued Masking Requirements    
Unvaccinated individuals continue to be responsible for wearing masks, in accordance with federal CDC guidance. Further, the State's masking requirements continue to be in effect for pre-K to grade 12 schools, public transit, homeless shelters, correctional facilities, nursing homes, and health care settings per CDC guidelines.
New York State and the State's Department of Health continue to strongly recommend mask-wearing in all public indoor settings as an added layer of protection, even when not required. Children 2 - 5 who remain ineligible for vaccination must wear a proper-fitting mask.
The Governor's full December 10 announcement can be seen here:
Five Mistakes You Might Be Making With Your Face Mask
More Uncomfortable Than A Face Mask