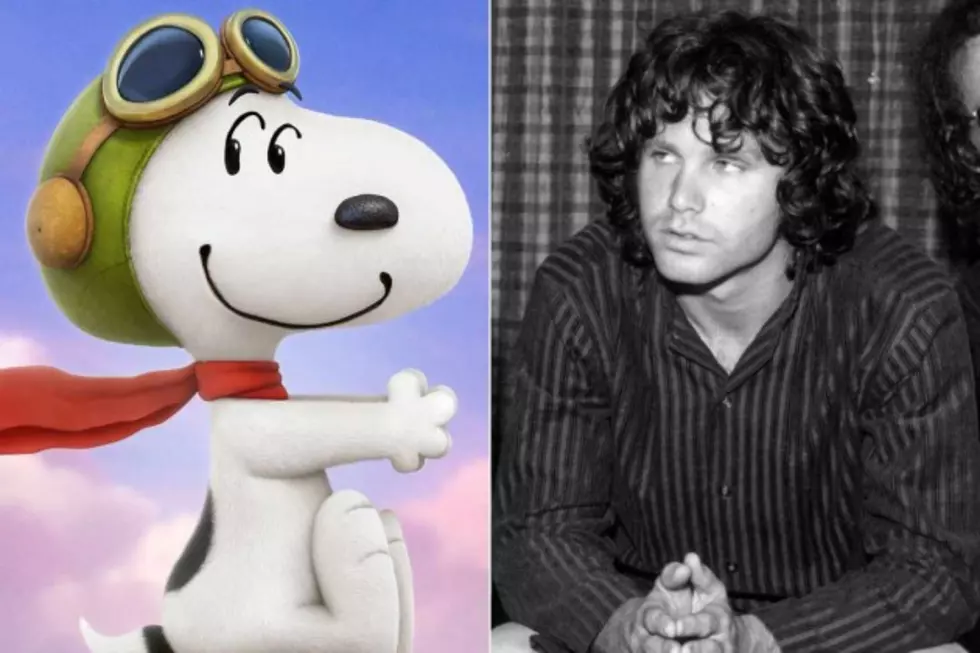 Jim Morrison's Pornographic 'Peanuts' Cartoon Featured in Rock Memorabilia Auction
YouTube / Central Press, Hulton Archive, Getty Images
Whether you're a huge Jim Morrison fan or just someone who enjoys seeing innocent cartoon characters doing filthy things, the Lelands auction house has an item you may be interested in adding to your collection.
Rolling Stone reports on the upcoming sale of a lot featuring an array of rock memorabilia, including items owned, signed, or worn by the Beatles, the Who and James Brown — as well as a cartoon scribbled by Morrison that features the Peanuts gang engaged in X-rated conversation.
You can see the cartoon in question at the Lelands site, along with an in-depth description that begins with the helpful explanation, "Charles M. Schultz would be outraged! Doors frontman Jim Morrison was quite the cut-up, as evidenced by this humorous original artwork incorporating pasted-on Peanuts character cut-outs with his own handwritten dialogue. It is, of course, loaded with sexual overtones."
The auction, due to begin July 17, will also seek to find new homes for a postcard signed by all four Beatles, an unused Beatles concert ticket ("confiscated and kept in the family Bible in order to ward off evil spirits") and a "rhinestone-studded suit" that Brown wore onstage.
The lot contains nearly 100 items in all, with reserve prices ranging from a few hundred dollars into the thousands, and includes memorabilia associated with a long list of artists from classic rock, country and soul. Check out the complete collection courtesy of Lelands.
See the Doors and Other Rockers in the Top 100 Albums of the '70s
Meet the Members of Rock's Tragic '27 Club'