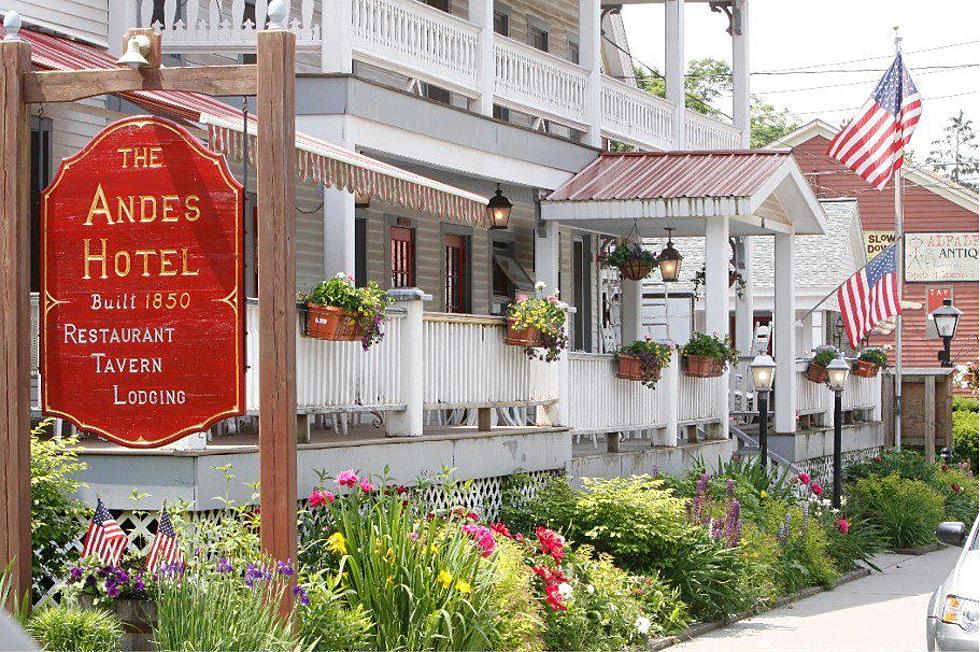 13 Incredible Restaurants in 13 Tiny Upstate New York Towns
Andes Hotel via facebook
There are more award-winning, 5-star rated restaurants in the urban centers of Upstate New York than you can shake a fork at.  Just a quick look at dining guides in places like Syracuse, Albany, Buffalo, Kingston, Utica, Binghamton, and other cities, and you will see fine restaurants popular with that city's residents on almost every corner.
But what about the hamlets, small towns, and villages of Upstate New York?  Any good restaurants there?
The answer is a resounding YES!
Best Restaurants in Upstate New York's Small Towns
This gallery takes a look at some fantastic, award-winning dining destinations found in very small (dare I say tiny?) communities all across the Upstate New York region.  We highlight 13 of them here, and you will not want to miss any of them.  They range from burger and pizza places to full sit-down elegant restaurants which also offer up stellar wine lists.  All of these places can be found in map dots with less than 2,000 residents.  And in fact, one of the very best is in a tiny (yes, I said it) hamlet of less than 300 residents.  Their list of awards, for food and wine, would fill a thick notebook!
We encourage you to keep these places on your radar the next time you take a road trip along the backroads and byways of rural Upstate New York.  You will find great meals and fun times in the least expected places!
As always, there are hundreds of fine restaurants in the small burgs of Upstate, and we can only list a handful.  So, if your favorite small-town place for a fabulous meal is not on this list (in places with less than 2,000 population, please) we hope that you will hop over to our Facebook page and give your favorite a big shout-out!
13 Five-Star Restaurants in Some of Upstate New York's Tiniest Towns!
This gallery takes a look at some of the finest restaurants in Upstate New York that are located in some of the smallest communities. Each is definitely worth a stop in for a meal. All are excellent. One of the best restaurants in this gallery is in a hamlet of only 243 residents. But is is awesome!
An Amazing 100-Mile Road Trip From Canandaigua to Cazenovia!
Having driven thousands of miles writing and researching more than a dozen top Upstate New York travel books, people ask me if I have a favorite areas to visit? This gallery takes a look at that area. The cities, villages, and hamlets that line up like a string of pearls from Canandaigua to Cazenovia, mostly along the northern tips of the Finger Lakes, are a real favorite location for me. It is about a 100 mile trip, and it is filled with history, beauty, great food, and wonderful people. Come along and take the journey with me. Here are 21 places found in 7 different communities along the road that I like to stop at. Have you been to any of these places? They are some of my favorite restaurants, museums, taverns, and historical sites along the way. And some, well, they are just fun!