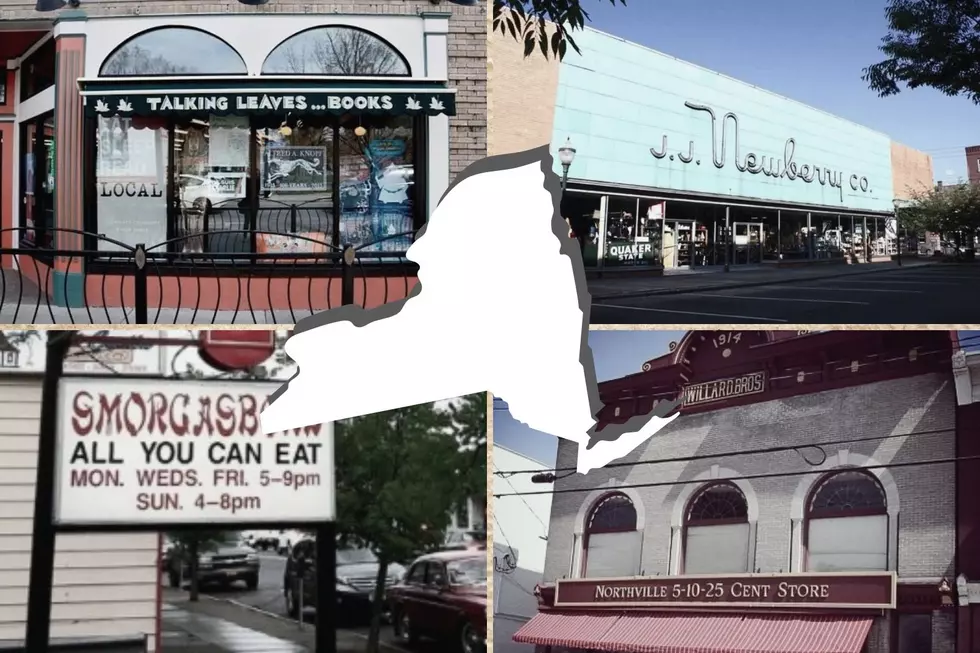 Happy New Year to 9 Of the Oldest Businesses in Upstate New York!
Talking Leaves Book Store via Facebook/TSM/Northville 5-10-25 Cent Store via Facebook/Canva
These businesses deserve a rousing cheer from all of us for their incredible accomplishment!
The past few years alone have not been easy or ideal for many businesses across the country. With the pandemic and lockdowns, unfortunately, many great and beloved small businesses have had to say goodbye to their customers.
This gallery below highlights a handful of stores that have been able to withstand the test of time. Each of these stores in Upstate New York is among the oldest of their kind.  For generations, they have been able to keep their doors open, in good times and bad. It is truly not only a testament to the greatness of these businesses but to the employees there and the communities around these businesses that have helped keep them afloat and thriving for all of these years.
So at the beginning of the new year 2023, let's pause for a second and cheer these folks on!  In this gallery, you will find a 156-year-old department store, a 96-year-old Chinese restaurant, a 135-year-old jewelry store, plus the oldest general store in the United States and the oldest Ford dealership in New York!  So, the next time you're looking for something unique to do or are simply in the area of one of these age-old businesses, stop in and see what they each have to offer. Having been around for so long, you're surely to find something you like.
Take a look at this list, and give them a big high five!
Some of the Oldest Stores in Upstate New Year (A 113 Year Old Ford Dealership??)
As the new year begins, lets take a moment and give a rousing cheer for some businesses in Upstate New York that have welcomed in way more than one new yea's eve.
How about a 96-year old Chinese Restaurant? A 135 year old jewelry store still in the same family? A 156-year-old department store? And how about the oldest Ford dealership in New York State (113 years!). All in Upstate New York..
Congratulations to all of these legendary businesses who have kept their doors open for generations!
Upstate New York is a Paradise for Antique 'Pickers' Everywhere
There is no best season to go antiquing in Upstate New York. However, autumn can't be beat for its natural splendor and for the bargains you will find from the Hudson to the North Country to Western New York. Pickers should definitely put these 15 antique destinations on their next road trip through the region!