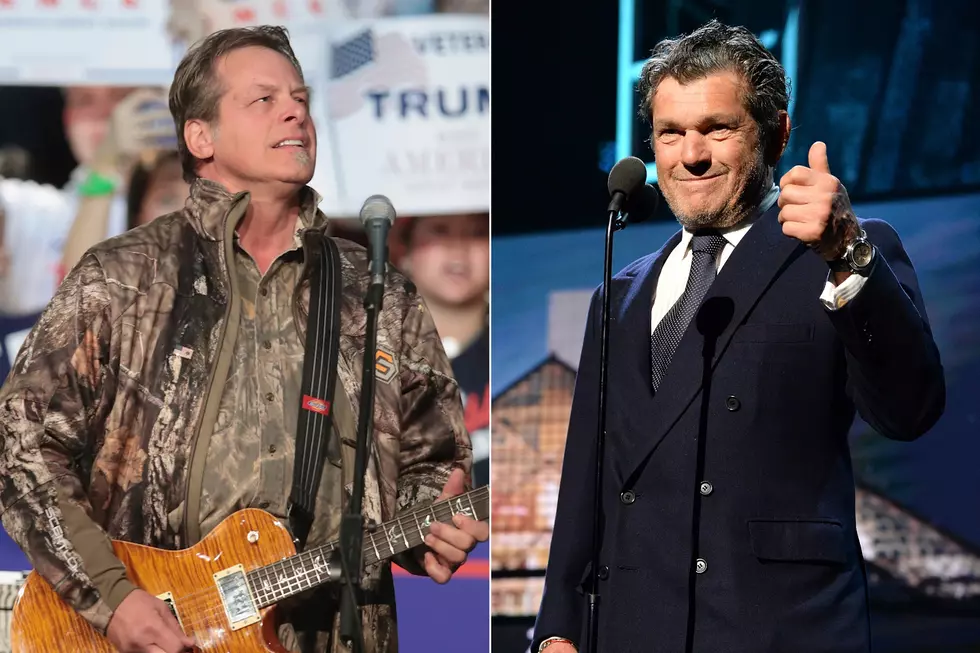 Ted Nugent Blasts Jann Wenner's 'Racist and Misogynistic Attacks'
Scott Olson / Kevin Mazur, Getty Images
Ted Nugent is the latest artist to condemn the recent comments by Rolling Stone founder Jann Wenner.
In a conversation with The New York Times published on Sept. 15, Wenner claimed that female and Black artists were not worthy of being interviewed for his book, Masters, because they were not "articulate enough" to be "philosophers of rock."
"You know, just for public relations sake, maybe I should have gone and found one Black and one woman artist to include here that didn't measure up to that same historical standard, just to avert this kind of criticism," Wenner admitted. "Which, I get it. I had a chance to do that. Maybe I'm old-fashioned and I don't give a [expletive] or whatever."
READ MORE: The Rock & Roll Hall of Fame's 10 Worst Metal Omissions
Wenner's remarks drew criticism from throughout the music industry. He was swiftly removed from the Rock & Roll Hall of Fame's board of directors, despite having been one of the institution's co-founders.
Ted Nugent Slams Jann Wenner
In a video message to fans [via Blabbermouth], Nugent decried Wenner's comments.
"Our soul came from Black heroes who had more soul because they had to get out of the curse of slavery and celebrate freedom musically," Nugent declared. "[Wenner was removed] because of racist and misogynistic attacks that said that Black and female artists are not articulate enough to reference in his book about rock 'n' roll history, which is so clearly biased and so clearly racist and so clearly misogynistic. And those are the things that he has always accused me of."
READ MORE: Top 10 Ted Nugent Songs
Nugent went on to note that he and Wenner had a contentious history, possibly due to their drastically different political views. The rocker is a vocal right-wing Republican while Wenner is a liberal Democrat. Nugent claimed that these differences led Rolling Stone to run negative stories against him.
"[Rolling Stone] parroted the lies that I dodged the draft, which is a lie. They parroted that I had sex with Courtney Love, which is a lie," Nugent declared. "The point is that [Wenner] always parroted all the nastiest allegations — [that] I dissed the Native Americans, which I never did. That I'm a racist, which I'm not. That I'm a homophobe, which I'm not. The point being that Jann Wenner finally got thrown off the board of directors of the Rock & Roll Hall of Fame that he has made sure I'm not part of because he actually made racist and misogynistic attacks on women and Blacks, and so the board threw him off, which proves that his accusations towards the conservative guy were actually what he was guilty of."
135 Artists Not in the Rock and Roll Hall of Fame
Many have shared their thoughts on possible induction.