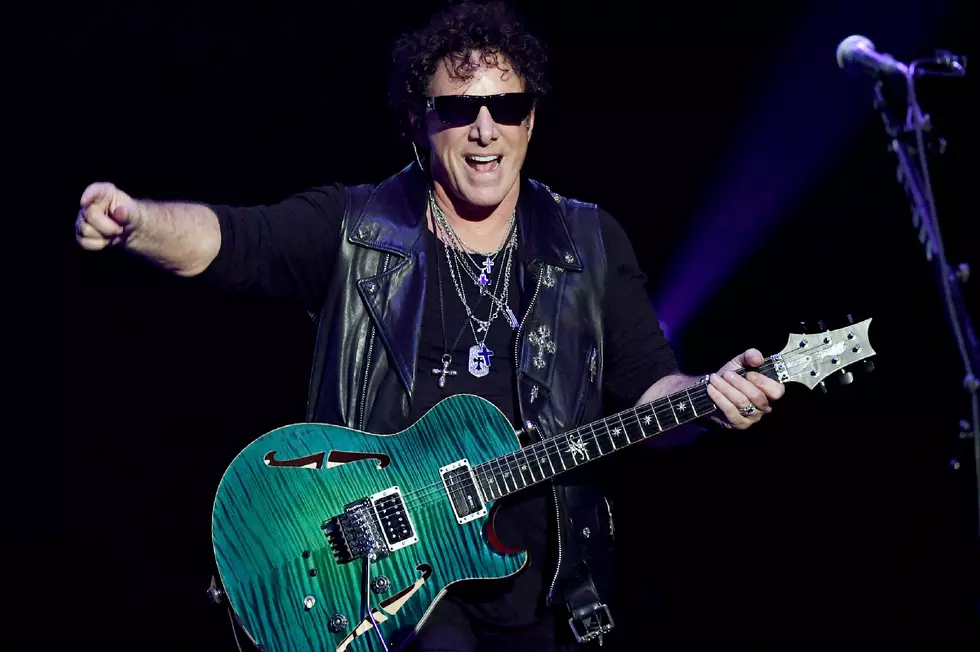 Neal Schon Says He's 'Not Here to Take Orders' About Journey
Ethan Miller, Getty Images
Guitarist Neal Schon said he won't be backing down anytime soon when it comes to matters about Journey, the band he co-founded in 1973. It was another apparent dig at bandmate Jonathan Cain.
"No one is going to dictate to me at this point what I can and cannot do in regards to Journey," Schon wrote on Twitter. "I haven't been here and not here to take orders — never have and never will. It's my band and I'll own it as I should and make the right changes as needed." When a reader asked who was trying to "dictate to you," Schon, who frequently interacts with fans, replied, "Have a guess."
Schon recently hinted that Journey co-founder Gregg Rolie may make an appearance on the band's upcoming 50th-anniversary tour. The guitarist shared a graphic on his Facebook page related to the tour, prompting a fan to comment, "I am so looking forward to this. Please tell me Gregg [Rolie] is coming along for the ride! He's the better keyboard player and a co-founder - it only seems right. Timing couldn't be better either!" Schon then replied, "You'll be seeing him."
Rolie, who was the keyboardist for the band's first six albums, as well as the singer on Journey's first two LPs, wrote or co-wrote several of their early songs. He left Journey in 1980 but has occasionally collaborated with Schon over the past few decades. In 2019, Rolie appeared on Schon's Journey Through Time tour.
In November, Schon shared a photo of himself and Rolie on Twitter, writing, "Two original founding members. I think my brother Gregg Rolie should join us for [the] 2023 tour. What do you think, friends? He will spice it up, and we will have a great variety of songs to choose from. What would you like to hear for the 50th-anniversary tour?" There has been no additional word from Schon or Rolie regarding the matter.
Schon recently sued keyboardist Cain for allegedly blocking him from obtaining "critical financial information" from the band's credit card account. In response, Cain claimed it was Schon who had misused the account, running up "enormous personal charges." Schon then filed a cease-and-desist order against Cain, demanding that he stop playing Journey songs at political rallies supporting former President Donald Trump. A representative for Cain later stated that "Schon is just frustrated that he keeps losing in court and is now falsely claiming that the song has been used at political rallies."
The guitarist has assured fans, though, that the upcoming tour won't be impacted by any of Journey's legal proceedings. A preliminary hearing for the lawsuit between Schon and Cain is scheduled to take place on March 3.
The Best Song From Every Journey Album
Singers may come, and singers most certainly may go, but some great songs remain.