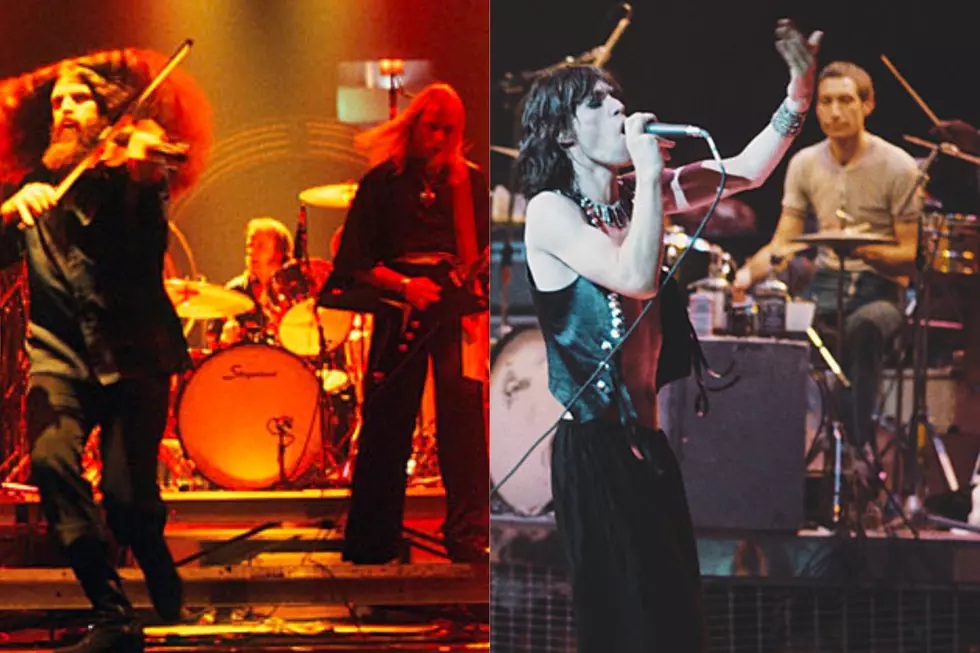 45 Years Ago: Why Kansas Became an Opening Act at the Peak of Fame
Michael Putland / Hulton Archive, Getty Images
Kansas was at the top of their game in the summer of 1978 when the Rolling Stones made an offer they couldn't refuse.
They'd just logged back-to-back Top 5 albums, Leftoverture in 1976 and Point of Know Return in 1977, both of which achieved quadruple-platinum status while spawning the radio favorites "Carry On Wayward Son" and "Dust in the Wind." That made Kansas a headliner in their own right.
So how'd they end up opening for the Rolling Stones on dates in support of Some Girls? Turns out, the chance to play a couple of stadiums — July 1, 1978, in Cleveland and July 16 in Boulder — with the Stones was too good to pass up. "They were one of our heroes," guitarist Rich Williams tells UCR. "You can't turn down an opportunity like that."
It meant Kansas had to trim their sets — just six songs in Cleveland, seven in Boulder — but the group didn't mind. For Williams and drummer Phil Ehart, however, the highlight of the Cleveland show was attending their 10-year high school reunion the next day back in Topeka.
"We were feeling pretty full of ourselves," Williams remembered, "so we rented a Lear jet and went from that show in a private jet to Topeka, with our wives at the time." Williams, who had once been kicked out of school for having hair that was too long, found some irony that those same teachers greeted him as a returning hero.
Still, the pair found out that their stardom extended only so far: Their former classmates were "more interested in the real stars we may have met," the guitarist said.
Williams "was talking to one girl, she was one of the prettiest girls I'd ever seen. I went to junior high and high school with her and she'd walk in the room, the first hour of 7th grade and sit in front of me, and I was just dumbstruck. I had never seen such a beautiful little girl. Of course, she was a cheerleader and all that. I didn't know her well, but she did talk to me for a moment at the high school reunion — 'How do you like me now?' kind of, for me. She wanted to know if I knew Barry Manilow. Oh well — you can't go home."
Listen to Kansas' Live Version of 'Carry on Wayward Son'
The members of Kansas did not meet the Rolling Stones in Cleveland, but they had their moment in Boulder. "Mick actually walked into our dressing room," Ehart recalled, "'Hey guys,' or mates or whatever he said. 'Got everything you need? OK, have a good gig.' We were just standing there with our mouths open. 'That was Mick Jagger! He was just there!'"
Williams said Kansas was sitting in their tent a few hours before showtime and heard cheering from outside. "We looked through the screen and saw a bunch of limos roll through and, 'OK, the Stones are here,'" he said. "I'm warming up and people are just doing whatever, and all of a sudden Mick and Keith [Richards] just walk into our dressing room. 'Hello, guys. Nice to have you on the show. Love your band. Let us know if there's anything you need ...' That's the only time I've ever been starstruck. I didn't say anything. I couldn't make words. They were such gentlemen. It was very cool."
That night Williams stood side stage to watch the Rolling Stones perform and take some pictures and found himself next to Jerry Hall, who Jagger was dating at the time.
"I was terrified to say anything to her," Williams remembered. "What I really wanted to do, and never did, was take pictures of her feet. She's, like, 6'1 – a model, stunning – and she had the longest, skinniest feet I'd ever seen. I just kept thinking, 'My God, look at those feet!' I just wanted to take a little snapshot of them, but I thought if she caught me, the Stones crew would have me thrown off the back of the stage, so I chickened out."
Kansas Albums Ranked
These American progressive rock heroes went on a dramatic career arc.