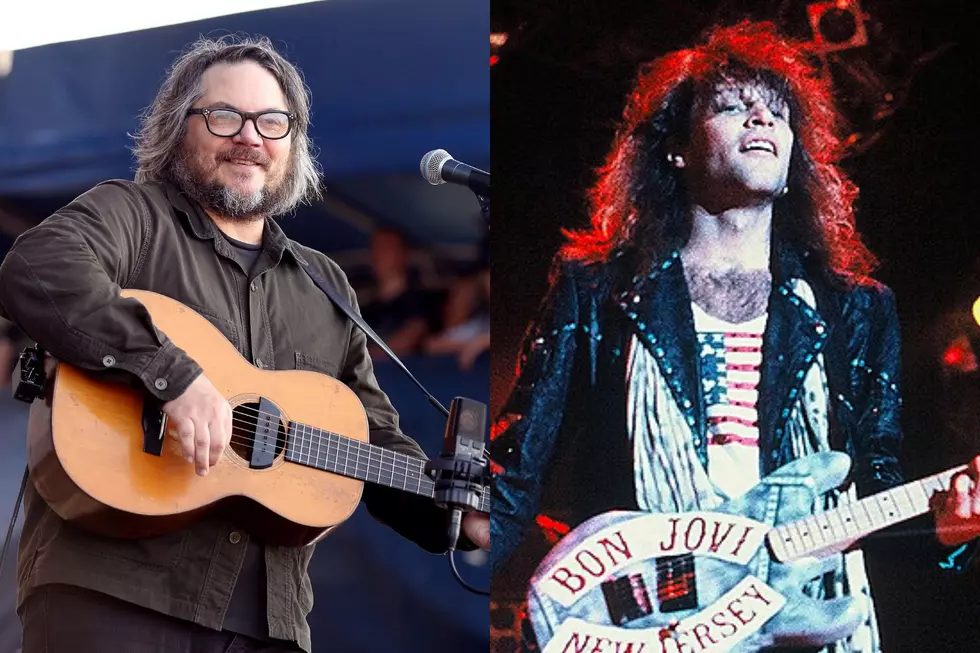 The Bon Jovi Song Jeff Tweedy Thinks Sucks
Mike Lawrie, Getty Images / Redferns, Getty Images
Jeff Tweedy has a strong opinion on a particular Bon Jovi song.
The Wilco frontman recently spoke with Rolling Stone about his new book, World Within a Song: Music That Changed My Life and Life That Changed My Music, which will be published on Nov. 7. In it, Tweedy brings up Bon Jovi's "Wanted Dead or Alive," noting, "This song sucks, and you should not like it."
Tweedy admitted that it's not the first time he's said something negative about the band.
READ MORE: All 346 Bon Jovi Songs Ranked Worst to Best
"I was on a TV show one time in Canada," he recalled. "And the question was, 'Jon Bon Jovi says that Steve Jobs killed music.' And I said, 'Jon Bon Jovi killed music.' It was set up like a bowling pin. What was I supposed to do, not knock that one over? But then when I met him, I copped to that, in case he had ever seen it." But Tweedy added that just because he dislikes the 1986 hit, that doesn't mean he has any bad feelings toward the members of Bon Jovi.
"Like everything else in the book, that's more about me," he explained. "It's about me not understanding what could give somebody that kind of confidence, to swing for the fences every time."
More From Jeff Tweedy and Wilco
Before the book's release, Wilco will release their new album, Cousin, on Sept. 29.
"I'm cousin to the world," Tweedy said in an earlier press release. "I don't feel like I'm a blood relation, but maybe I'm a cousin by marriage."
Wilco Albums Ranked
They started out as an alt-country offshoot but soon turned into one of the best bands in America.