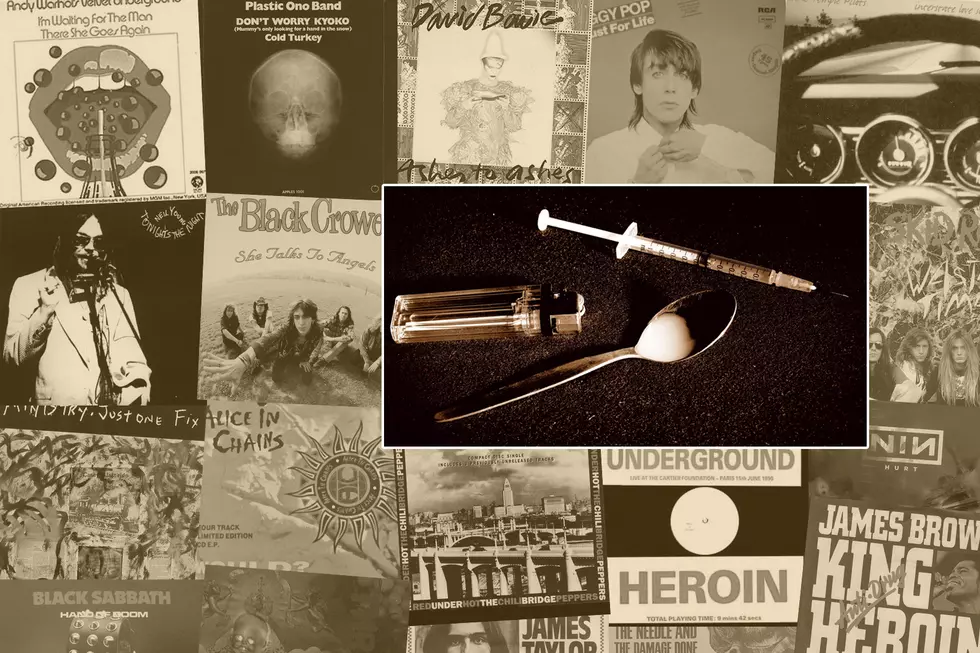 UCR
Drugs and rock music have a long history, and it goes beyond the "sex, drugs, rock 'n roll" cliche.
One of the most common, and tragically most destructive, narcotics have been heroin. Many artists have written songs about the powerfully addictive drug. Their tales run the gamut of the junkie experience.
We've collected the Top 30 Heroin Songs below. They include everything from dealers to overdoses, euphoric highs to rock bottoms, and everything in between.
30. (Tie) Little Feat, "China White"
From: Hoy-Hoy! (1981)
Two years after Little Feat broke up after founder Lowell George's death, they assembled an album of alternate versions and unreleased material on Hoy-Hoy! A highlight, "China White," was a song George demoed in the early '70s. As many other songs have done, "China White" (a heroin nickname) personifies drugs as a woman. "My sweet China White / She ain't here tonight / And love has robbed me blind," George sings over a blues lilt in the song's chorus. As soulful as the track is, it also comes with tragic irony: George's death in 1979 was the result of a heroin overdose. (Corey Irwin)
30. (Tie) John Prine, "Sam Stone"
From: John Prine (1971)
"Sam Stone" paints an achingly tragic portrait of a veteran who returned from "the conflict overseas." But life back home is no paradise. John Prine never names the Vietnam War in "Sam Stone," but the song was written at the turn of the '70s, so it's safe to assume which conflict he's referring to. Like many vets, the song's subject turns to heroin to cope with PTSD, depression and other conditions. "There's a hole in daddy's arm where all the money goes," Prine sings. "I would liken it to a person who has done prison time. They all speak of how difficult it is to be back on the street, and how difficult it is to accept freedom once you get used to living incarcerated," Prine, who served in the Army in Germany during the Vietnam War, once told American Songwriter. (Allison Rapp)
29. Jane's Addiction, "Three Days"
From: Ritual de lo Habitual (1990)
Xiola Blue was a friend of Perry Farrell's who visited Los Angeles to attend her father's funeral. She was also an addict, and the three days she stayed with Jane's Addiction singer and his girlfriend were filled with drugs and sexual exploration. The events of those 72 hours inspired "Three Days." Released as the second single from Jane's Addiction's 1990 album, Ritual de lo Habitual, the track became a fan favorite. Running more than 10 minutes, the sprawling, psychedelic song ebbs and flows through moments of exuberant energy and quiet reflection. Its subject never got to witness the song's success: Blue died of a heroin overdose in 1987. (Irwin)
28. Megadeth, "Poison Was the Cure"
From: Rust in Peace (1990)
Megadeth was all too familiar with the perils of heroin addiction by 1990, having dropped off the 1988 Monsters of Rock tour so bassist David Ellefson could enter rehab. (Dave Mustaine followed suit a year later after driving into an off-duty police car while intoxicated.) They emerged focused and ferocious on Rust in Peace, a progressive-thrash masterpiece full of dizzying time signature changes and carpal tunnel-inducing solos. Mustaine reflects on his addiction in "Poison Was the Cure" (a reference to methadone), lamenting heroin's bygone "warm embrace" and comparing his brain to "some driftwood in a cesspool." His rapid-fire lyrics match the furious twin-guitar riffing and evoke the mania that accompanied Mustaine's dark night of the soul. (Bryan Rolli)
27. (Tie) Joni Mitchell, "Cold Blue and Sweet Fire"
From: For the Roses (1971)
Heroin takes on a seductive form in Joni Mitchell's "Cold Blue Steel and Sweet Fire." "Come with me, I know the way," she says, "It's down, down, down the dark ladder." Mitchell had witnessed firsthand how strong the hold of heroin could be; her former boyfriend James Taylor's drug usage had reached dangerous levels at the beginning of the '70s. In 1972, Mitchell described "Cold Blue Steel and Sweet Fire" as "a real paranoid city song — stalking the streets looking for a dealer." The song's lyrics reflect the futile feeling of addiction: "You can come now or you can come later." (Rapp)
27. (Tie) Neil Young, "Tonight's the Night"
From: Tonight's the Night (1975)
"'Tonight's the Night' is like an OD letter," Neil Young once explained to Rolling Stone. "The whole thing is about life, dope and death." The 1975 song, which opened and closed the classic album of the same name, was inspired by Bruce Berry, a roadie for Young who died of a heroin overdose. The lyrics mention Berry by name, chronicling his life and eventual death "out on the mainline." (Irwin)
25. James Taylor, "Fire and Rain"
From: Sweet Baby James (1970)
James Taylor's 1970 hit "Fire and Rain" is a story told in three parts. The opening verse deals with the singer-songwriter's pain of losing a childhood friend to suicide, while the third verse finds him examining his road to fame. In the middle of the song, Taylor addresses his struggles with addiction and depression. He went through a period of heroin use in the late '60s while living in New York. A stint in rehab got him momentarily clean, but he fell back on bad habits after moving to England. He addresses the helplessness he felt in "Fire and Rain": "Won't you look down upon me, Jesus? / You've got to help me make a stand / You've just got to see me through another day / My body's aching and my time is at hand / And I won't make it any other way." "Fire and Rain" peaked at No. 3. (Irwin)
24. James Brown, "King Heroin"
From: There It Is (1972)
"I wanna talk to you about one of our most deadly killers in the country today," James Brown says at the top of "King Heroin." Most of the lyrics were written in poem form by Manny Rosen, who worked at New York's Stage Delicatessen in New York City. Brown set the words to music with his arranger, David Matthews, and manager Charles Bobbit. Despite the song's relaxed groove, the lyrics emphasize the violence heroin induces, while affecting the lives of everyone from "heads of state" to "children at play." Brown even added a few lines. "This is a revolution of the mind," he says. "Get your mind together and get away from drugs." (Rapp)
23. Ministry, "Just One Fix"
From: Psalm 69: The Way to Succeed and the Way to Suck Eggs (1992)
Members of the industrial group Ministry were deep into substance abuse during the making of 1992's Psalm 69. Frontman Al Jourgensen admitted to Songfacts that the $750,000 they were given to make the album went "up our arms and up our noses." So there was some personal experience built into "Just One Fix," which was released as the album's third single. The heavy-hitting track's chorus repeats the titular phrase, while sampled audio – including the opening line "never trust a junkie" – is sprinkled throughout. (Irwin)
22. The Velvet Underground & Nico, "I'm Waiting for the Man"
From: The Velvet Underground & Nico (1967)
Included on their 1967 debut, The Velvet Underground & Nico, "I'm Waiting for the Man" details a junkie's uptown journey to meet his dealer in Harlem. "Twenty-six dollars in my hand," Lou Reed sings, "Feel sick and dirty more dead than alive." "I'm Waiting for the Man" was one of several songs initially recorded by the band in New York, but later re-recorded in Los Angeles after the Velvet Underground secured an album deal with Verve Records. Atlantic turned them down because of the prevalent drug references on songs like this one and "Heroin." (Rapp)
21. Lynyrd Skynyrd, "The Needle and the Spoon"
From: Second Helping (1974)
Second Helping is best remembered as the album that includes "Sweet Home Alabama," but Lynyrd Skynyrd's sophomore LP has deeper tracks with much depth, like "Needle and the Spoon." The title refers to the common way of consuming heroin: using a spoon and lighter to liquefy the drug before injecting it with a needle. Singer Ronnie Van Zant sings about the perils of hardcore drug use with a chilling warning: "Don't mess with the needle or a spoon / Or any trip to the moon / It'll take you away." (Irwin)
20. Skid Row, "Wasted Time"
From: Slave to the Grind (1991)
Following an onslaught of brutality, Skid Row's Slave to the Grind ends on a heartrending note with "Wasted Time." Written by singer Sebastian Bach about Guns N' Roses drummer Steven Adler's heroin addiction, the six-minute ballad is a masterclass in dynamics, with clean guitar arpeggios and Bach's tender croon giving way to distorted power chords and anguished cries. "Wasted Time" climaxes in its final minute as Bach screams repeatedly, "I never thought you'd let it get this far, boy" — the most powerful performance of his career and a devastating end to a song rife with sorrow and regret. (Rolli)
19. Nine Inch Nails, "Hurt"
From: The Downward Spiral (1994)
Perhaps no song in history has so accurately described the inner workings of a junkie as "Hurt," Nine Inch Nails' 1995 classic. The song opens with a powerful verse: "I hurt myself today / To see if I still feel / I focus on the pain / The only thing that's real / The needle tears a hole / The old familiar sting / Try to kill it all away / But I remember everything." From there, the track ventures further into darkness, with Trent Reznor wondering what he's become. He wrote "Hurt" before he became an addict. "It was in my head. I hadn't actually lived it," he explained to Uncut in 2005. "Then later I lived it. I didn't realize the record was a premonition." (Irwin)
18. Billy Joel, "Captain Jack"
From: Piano Man (1973)
Billy Joel's 1973 song "Captain Jack" wasn't inspired by heroin but rather by a dealer he saw selling the drug to teens at a housing project near his Long Island home. "What's so horrible about an affluent young white teenager's life that he's got to shoot heroin?" the singer pondered in Billy Joel: The Definitive Biography. "It's really a song about what I consider to be a pathetic loser kind of lifestyle. I've been accused of, 'Oh, this song promotes drug use and masturbation.' No, no, no. Listen to the song. This guy is a loser." (Irwin)
17. (Tie) Stone Temple Pilots, "Interstate Love Song"
From: Purple (1994)
Addiction makes a person do many things, including lying to the people who care about them. That's at the core of "Interstate Love Song," Stone Temple Pilots' hit single from their sophomore LP, Purple. Before heading to Atlanta to record the album, singer Scott Weiland promised his fiancee he'd stay off drugs. He didn't succeed, but in phone calls with his future wife, he'd lie and say everything was fine. "Interstate Love Song" became one of the most popular songs of 1994 and spent 15 weeks at No. 1 on the mainstream rock chart. (Irwin)
17. (Tie) Motley Crue, "Dancing on Glass"
From: Girls, Girls, Girls (1987)
Nikki Sixx was at the end of his rope during the making of Girls, Girls, Girls, and "Dancing on Glass" details his addiction spiral with morbid clarity. "Valentine's in London found me in the trash," Vince Neil wails, a reference to Sixx's near-fatal heroin experience in London on Valentine's Day 1986. The bassist turned blue after being shot up by a dealer, got smashed with a baseball bat by Hanoi Rocks guitarist Andy McCoy in a failed resuscitation attempt and was left for dead in a dumpster behind the dealer's apartment. Sixx would fatally overdose again less than two years later, leading him to finally get sober and inspiring "Kickstart My Heart." It's a miracle he made it that far. (Rolli)
15. Warren Zevon, "Carmelita"
From: Warren Zevon (1976)
Warren Zevon wrote "Carmelita" when his career was at a standstill. His first solo album from 1970 had tanked, and he was making a small living writing songs for other artists and playing on sessions around Los Angeles. So the character Zevon sings about "sinking down" had a lot to do with his real life at the time. The song's key line - "I'm all strung out on heroin on the outskirts of town" - wasn't far from the truth. Zevon later admitted he dabbled in the drug. Still, the song's dark subject - masked in mariachi flavors and a hummable chorus - hasn't kept it from being a popular cover song with fans and friends like Linda Ronstadt. (Michael Gallucci)
14. (Tie) The Ramones, "Chinese Rock"
From: End of the Century (1980)
After hearing Lou Reed's "Heroin," Dee Dee Ramone insisted he could write a better song about the drug. The result was "Chinese Rock," named after a slang term Ramone and his friends used for the narcotic. For the song's lyrics, the Ramones' bassist mined stories from his daily life of scoring heroin and pawning possessions for drug money. Johnny Ramone reportedly vetoed "Chinese Rock" because of its overt references to drug use. It was first released by the punk band the Heartbreakers before the Ramones' version finally showed up on 1980's End of the Century. (Irwin)
14. (Tie) Alice In Chains, "Would?"
From: Singles Soundtrack (1992)
As the grunge revolution stirred at the top of the '90s, many of the area's acts became friends, including Mother Love Bone singer Andrew Wood and Alice in Chains guitarist Jerry Cantrell. After Wood died of a heroin overdose in 1990, Cantrell became annoyed that everyone focused on his death rather than his life. "Andy was a hilarious guy, full of life, and it was really sad to lose him," the guitarist recalled in the liner notes to the 1999 box set Music Bank. "But I always hate people who judge the decisions others make. So it was also directed towards people who pass judgments." This viewpoint was echoed in "Would?," sung by Alice in Chains' Layne Staley, who was also caught in the grips of heroin addiction and died of an overdose in 2002. (Irwin)
12. Black Sabbath, "Hand of Doom"
From: Paranoid (1970)
Black Sabbath bassist Geezer Butler wrote "Hand of Doom" after the band played an American army base in Germany and discovered that veterans had turned to drugs to cope with the atrocities of the Vietnam War. The music escalates from a haunting dirge to a full-blown metal assault as the song's protagonist barrels through the stages of addiction, from tepid experimentation to deadly desperation. "Hand of Doom" is both a chilling, dynamic epic about the horrors of addiction and a full-throated denouncement of war, making it a fitting companion to the Paranoid LP opener "War Pigs." (Rolli)
11. The Beatles, "Everybody's Got Something to Hide Except Me and My Monkey"
From: The Beatles (1968)
John Lennon's heroin addiction was apparent to just about everyone involved in the Beatles circle by the late '60s. Paul McCartney assumed that was the inspiration behind "Everybody's Got Something to Hide Except for Me and My Monkey." Lennon said the song was about how nobody seemed to like his new partner, Yoko Ono. "Everybody seemed to be paranoid except for us two, who were in the glow of love," he once noted. "Everything is clear and open when you're in love." (Rapp)
10. Jane's Addiction, "Jane Says"
From: Jane's Addiction (1987)
Even though Perry Farrell and his bandmates were regularly using drugs in their early years, it was someone else's heroin habit that inspired the group's signature song. Jane Bainter was an Ivy League-educated woman who lived at the band's commune-like house in Venice Beach, Calif. Many of Banister's real-life struggles found their way into the lyrics of "Jane Says": "Jane says, "I'm done with Sergio" – Sergio was the name of Bainter's dealer; "I'm gonna kick tomorrow" – Bainter regularly tried and failed to quit drugs. While Bainter's addiction inspired the band's name and their classic song, her wildness eventually became too much for even the group. She was kicked out of the house, though years later she reportedly got clean and got her life on track. (Irwin)
9. Red Hot Chili Peppers, "Under the Bridge"
From: Blood Sugar Sex Magik (1991)
Unlike many of Red Hot Chili Peppers' upbeat, funked-out songs, the 1992 hit "Under the Bridge" is a somber ballad that originated as a poem. It finds singer Anthony Kiedis reflecting on a rock-bottom moment when, in the throes of heroin addiction, he went to a seedy downtown Los Angeles location to score. "I ended up going there with this gang member, and the only way that I was allowed to go under this bridge was for him to tell everybody else that I was getting married to his sister," he explained to Rolling Stone. "You had to be family to go there. That was one of just hundreds of predicaments that I found myself in, the kind that only drug addiction can bring about." "Under the Bridge" remains the Red Hot Chili Peppers's biggest hit, reaching No. 2 on the Billboard Hot 100 and spurring the album Blood Sugar Sex Magik to more than 7 million sales in the U.S. (Irwin)
8. David Bowie, "Ashes to Ashes"
From: Scary Monsters (and Super Creeps) (1980)
More than a decade after David Bowie launched Major Tom into orbit with 1969's "Space Oddity," a message got beamed back to Ground Control. Bowie would explain to NME in 1980 that "Ashes to Ashes" served a couple of purposes, including getting the BBC to play a record with the word "junkie" in it. He also wanted to circle back to the optimism of "Space Oddity." "I was a very pragmatic and self-opinionated lad that thought I knew all about the great American dream and where it started and where it should stop," he said. That dream didn't come true for Major Tom: "Strung out in heaven's high / Hitting an all-time low." (Rapp)
7. The Black Crowes, "She Talks to Angels"
From: Shake Your Money Maker (1990)
Singer Chris Robinson once said that "She Talks to Angels" was loosely based on a "goth girl" he knew in Atlanta who was involved with heroin, but most of the song was written by himself and his brother Rich to represent so many young people the Black Crowes knew coming up in the scene. "'She Talks to Angels' is a funny song in that so many people resonate with it," Chris told Songfacts in 2013. "The dark details like drugs and things like that would be a part of growing up and being in this world, but when I wrote that song I had no idea – I hadn't done any of those things. I hadn't lived that – everything was in my imagination." (Rapp)
5. (Tie) The Velvet Underground & Nico, "Heroin"
From: The Velvet Underground & Nico (1967)
Most artists in 1967 were writing about peace and love and other easily digestible concepts. Lou Reed was composing songs about scoring on street corners and the rush of shooting up. "Heroin" doesn't dance around the subject. "Heroin, it's my wife and it's my life," he sings. "When the smack begins to flow, I really don't care anymore." It's scary, messy and real. For more than seven minutes, the Velvet Underground builds a wall of noise that comes crashing down by the track's end. "Heroin" doesn't take a stance; it neither condones nor condemns. It just presents. Brilliantly. (Gallucci)
5. (Tie) Iggy Pop, "Lust for Life"
From: Lust for Life (1977)
Iggy Pop was enjoying a creative rebirth in 1977, thanks to David Bowie and a relocation to Germany, where that year's two Pop albums, The Idiot and Lust for Life, were recorded. Both artists were trying to get clean in their new home base as they made some of the best albums of their respective careers. Lust for Life's title track, co-written and produced by Bowie, has become one of Pop's signature songs, quickly identified by its opening drums and Pop's casual read of lines like "Of course, I've had it in my ear before," a reference to shooting heroin. "Lust for Life"'s subject has been diluted a bit over the years from film and TV use, but the dark inspiration is clear. (Gallucci)
4. U2, "Bad"
From: The Unforgettable Fire (1984)
U2's fourth album, The Unforgettable Fire, marks the first big change in the band's lifelong evolution cycle as they worked with producers Brian Eno and Daniel Lanois for the first time, expanding into sonic landscapes that would result in their 1987 masterwork, The Joshua Tree. "Bad" is one of Fire's key tracks, written about heroin addiction and, depending on Bono's varying accounts, a friend who died from an overdose or the drug's prevalence in Dublin at the time. Either way, the slow build to the line "I'm wide awake, I'm not sleeping" still provides intended catharsis. This is where U2 first showed signs of greatness. (Gallucci)
3. Guns N' Roses, "Mr. Brownstone"
From: Appetite for Destruction (1987)
Heroin was the monkey on Guns N' Roses' back from the band's early days, eventually leading to drummer Steven Adler's firing and Slash's temporarily fatal overdose. But before they succumbed to their addictions, GNR made heroin sound like a dangerous, decadent wonder drug on "Mr. Brownstone." Even then, the writing was on the wall: "I used to do a little but a little wouldn't do it so the little got more and more," Axl Rose croons over serpentine riffs and a slinky groove. When Guns opened for the Rolling Stones in 1989, Rose used the song as part of his public ultimatum: "Unless certain people in this band get their shit together, these will be the last Guns N' Roses shows you'll fucking ever see — 'cause I'm tired of too many people in this organization dancing with Mr. Goddamn Brownstone." (Rolli)
2. John Lennon / Plastic Ono Band, "Cold Turkey"
From: Single (1969)
John Lennon's addiction to heroin reached its peak in 1969, as he and Yoko Ono battled the drug. In the middle of that year, not long before the Beatles split up, Lennon got temporarily clean, which he detailed in his 1969 single "Cold Turkey." As the symptoms of withdrawal took their toll on him, Lennon wrote about his experiences, which got so severe at times that he wished for death. In the last verse, Lennon promises to change: "I'll be a good boy / Please make me well / I promise you anything / Get me out of this hell." (Rapp)
1. Neil Young, "The Needle and the Damage Done"
From: Harvest (1972)
Neil Young made an entire album about Crazy Horse bandmate Danny Whitten's heroin-overdose death in 1975's Tonight's the Night. But a few years earlier he touched on the subject in the prophetic "The Needle and the Damage Done" from his only No. 1 LP, Harvest. The song was about the general ravaging effect the drug had on people, particularly rock artists in the post-Woodstock era. "Every junkie's like a settin' sun," Young sings of the inevitable dangers. A little more than nine months after the release of Harvest, Whitten died, followed by the death of Young's roadie, Bruce Berry, also of a heroin overdose and the shared inspiration for Tonight's the Night. (Gallucci)
30 Rockers Who Died Before 30