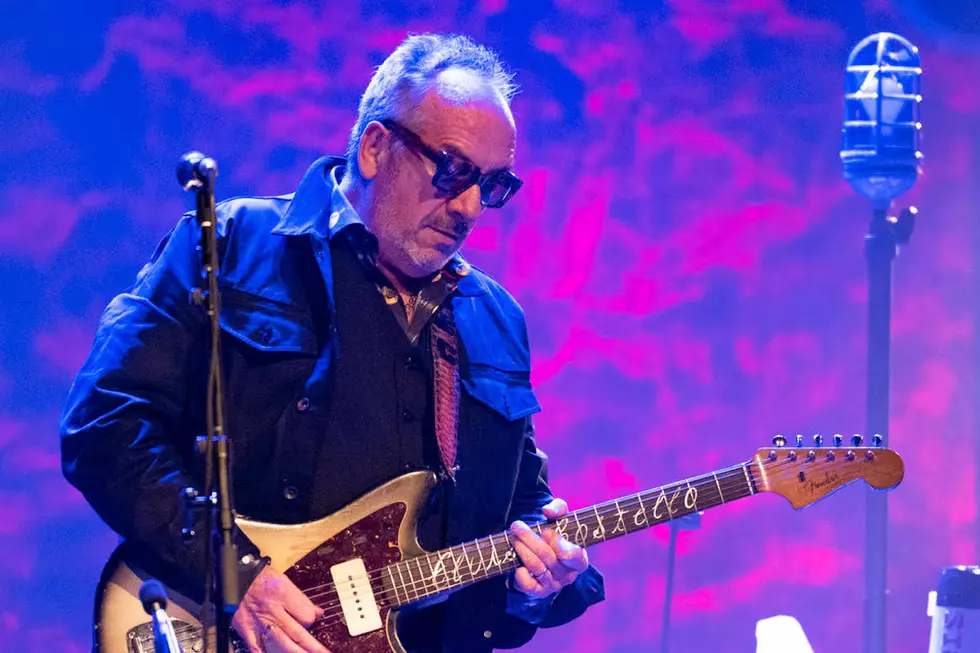 Elvis Costello Opens 10-Night New York City Residency
Adela Loconte
Elvis Costello opened his 10-night residency at the Gramercy Theatre in New York City on Thursday.
"This is not the Bruce Springsteen show, by the way," he quipped after performing the first two songs, "Welcome to the Working Week" and "Miracle Man," both from his 1977 debut, My Aim Is True. Costello's set, performed entirely solo, included early classics like "(The Angels Wanna Wear My) Red Shoes," "Mystery Dance" and "Alison."
Costello also performed a handful of covers, including Van Morrison's "Domino." He added that he enjoyed Morrison's music when he was younger, "before he went totally mad," noting that Morrison is now "a comedian." He also performed a cover of Grateful Dead's "Dupree Diamond Blues."
"It's been a tough day," Costello admitted near the middle of the set, referencing the recent death of onetime collaborator Burt Bacharach, with whom he worked on 1998's Painted From Memory and 2018's Look Now. "A really great man left us," Costello said, before performing Bacharach's "Baby It's You," best known as a hit record by the Shirelles in 1961. (The Beatles recorded the song on their debut album two years later.) Costello also covered Bacharach's "Anyone Who Had a Heart" and "Please Stay" Thursday night.
You can see the set list for Costello's show below.
When Costello announced the residency last year, he promised fans that he would play more than 200 different songs throughout 10 nights. He will perform solo for the next several evenings, before being joined by his longtime keyboard player, Steve Nieve. He also previously divulged — in the form of a poem in a press release — that there are surprise guests in store: "Let's just set up the chair or two and play / In case some friends turn up along the way."
For some fans, the opportunity to see Costello 10 nights in a row was too good to pass up. Craig Danuloff, a New York City resident who also runs the Bob Dylan fan club Freak Music, said before the show that selecting which nights to attend was downright impossible, so he bought a ticket for each one.
"How could I choose between them? How could I live with the set lists I missed? So it wasn't a hard decision," he explained. "More than anything I pray for great sound and that everyone else will shut the fuck up while he's singing."
Costello's sold-out residency will continue through Feb. 22.
Elvis Costello, Gramercy Theater, New York, 2/9/23
1. "Welcome to the Working Week"
2. "Miracle Man"
3. "Hoover Factory"
4. "(The Angels Wanna Wear My Red Shoes) Red Shoes"
5. "Stranger in the House"
6. "I Can't Turn It Off"
7. "Sneaky Feelings"
8. "Imagination (Is a Powerful Deceiver)
9. "Domino" (Van Morrison Cover)
10. "Living in Paradise"
11. "Baby It's You" (Burt Bacharach Cover)
12. "Poison Moon"
13. "Dupree's Diamond Blues"
14. "Wave a White Flag"
15. "I'm Not Angry"
16. "Anyone Who Had a Heart" (Burt Bacharach Cover)
17. "Radio Sweetheart"
18. "Mystery Dance"
19. "Mr. Moon" (Clover Cover)
20. "No Dancing"
21. "Cheap Reward"
22. "Alison"
Encore:
23. "Please Stay"
24. "(What's So Funny 'Bout) Peace, Love and Understanding" (Nick Lowe Cover)
2023 Rock Tour Preview
Reunions, farewells and long-awaited shows are on the horizon.