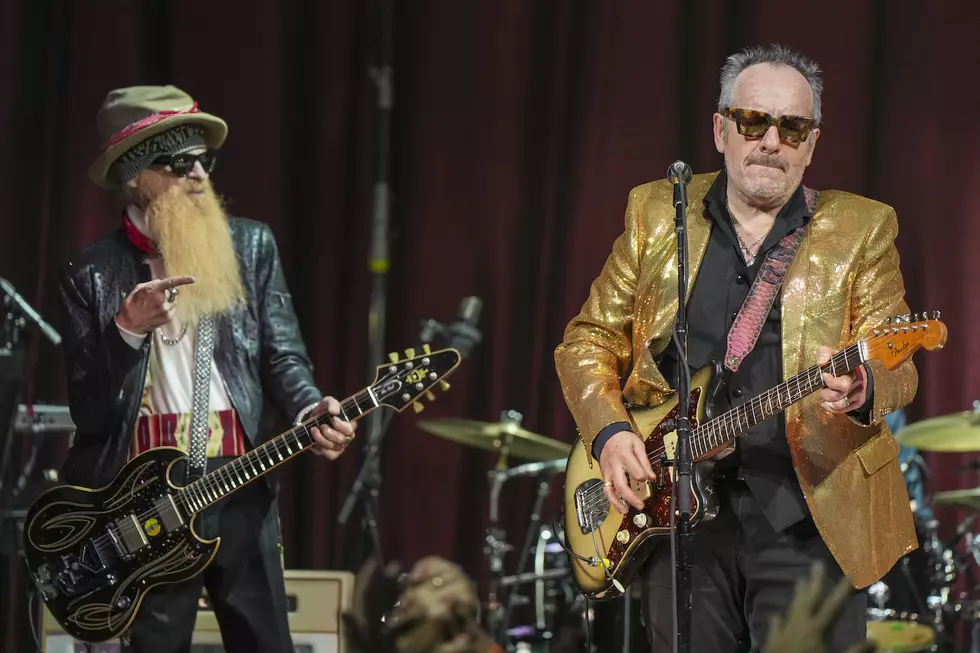 Watch Elvis Costello and Billy Gibbons Jam on ZZ Top Songs
Ed Rode, Getty Images
Elvis Costello and Billy Gibbons staged an unlikely team-up on Sunday at Nashville's Brooklyn Bowl.
You can watch footage of their joint performance below.
The veteran rockers both headlined a benefit concert for the Musician Treatment Foundation, whose "core mission is to fund free surgical and nonsurgical care for the shoulder, elbow and hand problems of under- and uninsured professional musicians." They were accompanied by musical powerhouses such as longtime Bob Dylan guitarist Charlie Sexton, jazz saxophonist Bill Evans, veteran session drummer Keith Carlock and dobro master Jerry Douglas.
Those musicians all joined Costello and the Imposters during their set, which Gibbons crashed near the end to play a few ZZ Top tunes, including "La Grange," "Sharp Dressed Man" and "Jesus Just Left Chicago."
Costello recently performed a 10-night residency at New York City's Gramercy Theatre, where he played more than 200 songs from across his catalog. "We've run out of songs," he joked near the end of the final show. "I'll have to write some more."
The rocker also recently released The Songs of Bacharach & Costello, a four-disc compilation that features his collaborations with late composer Burt Bacharach. The two first joined forces in 1995 when Costello wrote "God Give Me Strength" for the movie Grace of My Heart. The fruitful collaboration led them to write and record the 1998 album Painted From Memory, whose song "I Still Have That Other Girl" won Best Pop Collaboration With Vocals at the 1998 Grammy Awards.
ZZ Top, meanwhile, has a typically busy touring schedule lined up for the rest of the year, with headlining dates beginning in April. They'll embark on the Sharp Dressed Simple Man Tour with co-headliners Lynyrd Skynyrd in July.
Watch Elvis Costello and Billy Gibbons Play 'Jesus Just Left Chicago'
Watch Elvis Costello and Billy Gibbons Play 'La Grange'
Elvis Costello Albums Ranked
Even with a career spanning more than four decades, many collaborators and several record labels, his discography has had way more hits than misses.