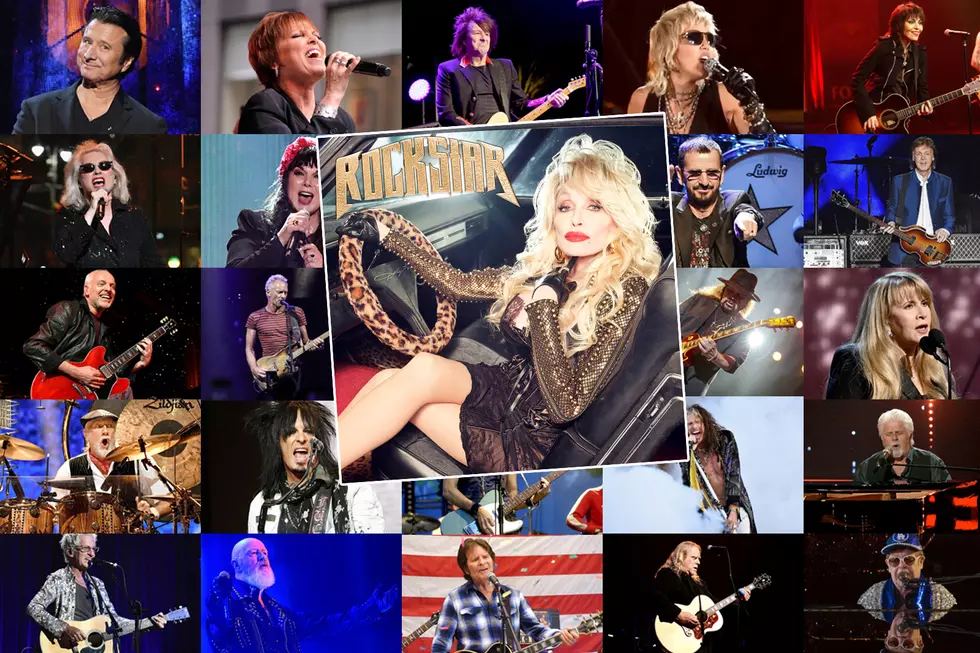 Every Rock Song and Rock Star on Dolly Parton's 'Rockstar' Album
Getty Images / Vijat Mohindra
Dolly Parton isn't messing around on her first-ever rock 'n' roll album. The country legend and somewhat reluctant member of the Rock & Roll Hall of Fame has recruited dozens of rock's biggest stars to help her cover some of the genre's most famous songs for the upcoming Rockstar.
"I'm so excited to finally present my first rock n' roll album, Rockstar!" Parton said in a statement. "I am very honored and privileged to have worked with some of the greatest iconic singers and musicians of all time, and to be able to sing all the iconic songs throughout the album was a joy beyond measure. I hope everybody enjoys the album as much as I've enjoyed putting it together!"
Here's a breakdown of each of the album's 21 cover songs, as well as a look at the famous friends Parton recruited to help her on Rockstar's nine original tracks.
The Police's "Every Breath You Take" (featuring Sting)
Parton won't be the first country star to cover the Police's biggest hit, which spent two months at the top of the pop charts in 1983. Both Rich Landers and Mason Dixon hit the country charts that very same year with their versions of Sting's surprisingly sinister love song. Sting then teamed up with Tammy Wynette in 1994 to perform the song on her Without Walls album.
Journey's "Open Arms" (featuring Steve Perry)
Parton revealed that former Journey frontman Steve Perry would be contributing vocals before the Rockstar track listing was ever unveiled. "'Open Arms,' I got Steve Perry, gonna be singing with me on that," Parton told Access Hollywood on the night she was inducted into the Rock & Roll Hall of Fame. Perry soon verified the report with a tweet of his own: "If Dolly says it's true, then it must be true. Her voice is amazing!" The Journey's 1981 hit has been covered by a wide array of artists over the years, including Barry Manilow, Celine Dion, Boyz II Men and Mariah Carey.
Heart's "Magic Man" (featuring Ann Wilson and Howard Leese)
Parton initially tried to remove herself after being announced as a nominee for the Rock & Roll Hall of Fame. "I don't feel that I have earned the right," she said. At the time, one of the first rockers to show Parton love was Heart's Ann Wilson. "I thought that her response was beautiful. She doesn't need to freeload on another genre. She's totally cool for doing that, as far as I'm concerned," Wilson said, adding that she considered Parton to be "one of a kind." Parton eventually agreed to keep her nomination and was ultimately inducted, setting in motion the creation of Rockstar. Wilson and former Heart guitarist Howard Leese will join Parton on a new version of the band's 1975 breakout single.
Creedence Clearwater Revival's "Long as I Can See the Light" (featuring John Fogerty)
Many of Rockstar's celebrity contributors recorded their parts remotely, but John Fogerty was one of those who worked with Parton live in the studio. "John Fogerty flew down ... we did it just like the old days," Parton told Taste of Country. "He said, 'Let's just do this with a real band in the studio in real-time. You get in this booth and I'll get in here, and we can look at each other and we'll sing.'" "Long as I Can See the Light" appeared on Creedence Clearwater Revival's Cosmo's Factory LP, and was also the b-side to 1970's "Lookin' Out My Back Door."
Stevie Nicks' "What Has Rock and Roll Ever Done for You" (featuring Nicks and Waddy Wachtel)
Stevie Nicks and longtime guitarist Waddy Watchtel are slated to join Parton on "What Has Rock and Roll Ever Done for You," a song demoed for both Fleetwood Mac's 1987 album Tango in the Night and Nicks' 1985 solo project Rock a Little. Nicks posted an early version of the song in 2016 on her YouTube page. Parton told Taste of Country that their new update together "turned out really cute. We had a great time doing that. ... We did it together too, in the studio. We were standing out singing together. Of course, we go and do little harmonies, [saying to each other], 'Wait until I put a harmony down.' For the most part, though, we worked on it [together]."
"Purple Rain" (Prince and the Revolution cover)
Parton joins a long line of acts who've remade Prince's anthem "Purple Rain," in particular after the genre-blending singer, songwriter and multi-instrumentalist died in April 2016. Bruce Springsteen, Santana and Stevie Wonder were among those who paid tribute with live covers of "Purple Rain."
Peter Frampton's "Baby, I Love Your Way" (featuring Frampton)
Peter Frampton immediately reached out to his manager to see if he could get involved when he heard about Parton's rock album project. "The next thing I know I'm on the telephone with Dolly's producer, Kent Wells," Frampton told UCR. "He said, 'I hear you want to do a guitar solo.' I said, 'Yes, I would love to do it.' He said, 'Is that all you want to do, a guitar solo?' I said, 'Well, I lowballed you with the guitar solo. I figured you had all your duets done.' He said, 'Well, would you ever think about doing one of your songs with Dolly?' I said, 'Let me think about – yes!'" Parton soon got back with her choice, and Frampton was more than happy to revisit "Baby, I Love Your Way." The results are "pretty phenomenal," Frampton said. "She takes it to a whole other level. It's such an honor she wanted to do that."
Joan Jett & the Blackhearts' "I Hate Myself for Loving You" (featuring Jett)
Joan Jett was among those who wholeheartedly supported Parton's induction into the Rock Hall. "I mean, they use the phrase 'rock 'n' roll' to pretty much describe anybody who's big and famous and has a following like Dolly," Jett told Rolling Stone, "but Dolly has influenced rock 'n' rollers. So on that level, I think she absolutely deserves to be there." Coincidentally, Parton's goddaughter Miley Cyrus inducted Jett into the Rock & Roll Hall of Fame in 2015. Jett and Cyrus joined forces on the 2020 song "Bad Karma," then performed together in 2021 during a Super Bowl pregame gig.
Bob Seger's "Night Moves" (featuring Chris Stapleton)
Bob Seger is enjoying a well-earned retirement, so country singer-songwriter Chris Stapleton joins Parton on a cover of 1976's "Night Moves." Stapleton previously performed "9 to 5" as a tribute to Parton during a 2019 Grammy Week event, and has nothing but praise for her. "For all the glitter and wigs and kind of showmanship – man, she can throw down," Stapleton told Billboard. "It's not a joke. You better bring your whole A-game to try and sing any Dolly Parton song. That's the way it is."
Miley Cyrus' "Wrecking Ball" (featuring Cyrus)
Parton and her famous goddaughter cover one of Cyrus' most famous tracks. Having outgrown her Disney roots long ago, Cyrus has proven to be a musical chameleon able to handle everything from pop to country to rock. Expect this version of "Wrecking Ball" to hit even harder than the original, which was a No. 1 hit in 2013.
The Rolling Stones' "(I Can't Get No) Satisfaction" (featuring Pink and Brandi Carlile)
"I've always wanted to do the song 'Satisfaction,'" Parton told Billboard in 2022. "That's one of my husband's favorite songs." At the time, Parton said she hoped to recruit Mick Jagger to update the Rolling Stones classic. Instead, Rockstar will feature Pink and Brandi Carlile, both of whom took part in Parton's Rock Hall induction.
REO Speedwagon's "Keep on Loving You" (featuring Kevin Cronin)
Turning "Keep on Loving You" into a duet revealed a new complexity in REO Speedwagon's 1980 hit. "It gave me the idea that Dolly could sing the first verse, and in the first verse, I'm cheating on her," Kevin Cronin later explained. "But then I take the second verse, and in the second verse, I go, 'Oh, yeah? Well, I know all about those men!' And so now, the song becomes this kind of dark duet — until it gets to the chorus, where they go, 'I meant every word I said. When I said that I love you, I meant that I love you forever, Dolly.' And I sing it in harmony. It just slays me, because that's how the song was meant to be performed; I just didn't realize it until Dolly called me. So that's how we're doing it, and I'm just so stoked."
Blondie's "Heart of Glass" (featuring Debbie Harry)
Parton and Debbie Harry had already joined forces on the song "Gonna Be You," recorded last year with Cyndi Lauper, Belinda Carlisle and Gloria Estefan for the film 80 for Brady. The experience was apparently a positive one, as Parton and Harry will return with a remake of this Blondie classic. Their duet comes 44 years after "Heart of Glass" reached No. 1 on the Billboard Hot 100.
Elton John's "Don't Let the Sun Go Down on Me" (featuring John)
The mutual respect between Parton and Elton John goes back decades. They've expressed appreciation for one another's work – both musical and philanthropic – on numerous occasions, and shared the stage in 2005 at the Country Music Awards. So when Parton admitted in early 2023 that she'd reached out to John about getting involved with Rockstar, it seemed inevitable that a collaboration would happen. Originally released in 1974, "Don't Let the Sun Go Down on Me" has been re-released multiple times, including an MTV Unplugged rendition and John's memorable duet with George Michael.
Led Zeppelin's "Stairway to Heaven" (featuring Lizzo and Sasha Flute)
Parton has already covered Led Zeppelin's "Stairway to Heaven," issuing a bluegrass re-interpretation in 2002. She opted to stay closer to the original on Rockstar. "I'm going to redo that really on the money … and do it more true to the regular record," she revealed. "I'm trying to see if Robert Plant might sing on it. Maybe Jimmy Page might do the pick-up part on it." Instead, Lizzo and her famous instrument will make this one a must-listen.
"We Are the Champions" (Queen cover)
No guest stars are noted in the official Rockstar track listing, so it appears that Parton will handle Queen's famous 1977 power ballad all by herself. She's also uncoupled the song its News of the World predecessor and radio-airplay partner "We Will Rock You."
Parton's "My Blue Tears" (featuring Duran Duran's Simon Le Bon)
Duran Duran was part of the same Rock Hall induction class as Parton. Frontman Simon Le Bon gushed over Parton on the red carpet, calling her "the most beloved artist on the bill tonight." They're joining forces on "My Blue Tears," which was originally part of Parton's 1971 album Coat of Many Colors. Parton has already remade the song once, collaborating with Emmylou Harris and Linda Ronstadt on a 1978 recording that appeared a few years later on Ronstadt's Get Closer album.
Linda Ronstadt's "You're No Good" (featuring Emmylou Harris and Sheryl Crow)
The inclusion of guest stars Emmylou Harris and Sheryl Crow seems to indicate that Parton's take on songwriter Clint Ballard Jr.'s "You're No Good" will trace similar musical lines as her friend Linda Ronstadt's chart-topping 1975 version. Still, it would be fun to hear some elements of Van Halen's 1979 update, too.
Pat Benatar's "Heartbreaker" (featuring Benatar and Neil Giraldo)
Pat Benatar and Neil Giraldo were also inducted into the Rock Hall of Fame with Parton. They're now joining together for a new take on Benatar's breakthrough 1979 hit. "Heartbreaker" was recently used as the soundtrack to a fantastic action sequence in the movie Nobody.
The Beatles' "Let It Be" (featuring Paul McCartney and Ringo Starr, with Peter Frampton and Mick Fleetwood)
For those who are somehow not yet impressed by Rockstar's lineup, Parton adds the two surviving Beatles for a cover of their 1970 smash "Let it Be" – then throws in a pair of guest appearances from Mick Fleetwood and Frampton.
"Free Bird" (featuring Ronnie Van Zant with Gary Rossington, Artimus Pyle and The Artimus Pyle Band)
Parton admitted to Billboard that she "didn't follow rock music that much, but my husband is a rock 'n' roll freak. He loves all the groups and all the great stuff. I just liked certain records." One of them was clearly Lynyrd Skynyrd's "Free Bird," which Parton mentioned in the earliest discussions about Rockstar. Her finished recording will bring together elements from the band's late founding singer Ronnie Van Zant and guitarist Gary Rossington. Van Zant died in a 1977 plane crash along with two of his band mates, while Rossington was Lynyrd Skynyrd's last remaining original member before he died in March. This new version of "Free Bird" also includes legacy Skynyrd drummer Artemus Pyle.
Parton's "Bygones" (featuring Rob Halford with Nikki Sixx and John 5)
Rob Halford joined arm-in-arm with Parton to sing "Jolene" at the 2022 Rock & Roll Hall of Fame induction ceremony, creating a partnership the world never knew it needed. Halford later admitted he "was a fanboy" around Parton. "She's just this walking beacon of love and happiness and joy that she spreads – and the talent that she has, when you think about the thousands and thousands of songs that she's written," the Judas Priest frontman told SiriusXM. "She was always a success, but in the way that she can kind of fade in and out of things in rock 'n' roll. She stuck to it, and wow, she's roaring right now." Parton adds icing to the metal cake on this original by adding Nikki Sixx and Motley Crue's touring guitarist John 5.
Parton's "Rockstar" (featuring Richie Sambora)
Parton actually had some history with Richie Sambora well before she asked the long-time Bon Jovi guitarist to help with the opening track on Rockstar. Parton sought out the blessing of Sambora and Jon Bon Jovi before reimagining Bon Jovi's "Lay Your Hands on Me" on 2014's Blue Smoke. Sambora then joined Parton on stage to perform the song during her performance that summer at the Glastonbury festival in England.
Parton's "I Dreamed About Elvis" (featuring Ronnie McDowell with the Jordanaires)
This tribute song grew out of disappointment, after Elvis Presley expressed interest in covering Parton's legendary 1974 chart-topper "I Will Always Love You." She was thrilled by the prospect, but then a legal dispute halted negotiations. "I've still always wanted him to sing it," she told Yahoo in 2022. "I wrote a song later called 'I Dreamed About Elvis,' and it was about dreaming about Elvis singing that song. And I had an Elvis soundalike come in and sing the Elvis part, and it sounds great! Maybe one day I'll put that out." The day has almost arrived.
Parton's "Either Or" (featuring Kid Rock)
Parton's "I Want You Back" (featuring Steven Tyler and Warren Haynes)
Parton's "Tried to Rock and Roll Me" (featuring Melissa Etheridge)
Parton's "Bittersweet" (featuring Michael McDonald)
The four remaining Parton originals on Rockstar include guest appearances by Aerosmith's Steven Tyler and Gov't Mule's Warren Haynes ("I Want You Back"), longtime Doobie Brothers singer Michael McDonald ("Bittersweet"), Melissa Etheridge ("Tried to Rock and Roll Me") and outspoken rapper turned country-rocker Kid Rock ("Either Or").
Most Awkward Rock Hall of Fame Moments
Rambling speeches, fights between ex-bandmates and bad performances have marked many induction ceremonies over the years.