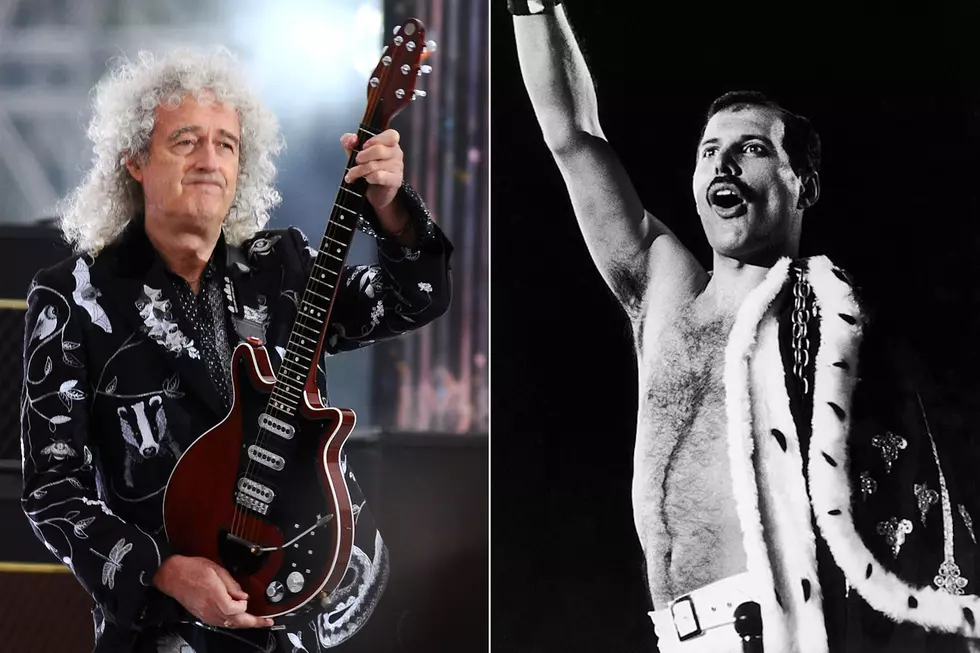 Brian May Can't Watch Freddie Mercury Auction: 'It's Too Sad'
WPA Pool / Dave Hogan, Getty Images
Brian May says he won't be watching the ongoing auction of Freddie Mercury's personal belongings, noting that "it's too sad" for him to handle.
In a message posted to Instagram, May shared a picture of the late Queen frontman strumming one of his guitars.
"Inescapably thinking so much about Freddie in these strange days. At the time this photo was taken I'm sure it didn't seem very important to see Freddie's fingers dancing on my own home-made guitar. Now it summons up waves of affection and great memories. He is so missed," May wrote.
From there, the guitarist noted that at the same time he'd be taking part in a speaking engagement, Mercury's "most intimate personal effects, and writings that were part of what we shared for so many years, will go under the hammer, to be knocked down to the highest bidder and dispersed forever."
"I can't look," May admitted. "To us, his closest friends and family, it's too sad."
Who Is Auctioning Off Freddie Mercury's Belongings?
Sotheby's initially announced the auction in April. The collection includes some of the late Queen singer's most personal effects. The items were left to Mary Austin, Mercury's close friend and confidant, following the rocker's death in 1991.
READ MORE: Freddie Mercury's Possessions to Be Sold by Mary Austin
"For many years now, I have had the joy and privilege of living surrounded by all the wonderful things that Freddie sought out and so loved," Austin said in a statement when the auction was announced. "But the years have passed, and the time has come for me to take the difficult decision to close this very special chapter in my life."
In total, just under 1,500 pieces will be auctioned off.
What Items Are Being Sold in the Freddie Mercury Auction?
The collection of items is incredible in both its size and variety.
As you'd expect, there are plenty of extraordinary musical items, including Mercury's baby grand piano, stage worn costumes and early handwritten drafts of lyrics for the songs "Killer Queen," "Bohemian Rhapsody," "Somebody to Love" and "We Are the Champions" (among others).
There are also objects capturing Mercury's daily life, a quiet side not often seen by the public. These include personal photo albums, the singer's home telephone and many of his favorite pieces of art.
READ MORE: Is Freddie Mercury Rock's Greatest Frontman?
The auction, which began Sept. 6, has already seen one record broken. A silver snake bracelet worn by Mercury in the video for "Bohemian Rhapsody" sold for 698,500 pounds ($881,000) — roughly 100 times its estimated price. According to Sotheby's, it is the highest price ever paid at auction for a piece of jewelry formerly owned by a rock star, a record previously set by a necklace that had belonged to John Lennon.
The Best Song From Every Queen Album
A thread runs through it all: a hard-won sense of individuality. Queen were a band like no other.