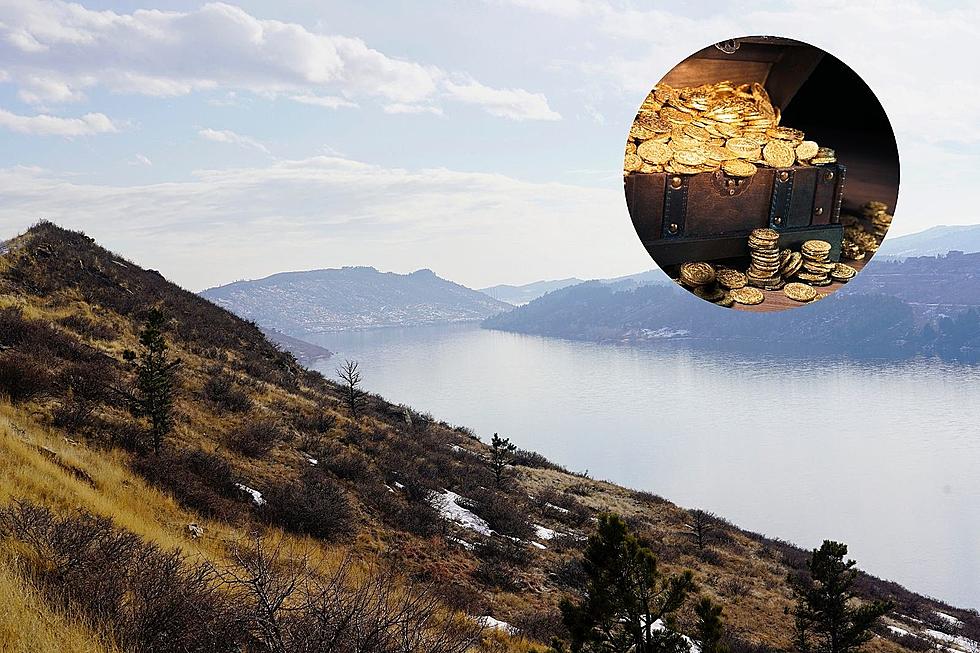 There's Said to Be a Lost Treasure of Double Eagle Coins in this Fort Collins, Colorado Reservoir
Chris Lorensson/Unsplash &Thinkstock
An exciting mission for adventure seekers in Colorado could be heading out to locate a hefty treasure that remains buried near Horsetooth Reservoir in Fort Collins.
According to the Rocky Mountain Prospectors and Treasure Hunters, the unfound chunk of money, known as the Robber's Roost Treasure, would be equivalent to more than a million dollars in today's currency.
Back in 1863, a stagecoach carrying $60K in army payroll was traveling from northern Colorado's Virginia Dale Station to Fort Sanders in Wyoming. The money consisted of freshly-minted $10 and $20 double-eagle coins. However, just a couple miles after leaving the station, the wagon was robbed by six outlaws – it was the wild west, after all.
The outlaws stole the box containing the coins and quickly fled the scene, going west towards the foothills of Fort Collins. The thieves managed to break the lock, accessing the sum of money inside the box, but were met with threats of the looming U.S. Cavalry, who wanted them dead. Left with no other choice, the outlaws hid the gold coins somewhere on the east side of the reservoir in hopes of coming back to their wealth after evading the Cavalry.
Before they could return to their hiding spot, though, the outlaws were killed by the U.S. Cavalry Following their deaths, the Cavalry did locate the iron box which once held the army payroll but, much to their dismay, it was now both full of bullet holes and empty.
Many treasure hunters believe this large amount of loot can be found atop Table Mountain, about one mile northeast of the Virginia Dale Stage Station.
The six outlaws were the only people to have known where the plethora of coins was hidden, and to this day, the money has yet to be found. Who will be the one to locate these gold coins?
Leading Theories About D.B. Cooper and 30 other unsolved mysteries
Thanks to the American fascination with confounding unsolved cases, mystery is among the most popular genres of books, movies, and television. From heists and capers to murders and robberies, the world's greatest unsolved mysteries spark media frenzies that grab headlines around the globe. Some cases compel so much public intrigue that the facts and theories surrounding them become the basis of books, movies, plays, and documentaries decades or even centuries after the cases go cold.
Northern Colorado's Most Puzzling Cold Cases