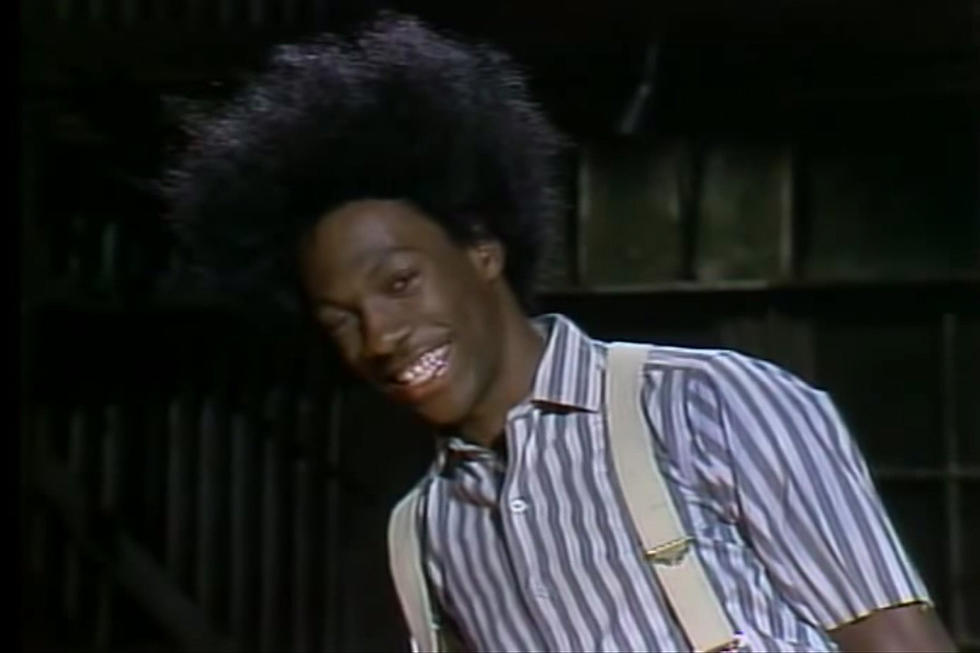 When Eddie Murphy Premiered Buckwheat on 'Saturday Night Live'
NBC
The departure of Saturday Night Live's cast, writers and producer Lorne Michaels after guiding it through its first five years left the show in a state of transition. But the disastrous 1980-81 season had a bright spot in the emergence of Eddie Murphy, and Season 7 had barely begun when Murphy unveiled one of his most memorable characters, an adult version of the Our Gang/Little Rascals character Buckwheat, on the Oct. 10, 1981 episode.
The Buckwheat character started innocently enough, as a parody of a commercial for a compilation record called Buh-weet Sings. "Hi, I'm Buckwheat. Remember me?" he said, in an impression that raised questions of racial insensitivity. "And I have compiled for you, and your listening pleasure, some of my favorite songs."
Murphy then sang snippets of the Commodores' "Three Times a Lady" (with the caption underneath reading, "Fee Tines a Mady"), Eddie Rabbit's "Lookin' for Love" ("Wookin' Pa Nub"), Kim Carnes' "Bette Davis Eyes" (sung so incoherently that it was captioned as "???"), the George Baker Selection's "Una Paloma Blanca" ("Una Panoonah Banka") and, as a tribute to his fellow Little Rascal Alfalfa, Rossini's "The Barber of Seville" ("Barbah Ob Dabil").
Coincidentally, Murphy premiered the character exactly one year to the day after the real-life Buckwheat, Billie Thomas, died at the age of 49.
"I have a very specific memory of typing the first Buckwheat sketch and almost falling off my chair because it was so funny," production assistant Robin Shlien recalled in Tom Shales' Live From New York: The Complete, Uncensored History of Saturday Night Live. "Having been at the show and knowing what it took to have a great character and get a big response, I remember thinking, 'They nailed it. This is going to be huge.'"
Buckwheat was brought back less than two months later, on the Dec. 5 episode where he promoted Buh-weet Sings on a variety show hosted by Mick Jagger (Tim Curry). Murphy even incorporated Buckwheat into his standup routine. Making his first Tonight Show appearance on Jan. 1, 1982, Murphy joked about the character's name. "I'm from a predominantly black family," he started, "and I have yet to run into a relative named Buckwheat at a cookout, you know? You can't just walk off the street and walk up to somebody saying, 'Hey, how you doin'? My name's Tom. What's yours?' 'My name's Buckwheat, man. Nice to meet you.'" He envisioned a real-life Buckwheat whose immediate family were all named after breakfast foods, including a brother named Farina, one sister named Shredded Wheat and another sister who was a prostitute named Trix.
Murphy played Buckwheat two more times that season, including once where he fronted the Supremes (sample songs: "Ayby Nub" and "Meech Out and Dutch Dumbody's 'and"). But after a Little Rascals reunion early in Season 8, Murphy felt his creation had become too big. In January 1983, he went into producer Dick Ebersol's office and, as Ebersol told Shales, said, "I want to kill Buckwheat. I can't stand it anymore. Everywhere I go people say, 'Do Buckwheat, do this, do that.' I want to kill him."
Ebersol understood and teamed him up with writers Barry Blaustein and David Sheffield. The trio decided to not only kill off Buckwheat, but lampoon the way television news coverage sensationalizes horrific events.
The March 12, 1983 episode seemed normal, with a commercial for Buckwheat Jeans in a parody of Calvin Klein's famous campaign. But shortly thereafter, the show was "interrupted" by a special report from Ted Koppel (Joe Piscopo), who broke the news that Buckwheat had been shot upon leaving 30 Rockefeller Plaza. The report showed video of Buckwheat walking down the street outside the building, with gunshots arriving shortly after someone calls out to him, in a manner somewhat reminiscent of John Hinckley Jr.'s attempt on President Ronald Reagan's life in March 1981.
In covering the story, Koppel kept returning to the footage, showing it to Alfalfa (Mary Gross) and the doctor as he was trying to save Buckwheat's life, and playing it in slow motion. And it was all sponsored by the fake Texxon Corporation, whose slogan "Life goes on, and Texxon is there" was amended with "Because Buckwheat would have wanted it that way."
SNL continued the joke the next week, with Koppel furthering the story to cover Buckwheat's funeral and the news that the man who killed Buckwheat, John David Stutts (Murphy), had been captured. Koppel interviews people who knew him, all of whom describe him as a loner, adding that they fully believe he would kill Buckwheat. The sketch ended with Stutts being shot as he's taken to jail, similar to when Jack Ruby shot President John F. Kennedy's killer Lee Harvey Oswald.
"We staged it downstairs at Rockefeller Center," Sheffield said. "We shot it two ways on tape. We actually brought in a guy from special effects to place squibs on Eddie's body so that we had blood gushing from each shot. But just as an afterthought we said, 'Let's shoot one without the blood, for safety's sake.' And that's the one we used. And it was lucky we had it, because the blood just looked too real to be funny."
"It was possibly the best piece of satire in the four or five years that I was there," Ebersol said.
But just like a favorite character on a soap opera, Buckwheat couldn't be killed off so easily. Murphy broke him out three more times until he left the cast at the end of the 1983-84 season, including once where his ghost visited Alfalfa.
Then, on Dec. 15, 1984, when Murphy came back to host the show, Alfalfa spotted Buckwheat in a newspaper picture of a crowd at a New York Giants football game. Alfalfa tracked him down, and we learn that Buckwheat faked his own death. Alfalfa then recalled a time when Buckwheat embarrassed Alfalfa by putting a frog down his pants in front of the class, and that he wanted revenge. He orders Buckwheat to be the butt of the same joke, after which Alfalfa shoots Buckwheat.
Even after twice killing him off, Murphy promised to bring back Buckwheat when he hosts SNL in December 2019.
Rock's 60 Biggest 'Saturday Night Live' Moments