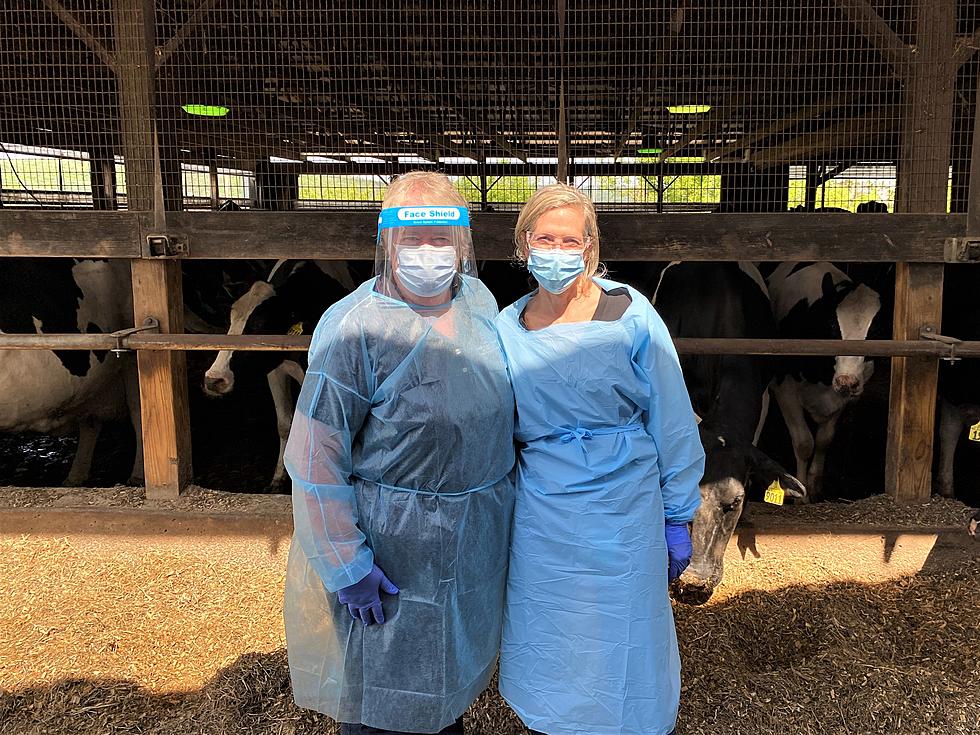 Dedicated Bassett Nurses Bring COVID Vaccines To Hard-Working Farmers
Susan Ackerman, RN, NYCAMH Center Manager, and Judy Graham, RN, NYCAMH Occupational Health Nurse (Credit: Bassett Healthcare Network)
I think the hardest working people in America are farmers and here in Upstate New York, we have our fair share of farms that beautifully dot the rural landscape. These are folks who rarely if ever take vacations and their workday is long.  So it stands to reason that a farmer would have a very difficult time leaving their duties behind to go and get a COVID-19 vaccine. Bassett Healthcare Network recognized this time constraint for these hard workers and so that's why Bassett Healthcare Network's New York Center for Agricultural Medicine and Health (NYCAMH) brought vaccinations to the area's farming community – in one case setting up a makeshift clinic in a milk house. You do what you have to do right?
It's not exactly the perfect setting to deliver vaccines but public health nurses rose to the challenge of setting up in these less than perfect settings to help people who have been helping us all by providing us with the food we sometimes take for granted.
Just to give you a sense of what these health crews have been working with, Nicole Blanchard, DrPH, MPH, data systems administrator at NYCAMH says, "this past spring, we've had to set up in just about any corner of a farm you can imagine. On one freezing cold and snowy day, we were jammed into a 10 feet by 10 feet space in the back of a milk house. Another day we were in the back of a barn with people working on tractors and cows wandering by".
This vaccination endeavor by NYCAMH has been a success as nearly 200 workers have been vaccinated so far and the mission will continue as long as needed.
LOOK: What You Didn't Know About COVID-19 vaccines
While much is still unknown about the coronavirus and the future, what is known is that the currently available vaccines have gone through all three trial phases and are
safe and effective
. It will be necessary for as many Americans as possible to be vaccinated in order to finally return to some level of pre-pandemic normalcy, and hopefully these 30 answers provided here will help readers get vaccinated as soon they are able.
KEEP READING: 15 Natural Ways to Improve Your Sleep