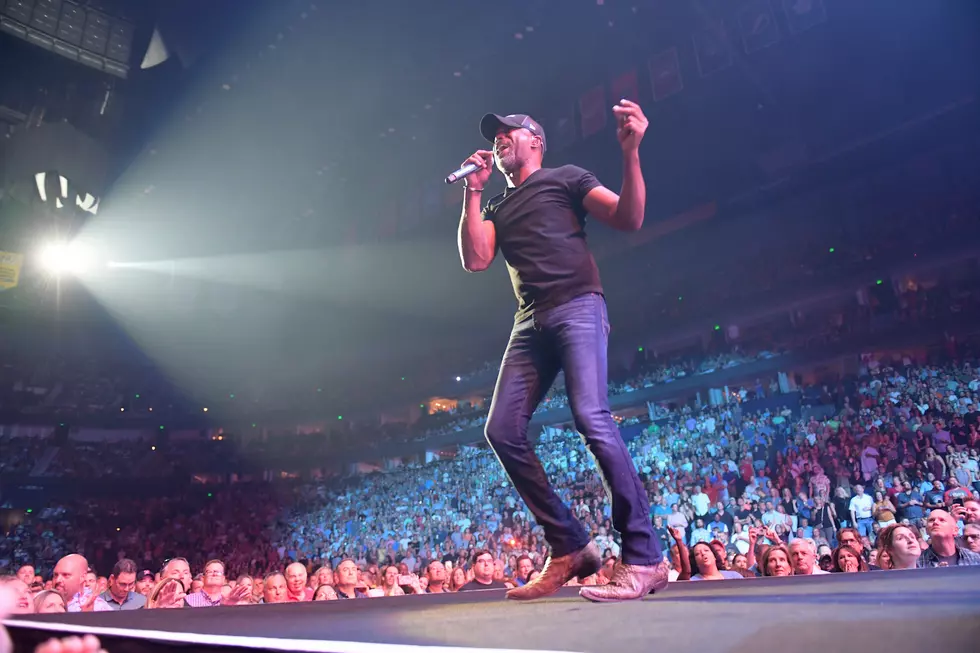 Op-Ed: With 'Imperfect Circle', Hootie & the Blowfish Are as Country (or Not) as Ever
Jason Kempin, Getty Images
One of 2019's musical bright spots has been the celebrated return of Hootie & the Blowfish, the '90s rock band in which Darius Rucker rose to fame before beginning his solo country music career. Over the summer, the South Carolina-formed quartet embarked on the Group Therapy Tour and drew sold-out crowds across the U.S. as they celebrated the 25th anniversary of their blockbuster debut album, Cracked Rear View. On Friday (Nov. 1), Hootie & the Blowfish are building on that momentum and following up their successful tour with Imperfect Circle, their first new album since 2005's Looking for Lucky.
Such a large-scale comeback wasn't necessarily a given, especially since Rucker has spent the last decade focused on country music — something he had long dreamt of doing. "Back in 1989, this guy Radney Foster came out with a record called Del Rio, TX, 1959, and it's one of those records that changed the way I heard music," Rucker told ABC News in 2018. "It really hit me hard and I loved it … and I kept always saying, 'One day, I'm going to make a country record.'"
When Hootie & the Blowfish slowed down enough for Rucker to make his debut solo record, 2008's Learn to Live, success came fast. His first three singles — "Don't Think I Don't Think About It," "It Won't Be Like This for Long" and "Alright" — hit No. 1 on the country charts, which helped him earn the 2009 CMA New Artist of the Year award. In the following years, he'd have an even bigger hit with "Wagon Wheel," which went triple platinum and hit No. 1 on the U.S. and Canadian country charts, landed in the U.S. mainstream Top 20 and nabbed Rucker a Grammy for Best Country Solo Performance. For good measure, Rucker's first four country solo albums also topped the country albums chart.
In 2009, Rucker admitted to Entertainment Weekly that Hootie & the Blowfish's reputation might have helped kick-start his career change. "I think a lot of people who listen to country music might have had Cracked Rear View. So I think familiarity had something to do with it. But I think people can relate to those songs," he said at the time. That Rucker also gave his all to his country career — and clearly wasn't genre-hopping for commercial gain — also went a long way to explain his success, since sincerity goes a long way in Nashville.
"Being a country singer's my day job," he once told Entertainment Weekly. "That's what I do now. That's what I'm gonna do. That's gonna be the focus of my career. Hootie & the Blowfish, I know we're gonna make another record and do another tour. We do shows for charities that I'm sure we'll do for years to come. But I said to country fans, 'Hey, I'm in this for the long haul.' And I mean that."
Rucker's country music catalog is sonically distinct from his previous work. While his voice ties everything together — he possesses a warm, velvet-like croon capable of conveying both deep anguish and unbridled joy — the songs shy away from rock flourishes. The easygoing "Lost in You" boasts keening pedal steel and a bluesy organ; "Come Back Song" is mid-tempo folk-twang; and the hit "Don't Think I Don't Think About It" employs a combination of piano, pedal steel and guitar twang.
Still, as Rucker has become more established in his own right, the two eras of his career have converged. Hootie & the Blowfish played "Wagon Wheel" on their summer tour, and it fit seamlessly within their sets, while one of Rucker's more recent singles was a cover of "Straight to Hell" by the cult Southern rock band Drivin N Cryin. And in 2017, Rucker and a bevy of fellow A-list country stars — including Garth Brooks, Reba McEntire, Little Big Town, Thomas Rhett, Keith Urban, Lady Antebellum, Tim McGraw, and Faith Hill — opened the CMA Awards with a rousing take on Hootie & the Blowfish's "Hold My Hand."
In fact, Rucker's country success also has shed new light on Hootie & the Blowfish. Back in the '90s, the band lived at the intersection of alternative, pop and adult contemporary. But with the benefit of hindsight, it's easy to draw a line between Hootie's sound and the contemporary Americana movement, as well as the way modern country music has embraced certain elements of pop music.
Go beyond the major hits on Cracked Rear View, and the album encompasses all strains of folk, alt-country and roots music; the violin-heavy "Running From an Angel" and gentle, jangly "Not Even the Trees" are particularly Americana-leaning. The band's follow-up, 1996's Fairweather Johnson, was oriented toward straightforward rock, although there were hints of their broad influences in the mid-tempo, organ-driven R&B standout "Let It Breathe," the smoldering Southern rock ballad "So Strange" and the mandolin-accented "Fool."
This trend would continue on future Hootie & the Blowfish albums. On 1998's Musical Chairs, subtle pedal steel curls through "Las Vegas Nights," while the gentle, harmony-heavy sing-a-long "Michelle Post" could easily be covered by a modern Americana act. Even the band's covers album, 2000's Scattered, Smothered & Covered, features their takes on songs by Roy Orbison, a Radney Foster solo song, a minor country hit from Foster & Lloyd, and the Silos' country-rock track "I'm Over You." You might say that Hootie & the Blowfish's country tendencies were hiding in plain sight.
Rucker, of course, has always been aware of the band's lineage. "Cracked Rear View would have to be a country record today," Rucker told The New York Times in 2019, which is a verbatim echo of something he also told Entertainment Weekly a decade ago. However, back in 2009, he was also clear on his career path: "I do not believe that Hootie & the Blowfish's next record is going to be a country record," he added then. "I think it'll still have the country influences our records always had, but I don't think it'll be a country record."
"'Cracked Rear View' would have to be a country record today." -- Darius Rucker
Judging by the songs released so far from Imperfect Circle, that prediction turned out to be right. Although the laid-back sing-a-long "Rollin'" could fit into a Rucker country set, the '90s rock throwback "Miss California" and buoyant, uptempo anthem "Hold On" are clearly and unmistakably Hootie & the Blowfish songs. The album's personnel choices also reflect Rucker's country tenure: Imperfect Circle was co-produced by Jeff Trott (who's worked for a long time with Sheryl Crow, another artist who toes the line between country and '90s rock) and Frank Rogers, who's worked with Rucker on solo projects. Songwriting credits go to Chris Stapleton and Eric Paslay (among others, such as Ed Sheeran) while both Crow and Lucie Silvas contribute vocals.
Yet Imperfect Circle also signals that Hootie & the Blowfish aren't beholden to the past. That's evident in "Turn It Up," a '70s-inflected tune dominated by soulful horns and a shuffling tempo. Then again, as Rucker told USA Today over the summer, flouting expectations and following their muse wherever it goes is baked into Hootie & the Blowfish's DNA.
"I can honestly say to you that we've never once said that we need to make anything we do sound like anything," he says. "Even way back when we were just a cover band working at frat parties in South Carolina, we just played the songs. That's one reason why we've always split our publishing: No matter who actually writes it, once we get a song into that four-man groove, it becomes what it is."
10 Country Crossovers That Actually Worked