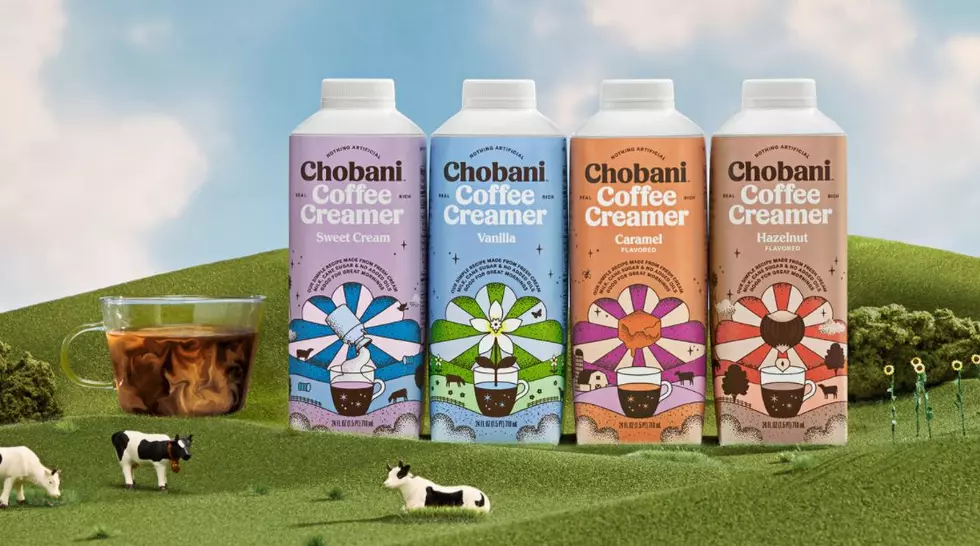 Chobani Running Contest To Find Next Coffee Cream Flavor
Chobani via Facebook
Chobani, whose headquarters are in Norwich, NY is looking for Central New York's help creating the next coffee cream flavor. They will even award the top three finalists $100,000 in prize money.
Chobani currently offers eight creamer flavors, including caramel, hazelnut, sweet cream, vanilla, cookies and cream, flip edition, S'mores, and peppermint mocha. They are looking to add to this lineup. That's why Chobani is holding this new contest. The grand prize winner will win $75,000, while second place will get $15,000 and third will walk away with $10,000.
Dreaming of your perfect Coffee Creamer flavor? Chobani wants to make it real. For the first time ever through the month of February, we're giving our fans the chance to see the Creamer flavor of their fantasies on store shelves-and you could win a grand prize of $75,000."
Here's how to enter:
1) You'll have to come up with the name of the flavor.
2) List the key ingredients.
3) Write a short essay about what inspired you to create the flavor.
Entries can be submitted online through February 28th. The Chobani team will pick the three finalists, and then people can go online to vote for their favorite. The winning flavor is expected to be on shelves in early 2022.
To submit your flavor idea, please go online here.
Enter your number to get our free mobile app
More About Chobani Coffee
Chobani Coffee is authentically crafted and made with only natural ingredients, no artificial flavors or sweeteners, and no preservatives. The oat milk and creamers in the cold brews are inspired by the company's existing Chobani Oat and Chobani Coffee Creamer platforms. Chobani Coffee provides the caffeine equivalent to a standard cup of coffee, each containing about 85mg of caffeine per serving.
You can purchase the new Chobani cold brew coffees at grocery and retail stores natiowide for $4.49 per or 2/$7. The cold brew coffees are made with Tetra Top packaging, making them widely recyclable across the U.S.
Winter Storm Gail Buries the Northeast