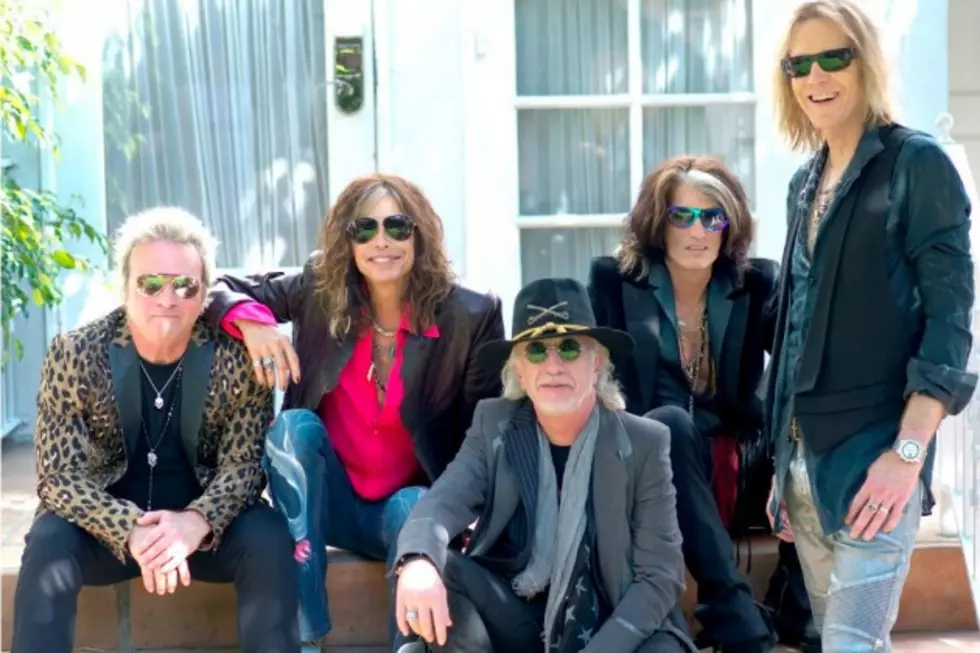 Aerosmith Unveil Complete Dates for Summer 2015 'Blue Army' Tour
Ross Halfin
Aerosmith return to the road June 13 for a series of summer dates they're calling the 'Blue Army Tour.'
The band is sticking to North America for this run of shows, which will see them performing "a set including their career-defining biggest hits." The tour derives its name from a tribute to the group's longtime fans, according to guitarist Joe Perry, who says in a press release announcing the dates, "The name Blue Army came from the fact that everyone in our audience from the '70s were wearing blue denim and it looked like a sea of blue, thus the Blue Army."
Following the Aug. 4 conclusion of the tour, the band will head to Canton, Ohio, where they're scheduled to perform at Tom Benson Hall of Fame Stadium for the Pro Football Hall of Fame's inaugural Concert for Legends, part of the 2015 Pro Football Hall of Fame Enshrinement Festival. The group is also planning a new live DVD release, Aerosmith Rocks Donington 2014, which captures a 19-song set from the Donington stop on their Let Rock Rule tour.
The Blue Army tour comes during a lull between studio albums for Aerosmith, but fans can look forward to a solo record from singer Steven Tyler, who's been working with a number of new co-writers in Nashville and has announced intentions to take his sound in a more country-influenced direction for the as-yet unnamed project. Check out the complete list of tour dates below.
Aerosmith Blue Army Summer 2015 Tour Dates
6/13 - Glendale, Ariz.
6/24 - Evansville, Ind.
6/27 - Durant, Okla.
6/30 - Hidalgo, Texas
7/03 - Stateline, Nev.
7/07 - Santa Barbara, Calif.
7/10 - Salinas, Calif.
7/13 - Kelowna, British Columbia
7/16 - Victoria, British Columbia
7/19 - Fort McMurray, Alberta
7/22 - Cheyenne, Wyo.
7/25 - Minot, N.D.
7/28 - Ridgefield, Wash.
8/01 - Las Vegas, Nev.
8/04 - Grand Rapids, Mich.
8/07 - Canton, Ohio
Aerosmith Albums Ranked Worst to Best
See Aerosmith in Rock's Most Criminally Underrated Albums