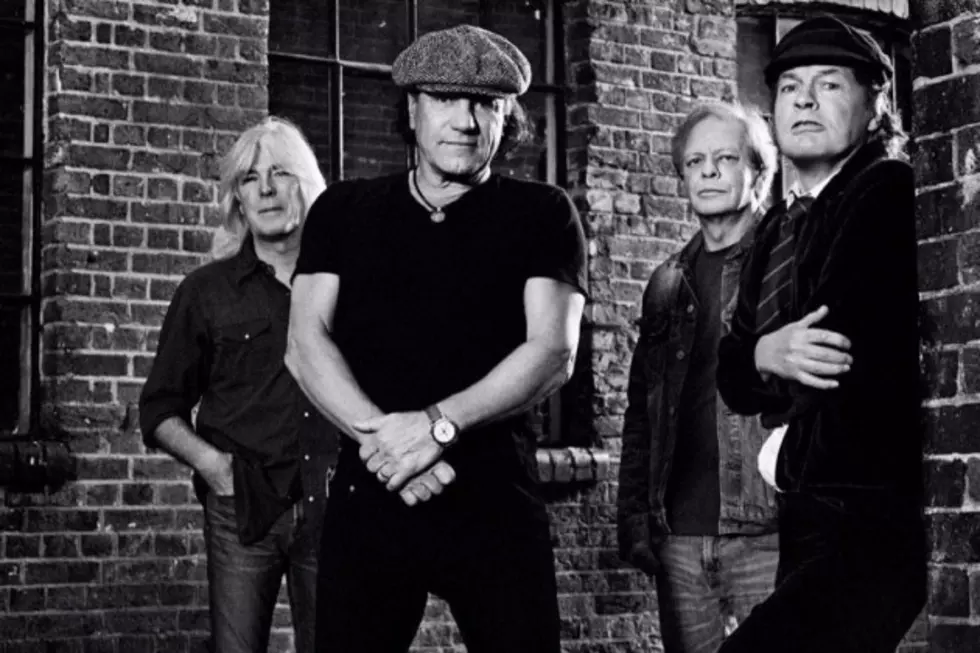 AC/DC Offer Sneak Peek at 'Play Ball' Video
AC/DC
AC/DC have shared two behind-the-scenes photos from the video shoot for their new song 'Play Ball,' and announced that the full video will debut sometime next week.
The pictures, posted below, show AC/DC filming their first promotional clip without founding rhythm guitarist Malcolm Young. It was recently announced that he is suffering from dementia, and was therefore forced to resign from the band prior to the recording of their new album, 'Rock or Bust.' Malcolm's nephew Stevie Young filled the rhythm guitar slot during those recording sessions, appears in the video, and will reportedly join the band on tour next year.
Also absent is longtime drummer Phil Rudd, who missed the video shoot due to what was described as a family emergency at the time. In retrospect, Rudd's absence may have been an early sign of trouble for the musician, who was recently arrested for possession of cannabis and methamphetamine, as well as allegedly threatening to have two men killed. A fourth charge, attempting to procure a murder, was quickly dropped.
Rudd reportedly faces up to seven years in jail if found guilty of threatening to kill. His status within the band is uncertain, but an official statement from the group declared that "Phil's absence will not affect the release of our new album 'Rock or Bust' and upcoming tour next year." Drummer Rob Richards filled in for Rudd during the video shoot.
'Rock or Bust' is set to be released on Dec. 2. As noted above, the band has confirmed that they will mount a world tour in 2015, but no dates have been announced as of yet.
You Think You Know AC/DC?