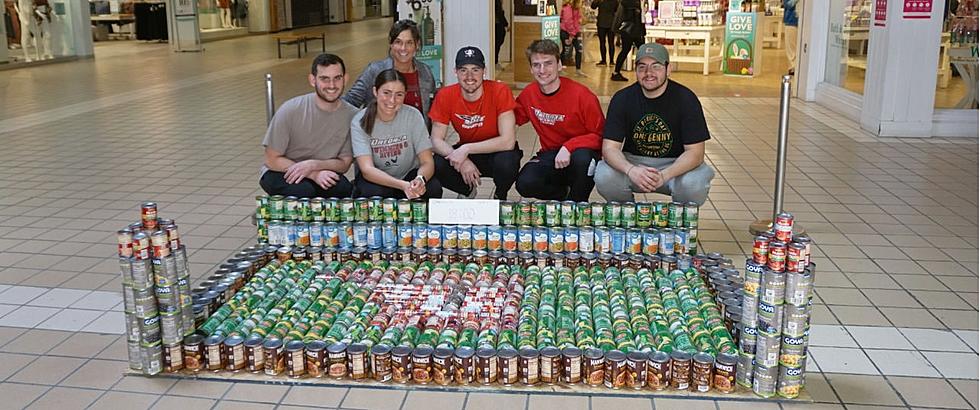 2022 SUNY Oneonta 'Canstruction' Reaches New Donation Heights [Photos]
via suny.oneonta.edu
SUNY Oneonta's Center For Social Responsibility and Community's "Canstruction" event, led by executive director Linda Drake, after taking a few years off because of COVID-19 was back in full force last week at Oneonta's Southside Mall.
The idea behind Canstruction is to raise awareness about food insecurity and to collect nonperishable food for local families in need.
On April 2, teams made up of local businesses and SUNY Oneonta students built structures out of donated cans of food with nothing else added in. Each team had its own unique design for the event and there certainly was a lot of creativity going on as you will get a chance to see below with photos from SUNY Oneonta from the event.
Canstruction in Oneonta started back in 2011 and since then, has garnered more than 38,000 pounds of food that goes to local food pantries for distribution thanks to help coming from the Hunger Coalition of Otsego County. With this recent event, that grand total has risen significantly since the 2022 Canstruction event was able to collect 2,947 pounds of food according to SUNY Oneonta! That donated food will be distributed among eight local food pantries. What a great success and a job well done by all participants.
As you can see from the photos below, teams get quite creative with their "can creations"!
Take a look: Check Out These Easter Egg Hunts
Rub Elbows With the Stars at 8 Celebrity Owned Businesses in New York
A number of celebrities call Upstate New York home. A small few not only own homes but businesses too. You may even run into them when you stop by for a sweet treat, overnight stay or soft skin.
Explore New York State's Lost City